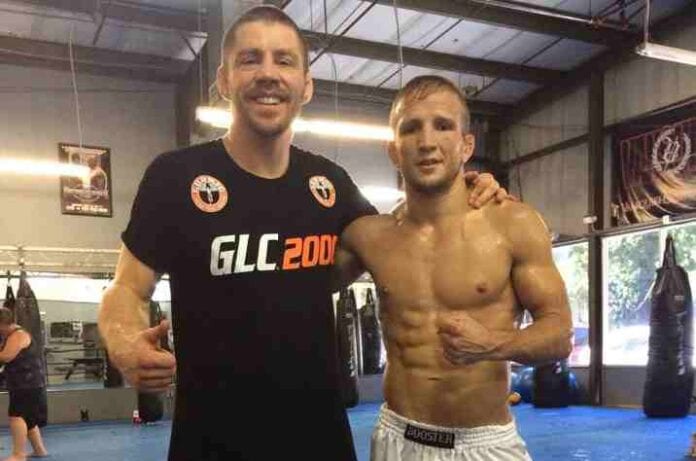 The ongoing feud between Team Alpha Male leader Urijah Faber, and former coach Duane "Bang" Ludwig seems to have intensified quite a bit over the last few weeks. Faber took it to another level when he appeared on a recent edition of the MMA Hour, bashing Ludwig, and accusing the coach of racism, and sexism.
"Bang" appeared on today's (October 12, 2015) edition of the MMA Hour to voice his side of the story, denying Faber's claims in the process. Ludwig, however, stated that "The California Kid" was "punked" on The Ultimate Fighter (TUF) 22 by fellow coach Conor McGregor, and as a result, Ludwig believes Faber is taking out his anger on him:
"So let him do this thing and let him ride his drama wave," Ludwig said "He's just wrapped up in drama mode from being punked on the show from Conor so much. Conor really got in his head, so he's trying to take it out on me and then it's just overspilling. It's just escalating. Just put the brakes on it, man. Nobody needs this right now."
Matters have continued to escalate in the last week with the announcement that reigning bantamweight champion TJ Dillashaw would be parting ways with Team Alpha Male, and heading to Denver, Colorado to join Team Elevation.
Dillashaw, and Ludwig have continued to train together despite "Bang" leaving the Sacramento based Team Alpha Male, and Ludwig actually resides in Denver as well, despite not being associated with Team Elevation.
Dillashaw also appeared on the show today, revealing that he has actually been kicked out of Team Alpha Male by Faber, and "Bang" touched on that as well:
"It's super unfortunate that Faber kicked him out," Ludwig said. "I don't think that's quite supportive or being a friend. I think we should all be working together, especially as martial artists. And for anyone to close the door on somebody else just isn't fair. I don't think that's ethical. It's his decision, but I don't think it's best for T.J. and the guys. They should be working together."
Despite the close relationship between the two, Ludwig didn't influence Dillashaw to leave his team, but he did say that he feels as if it's the best decision for the 135-pound kingpin, who has the biggest fight of his life ahead of him when he meets former champ Dominick Cruz in January:
"From day one when I started training him, it was one of those things where we are meant to train together," Ludwig said. "But I'm not telling him to leave Team Alpha Male, I'm not telling him to move here. I think it's the best decision for him, but it's also a good piece of the puzzle to be able to work with the team, the Team Alpha Male guys."
As far as how "Killashaw" is handling things, "Bang" said that the fighter is doing well aside from being kicked out of the gym by Faber:
"I think he's handling it pretty well," Ludwig said. "But having your supposed friends close on the door so you can't be in here, that's not right. I don't think he's handling that very well, which I wouldn't handle that very well, either."
At the end of the day, "Bang" feels as if "The California Kid" is manipulative, and trying to make him look bad in the public eye:
"He's very cunning and manipulative," Ludwig said. "He can manipulate stories very well to paint the picture he needs to paint. … I wasn't quite sure what I felt I did wrong. Then he's like changing all these stories and manipulating them. He's trying to paint a bad picture of me."