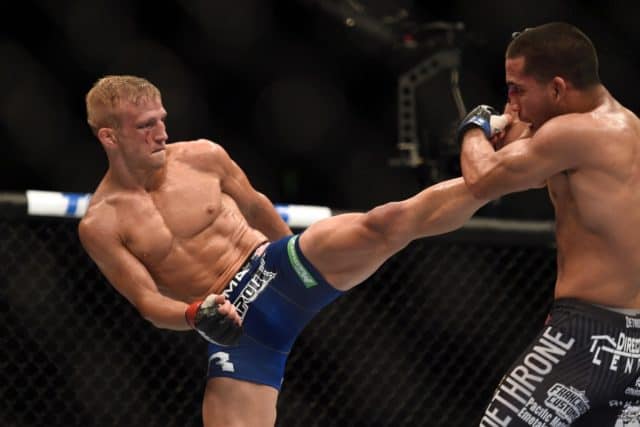 This Saturday night (May 24, 2014), No. 4-ranked UFC bantamweight TJ Dillashaw will face dominant champion Renan Barao for the title in the main event of UFC 173 from the MGM Grand Garden Arena in Las Vegas, Nevada, his first-ever UFC headliner.
The surging Team Alpha Male product has won five of his last six bouts and will look to shock the world in Las Vegas, but he has to snap the 33-fight unbeaten streak of Barao to do it.
LowKick MMA recently met up with Dillashaw to discuss UFC 173, the impact of Duane Ludwig leaving his team, and much more. Check out what "The Viper" had to say:
Mike Drahota: You've obviously been progressing at a rapid rate since Duane Ludwig took over as Team Alpha Male head coach. Where do you think you're going to succeed where all of Barao's other opponents have failed recently?
TJ Dillashaw: Without giving away too much, I believe I'm just a little more well rounded than the guys he's fought. Obviously he's fought some tough guys, but I feel like I can put everything together just a little bit better and I think the style that I fight, the way I fight, my aggressiveness, is the way to beat Barao and I'm just going to wear him out. I gotta be able to weather the storm in the beginning and use my cardio to push the pace, and just wear him out.
MD: I guess you have to be prepared to win a war when you fight a fighter like he is.
TD: Yeah, he never has a down day. He's been on what, a 35-fight win streak or something crazy like that, so he brings his A-game every time he steps in the cage. He doesn't have a bad day.
MD: "Bang" is leaving the team after UFC 173; obviously a lot has been made of that recently. Can you give us your take on that scenario? Was it tough in the middle of training camp, and how much more motivation is there for you to go out and get that belt for Duane?
TD: There's a lot more motivation. Obviously the belt means more for myself and my career and the financial standpoint of this business, but it means a lot to me to be able to get a chance to get Duane a belt before he leaves, because me and him have been the closest on the team. He's kind of taken me under his wing, so it'd mean a lot for me and him to get that belt. It's just the perfect timing, almost like it was meant to be.
It's going to be very hard when Duane leaves, because I respect the way he coaches. He just holds his head coach demeanor very well, and has done wonders for the team. It's going to tough to replace him, but I'm just going to have to cross train with him; I'll have to go out to Colorado every now and then to train with him and have him come out for my fight camps, so hopefully I'll just get the best of both worlds, we'll have a new coach and I'll be able to still train with Duane.
MD: You showed a ton of different combos in your last fight. You're going to cross train with Duane when he sets up his own gym in Colorado. But other than that, how do you prevent that developing skillset from tapering off when he's gone from California?
TD: Oh, you gotta continue to learn, you gotta continue to work. I mean, you gotta learn something from anybody that's going to be there. We're going to bring in a new coach that's going to teach us new things. You know, which is a great thing. I get to learn a new mindset of the game, and whoever we bring in is going to be very qualified and will teach good, good things.
But it's just practicing what Duane's taught me and continuing to rep it. It's just like back in my wrestling days, you learn a good technique, you never forget it by drilling it hundreds of thousands of times. That's the same thing that I'm going to have to do with the techniques Duane showed me, you know, he's done a good instilling his curriculum into me, and I know all of his combos.
MD: So your wresting base is the foundation for your training and your work ethic?
TD: Oh, absolutely. Like I said, the hard work in wrestling in drilling your moves pays off in MMA. Things with your stand-up. You gotta drill something hundreds of thousands of times before you do it perfect. And you gotta practice it perfect. That's something you learn to do in wrestling. You do a lot of live drilling, and I feel like that's the same way you should pick up MMA.
MD: It seems like you've come to favor your striking a little bit more despite that wrestling background. Is that the case? Do you like your striking more because it's become so prevalent, or is it an instance of adapting to what works best in the cage based on each fight?
TD: More of what works in the cage, but I enjoy striking more. It's a little bit more fun to me, less of a grind; it's something that's new to me. Obviously I've been wrestling since I was eight years old, so picking up stand-up the last four years has just been a fun thing for me to do. I've gotten addicted to doing it, so it just kind of shows in the cage.
Obviously it depends on the fight on what I'm going to do, and you know, the better my striking, the better and easier my takedowns will come. The more takedowns I hit, the better my striking will get, so ultimately, if you want to be a good striker, you should have some good takedowns. If you want good takedowns, you need to be a good striker. Being well rounded is the most important thing in this game.
MD: I think your striking defense is now kind of a strength in your game. It's a night and day difference.
TD: Absolutely. When Duane got there, he just picked everything apart. He holds you accountable for every situation. And if you're drilling, you're drilling it absolutely perfect, and if you're not, he's definitely letting you know about it. He's just a fanatic about coaching; he's just a natural. It translated perfect for him, and for me, I pick up on stuff quick, so for him to have his complete focus on the time, it just came naturally for me.
MD: And we've seen that time and again now, because guys back in the day, if you were excellent at one skillset, you might be able to pick up some finishes. But not today, you have to be well rounded, and that's what you're focused on.
TD: I mean, you see these guys, these older guys in the sport that I looked up to when I got in the sport, you know, not to say names or anything, but they're getting passed by. They rely on the skills that go them there, but the sport is evolving so much that if you're not well rounded, you're not going to be Top 5, even Top 10. You gotta be so well rounded- because if not, those top guys are going to pick you apart in that aspect.
MD: I recently heard you say you'd grant Dominick Cruz an immediate title shot when you pick up the belt. How much of an advantage do you give yourself in that fight given that the former champ been out for nearly three years and you've just been consistently fighting top-level opposition month in and month out?
TD: Oh that's a huge advantage. No matter what, he's going to be rusty coming back. I don't think he'll obviously get a title shot coming back because that's how the sport is. I just, I feel bad for the guy, the way he went out. He was on top, got injured, and that just kinda sucks. And I respect him as a fighter, but yeah, that's a long layoff to be coming back in off. I imagine he won't come back until he's ready, but still it's going to be a lot of ring rust to get rid of.
MD: You had a super close fight against Raphael Assuncao, who would have got the shot at Barao if he didn't have a rib injury; that kind of opened the door for you. Is there anything you'd do differently in a rematch with him? It could have gone either way; maybe you could have won that fight on the judges' scorecards.
TD: I've watched that fight three or four times, I won it every time I watched it. You know, I won that fight, but I made some huge mistakes. I could have made it way more convincing from my end of the fight if I would have done what I know I can do. I went in there overly aggressive for the knockout, and the big kick, and the big punches; I didn't set anything up, you know?
He's a counterpuncher; he'll never engage. He backs up and throws punches. He's a boring-ass fighter in my mind. I mean, he's had some good finishes, but if you let him wait, he's going to wait there all day long. I made some mistakes that I've seen that I can change and I could have outwrestled him that entire fight and I didn't; I was relying on my stand-up and going for the big stuff. That's probably my fight I learned the most from.
I needed to set things up, I needed a lot more footwork, and I knew how to do those things, I just didn't wasn't doing them. I kinda froze up. Now I kinda learned not be in a rush; enjoy what I'm doing and show off my skills that I've learned instead of just being a wild man going for finishes.
MD: You probably want to put on a few pounds because there are rumors that Barao is bigger than featherweight champ Jose Aldo:
TD: I've been trying to put on just a little bit more weight just because I want to be stronger for this fight.
Yeah, that's what I've heard. I mean if you look at him, he's huge. I mean he looks like a completely different person from weigh-ins to when he gets into the cage. He's a big guy, but I think that's going to hinder him in a long run. I mean it's going to effect him. That's why my cardio's better. He made Urijah look small.
MD: He's supposedly near the top of the spectrum if not at the top of in terms of weight cutting for bantamweights:
TD: Yeah, he's by far the top I think. I think so; I mean I think he cuts so much weight. From what I heard, obviously I don't know. From me looking on the outside in, it looks like it.
Wrestlers do the same thing and that's where I kinda learned that cutting weight's not an advantage. You know, I felt like I was stronger when I cut less weight.
MD: Are you trying to send a huge statement with a huge finish of Barao?
TD: I don't think there's a fight I'm not looking to finish. I think I've learned, like I said, from that Assuncao fight, you gotta let the finish present itself, and not rush it. So obviously I'm ready to go a five round war for that fight against who I think is one of the pound-for-pound best in the world, always looking to push the pace. That's where the finish may come, pushing the pace, trying to break someone, showing that my heart's bigger than his and that I'm willing to go the distance harder than he is, and hopefully the finish will come from that.
MD: Thanks a ton for coming out to talk with us today, TJ. Any sponsors you'd like to thank?
TD: Yeah, follow my sponsors at:
Follow TJ on Twitter: @TJDillashaw and his Team Alpha Male: @TeamAlphaMale
Outer Photo: Kyle Terada for USA TODAY Sports
Inner Photo: Jason Silva for USA TODAY Sports If you enjoyed this story, please share it on social media!