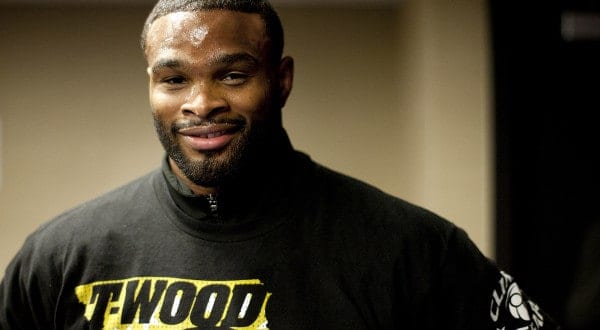 ---
No. 11-ranked UFC welterweight contender Tyron Woodley has by far the biggest opportunity of his MMA career when he squares off against No. 2-ranked former interim champ Carlos "The Natural Born Killer" Condit at tomorrow night's (March 15, 2014) UFC 171 from American Airlines Center in Dallas, Texas.
With a win, "The Chosen One" will vault himself into arguably the most crowded title picture in all of UFC. We met up with Tyron today to get his take on this weekend's blockbuster card and beyond:
Mike Drahota: Carlos Condit has obviously had trouble with wrestlers in the past. Are you still willing to stand and trade with him, or is there simply no reason to engage him in his strong suit?
Tyron Woodley: "My background is in wrestling, but I haven't attempted a takedown in the UFC yet. We will see how it unfolds – I have no problem wrestling or standing with him and striking… we will see."
Drahota: You obviously plan on getting the belt in the near future. Does a win over Condit earn you a title shot already?
Woodley: "We'll see. As you have seen, I don't take no for an answer!!!"
Drahota: Your most recent loss was a close split decision to Jake Shields at UFC 161. He's fighting Hector Lombard at UFC 171. If he wins, is that a rematch you're looking for? If so, what would you do differently the second time around?
Woodley: "No, I am not looking for a rematch. I'm only looking to fight whoever is in my way to getting the belt and becoming champion."
Drahota: Nick Diaz has also recently teased a UFC return, but he wants a title shot. While that won't most likely happen right away, would you like to be the man to welcome him back?
Woodley: "If he is not the one holding the belt or standing in my path to get the belt then there is no need for me to welcome him back."
Drahota: Tyron, you're known for having a calm and positive, yet unwavering focus on your fighting career. How does that help you inside the cage, and how does it benefit the rest of your life outside of it?
Woodley: "It helps me to avoid getting caught up in things that don't matter, or lose focus on my mission. Inside the cage I have a job that I have trained to do and that I've been chosen for, and the goal is to do that to the best of my ability and win!
Outside of the cage it's almost the same – I cannot waste my time on petty stuff and get distracted. I also run a martial arts studio and need to be focused for my clients – my software provider MINDBODY helps me a lot with this. At the end of the day, I have a family that is on this journey with me and I want to leave a legacy for my children – I have to focus."
Photo Credit: Stephen R. Sylvanie for USA TODAY Sports