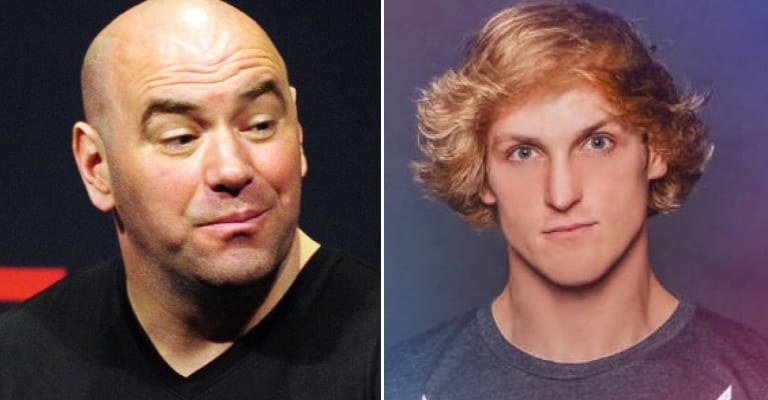 The idea of YouTube star Logan Paul fighting in the UFC has been circling MMA news for a few weeks.
Paul sold a reported 800,000 buys for his YouTube pay-per-view (PPV) bout against rapper KSI last month. The bout was a draw. It also got Paul some big-time coverage when UFC names like Sage 'Northbutt' started paying attention to him. Northcutt's Team Alpha Male trainer Urijah Faber also weighed in on the situation.
Paul's situation and possible UFC debut were compared to that of former WWE wrestler CM Punk. We know how that experiment ended up.
One man with much more say in the matter also weighed in, however. UFC President Dana White recently said his piece regarding Paul fighting in the UFC. In his eyes, credit goes to Paul for getting the PPV sales he did. Fighting in the UFC is another matter altogether:
"That guy would get murdered here," White said. "He would get hurt badly. If I ever let him fight in the UFC, I should be arrested.

"No hate for the kid. He's built a great business for himself, great for him, it's awesome. But trust me, don't play around here. You will get hurt."
The YouTube star caught wind of White's words soon thereafter. Paul reacted on social media by claiming White wasn't really in it for the safety of the fighters when Punk's name came up again:
damn. you're thinking real simple D.

"he would get hurt badly"

you let CM fight. stop acting like you do it for the sport. paycheck = fight. you have no idea what I'm capable of. https://t.co/LzKi4tJi6f

— Logan Paul (@LoganPaul) September 21, 2018
White has drawn a vast amount of critics for his ruthless style that seemingly pays no mind to fighters' well-being. The polarizing executive has been raked over the coals over and over again for supposedly always booking the fight that makes the most money rather than the most sense.
CM Punk Redone?
Paul was a high school wrestler and has some semblance of boxing experience. That's hardly the resume of a UFC-level fighter, however. Maybe the UFC has learned their lesson after Punk put on two grossly uninspiring performances in the octagon.
White praised Punk's dedication and guile to put his reputation on the line via MMAJunkie:
"Everybody always talks about CM Punk. CM Punk is one of the greatest guys you could ever meet," White said. "He's a super good guy, he's very passionate about the sport, and he put his reputation and everything on the line to come fight here, and I respect him for it. Obviously it didn't work out for him, but he's got a lot of heart and a lot of balls to do that."
That could seem somewhat contradictory based on what White said about Paul's chances in the UFC. Perhaps he's just done with these kinds of freak shows for now. For White to pass on an easy opportunity to make big money, he'd have to be.
Either way, it seems Paul won't be making his octagon debut anytime soon.