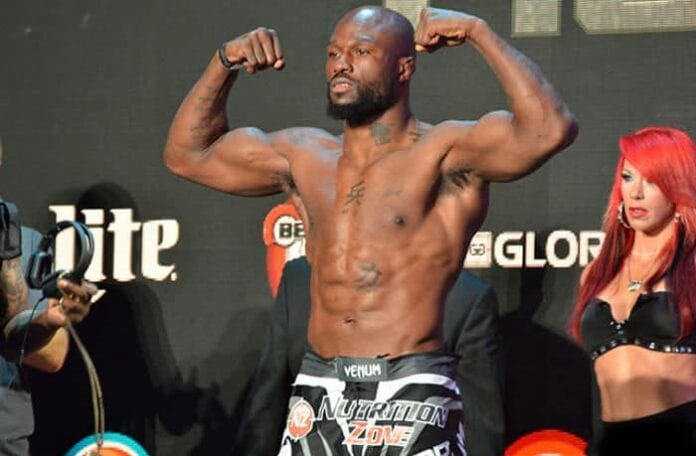 Muhammed Lawal isn't the biggest fan of Tito Ortiz to say the least. ""King Mo" is never afraid to speak his mind on any subject, which includes Tito Ortiz.
Mo signed with Bellator last year while Ortiz signed with them in 2013, but they have never fought each other. Ortiz accepts certain fights against certain fighters. Mo, on the other hand, will fight anyone at any time.
Going into Bellator Dynamite 1, they were both close to one goal that each fighter has in common. The Bellator MMA light heavyweight championship.
Ortiz fought the champion Liam McGeary in the main event while Mo was in the light heavyweight tournament at the event.
"King Mo" has been calling Ortiz out since he signed with Bellator MMA, but Ortiz has not accepted his challenge.
"I heard and saw on Twitter that there was a man doing some d**k-riding … and that's Tito Ortiz," Lawal told MMA Fighting.com.
King Mo explained why he believes Ortiz is just that, and that's because Ortiz took the spotlight after losing his fight to the younger Liam McGeary.
"I heard after Liam submitted him he was waiting there, took the microphone and talked about himself," said Lawal. "Talking himself up after he got submitted. How do you do that? How do you get submitted in two to three minutes [4:41] and then talk about how good you are? Come on, man. Tito Ortiz gets the "d**k-rider of the week" award."
"He needs to slap himself," said Lawal. "Every week I'll tell you who's d**k-riding. There might be a couple of weeks where there might not be one, but where I'm from, Tito Ortiz deserves that award right now."
With Phil Davis receiving the next crack at Liam McGeary and Ortiz not in the title picture anymore, a fight between Lawal and Ortiz just may happen.