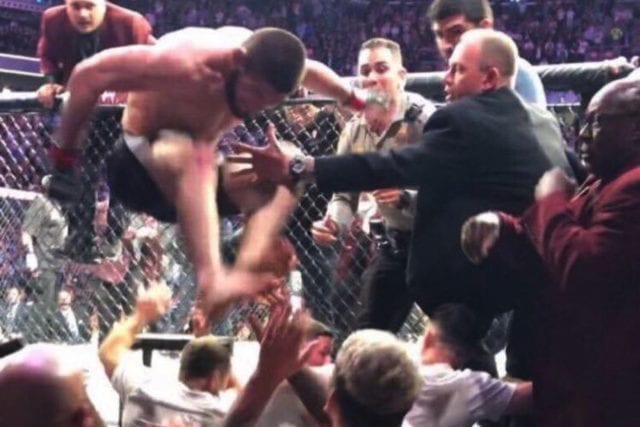 UFC 229 didn't go exactly according to plan.
Lightweight champion Khabib Nurmagomedov successfully defended his title. "The Eagle" submitted Conor McGregor in the fourth round of their contest via neck crank. After the fight, one of McGregor's cornerman, Dillon Danis, began verbally assaulting the champion. This compelled Khabib to jump the Octagon and attack the jiu-jitsu specialist.
Many wondered what it was that Danis said that caused the mild-mannered Khabib to lose his temper. Speaking to Russian media recently, the lightweight champion claimed that Danis called him "a Muslim scumbag" (via Bloody Elbow):
"What was the trainer of McGregor shouting? That I am a Muslim scumbag," said Nurmagomedov. 'I do not want to repeat."
The ordeal got so out of control that, as Khabib tangled with Danis outside the cage, Khabib's team poured into the Octagon and attacked McGregor. McGregor took a few shots to the head from behind before managing to stick someone with a left hand. Luckily, event security managed to get the chaos under control a few moments later.
Initially, it was believed McGregor had no fault in the incident. The Nevada State Athletic Commission (NSAC) paid McGregor for the fight but withheld Khabib's fight purse. Later it was determined McGregor was also somewhat liable, and the NSAC announced intentions to file formal complaints against both men.
Danis denied he denigrated "The Eagle's" religion in his first statement since the incident.
It's unclear how long the process will take for appropriate punishments to be handed down to those involved. Despite the black eye, UFC 229 is believed to have done big business.
If you enjoyed this story, please share it on social media!