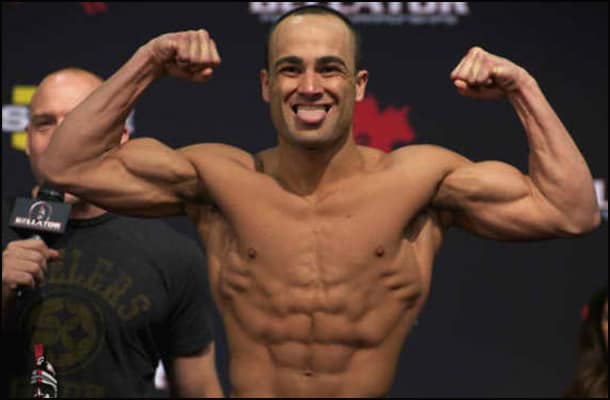 Khabib Nurmagomedov trash talk is becoming my favorite topic
UFC lightweight Khabib Nurmagomedov is rapidly making his name on the main stage, but not only for his impressive unbeaten record. Having quietly got to work in the promotion back in 2012, the Dagestani wrestler quickly built up a six fight win streak, building up an overall 22-0 tally.
Indeed, his record speaks for itself, but more recently we've seen the showman in "The Eagle". Trashing Rafael dos Anjos before his dominant UFC on FOX 11 victory over the Brazilian grappler, Nurmagomedov has since put the top 10 at 155 pounds on blast. Speaking during UFC Tonight, and transcribed by MMAMania, "The Eagle" continued his assault on the UFC's elite lightweights, and Eddie Alvarez in particular:
"I know I am after Gilbert Melendez. Not Ben Henderson, not Rafael dos Anjos, no Cerrone, no Eddie Alvarez. Eddie Alvarez is 0-0 in UFC. He's Bellator lightweight champion, I know, but UFC is another level. For example, Daniel Cormier was the Heavyweight Grand Prix champion in Strikeforce; he come in UFC and win three, four fights before getting title fight. You want to go for a title fight? Come win three or so fights in UFC and and then get title shot. I'm 6-0 in UFC, undefeated, 22-0 and I deserve my title fight."
Whether you like the Russian wrestler or not, you have to agree he has a point. After being momentarily booked in to face Donald Cerrone at UFC 178, the following knee injury seems to have lit a fire under Nurmagomedov. He understands that he needs to remain relevant in the division, and trash talking is the best exposure you can ask for while on the DL.
Although there is a risky element to the game that "The Eagle" is playing right now. By all means, anyone at 155 would probably love to fight him right now. After all, he has made quite a name for himself with his amusing muses, but he also said that he wouldn't fight anyone other than the winner of Anthony Pettis vs Gilbert Melendez. We all know what the stakes of that gamble are.
Rashad Evans learned first hand what sitting and waiting for a title shot can mean, and for "Suga" it was an unholy beat down from Jon Jones after an extended absence. We'll see how it all pans out for Nurmagomedov, but for now let's just sit back and observe his new found knack for trash talking.