Kazushi Sakuraba "The Gracie Hunter"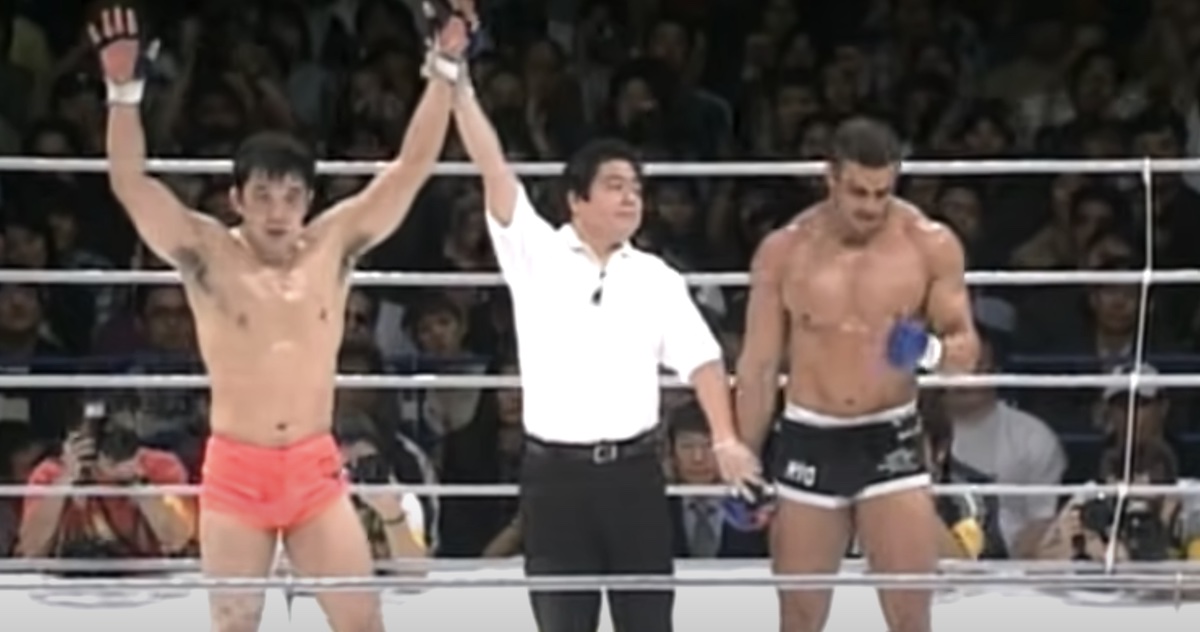 | | |
| --- | --- |
| Date of Birth: | July 14th, 1969 |
| Age: | 53 |
| Place of Birth: | Showa, Akita, Japan |
| Nickname: | The Gracie Hunter |
| Team: | Takada Dojo/Laughter7 |
| Location: | Tokyo, Japan |
| Sport: | Wrestling, MMA |
| Martial Arts Records: | 26-17(MMA 1-1-4(BJJ) |
| Height: | 1.83 m (6 ft 0 in) |
| Weight: | 75.75kg (167 lb; 11st 13 lb) |
| Weight Class: | Welterweight, Middleweight, Light Heavyweight, Openweight |
Kazushi Sakuraba's pro wrestling aspirations
Kazushi Sakuraba grew up with aspirations to be a pro wrestler. Every week, he would religiously watch New Japan Pro Wrestling to see his favorite wrestler Tiger Mask.
Sakuraba would read all of the Tiger Mask Mangas and dream of flying around the ring like his idol. His sole focus was on becoming a pro wrestler and was considering quitting school at 15 to pursue his dreams.
But his family asked him to reconsider this and instead go out for his school's amateur wrestling team. Then he would already have wrestling skills to pursue pro wrestling after he finished school.
Kazushi Sakuraba would excel at amateur wrestling and became one of Japan's best young freestyle wrestlers. Ranking 2nd in the country and earning a spot on the Chuo University wrestling team.
He would continue to be successful at the collegiate level winning the East Japan Freshman Championship. In his final year of wrestling, Kaz would rank 4th in the country.
Kazushi Sakuraba becomes a pro wrestler
After keeping his promise to his family to finish school, Sakuraba would begin his pro wrestling training. Learning under pro wrestler and catch wrestling expert Billy Robinson. Also Japanese wrestlers Nobuhiko Takada and Yoji Anjo, who are both known for having MMA careers.
Pro wrestling training was brutal as Kazushi would train multiple times a day and be physically beaten down. Learning a shoot style of pro wrestling, while having to perform thousands of calisthenics and run miles every day.
The first wrestling promotion that Sakuraba worked for was the Union of Wrestling Forces International(UWFL) from 1993-1996.
After the UWFL closed its doors in 1996, Sakuraba moved to the promotion Kingdom Pro Wrestling in 1997. This promotion would only last a year due to the rise of MMA in Japan.
Kazushi Sakuraba's entry into MMA
Sakuraba initially had his first experience in MMA, when he fought UFC vet Kimo Leopoldo. Although many considered that the fight was fixed it was never proven.
He also had a mixed rules match against Dutch kickboxer Rene Rooze that he won by toe hold. But since the bout technically wasn't MMA, the win didn't go on his record.
Kazushi Sakuraba's 2nd pro fight would be at UFC Japan against future ATT coach Marcos Silveira. This was a controversial match, because referee Big John McCarthy stopped the bout prematurely. Ending the bout in a no contest.
The two would have another match that night, which Sakuraba won by arm bar in the first round.
Kazushi Sakuraba's early Pride run
After his two bouts in the UFC, Sakuraba would make his debut on the Pride 2 show in Yokohama, Japan. Beating UFC vet Vernon "Tiger" White by armbar.
Being native to Japan, the fans of Pride quickly embraced Kazushi Sakuraba as the face of the promotion. He would win his second bout with the promotion at Pride 3 beating former UFC champion Carlos Newton by kneebar.
His 4th fight would be a hard fight against Allan Goes that would end in a draw. Sakuraba would win his fourth fight in Pride beating another former UFC champion in Vitor Belfort by decision.
He would continue finding success as he would go on to beat Ebenezer Fontes Braga and Anthony Macias. Sakuraba was quickly becoming one of the biggest stars in MMA.
Kazushi Sakuraba's early bouts with the Gracie's
Kazushi Sakuraba would face the biggest test of his young career at Pride 8. Where he would face Royler Gracie, who was highly favored going into the bout.
Sakuraba would stun Royler as he repeatedly kicked Royler's legs and would go into his guard. Instead he would play to the crowd and win the striking battle.
The fight would end in controversy as the ref stopped the bout after Sakuraba locked in a kimura. Royler and his family protested, because he clearly never tapped.
This made Kazushi enemy #1 to the Gracie family and they vowed to beat him.
His next bout would be in the opening round of the 2000 Pride GP against Guy Metzger. He would win the match by TKO to set up a match with UFC champion Royce Gracie.
Before their fight, the Gracie family demanded that the rules be changed for this bout. They demanded that the match be unlimited 15 minute bouts until a winner was determined.
Their match would go for 90 minutes, where Kazushi Sakuraba defended most of Royce's sub attempts, while landing punches and takedowns. After the 90 minute mark, Royce's corner threw in the towel.
Kazushi was now 2-0 against the Gracie's, but he couldn't continue the tournament due to exhaustion.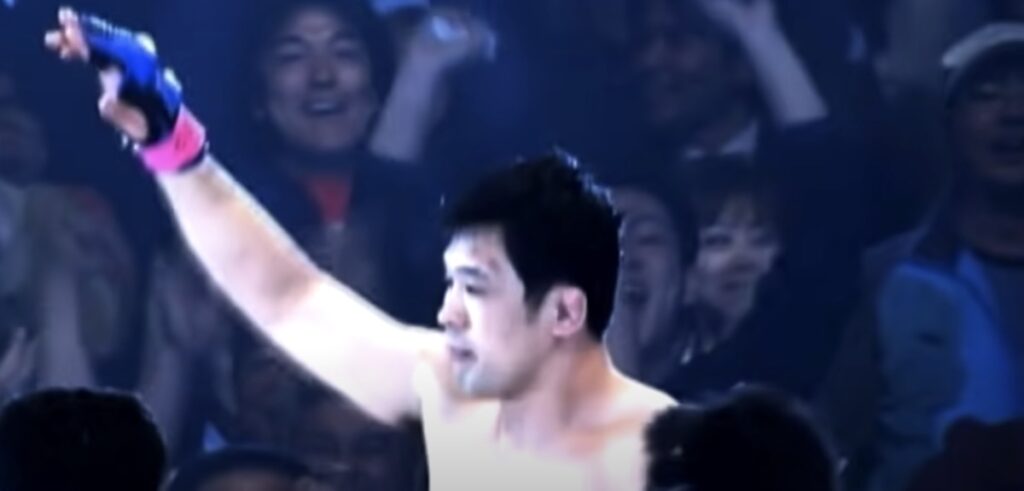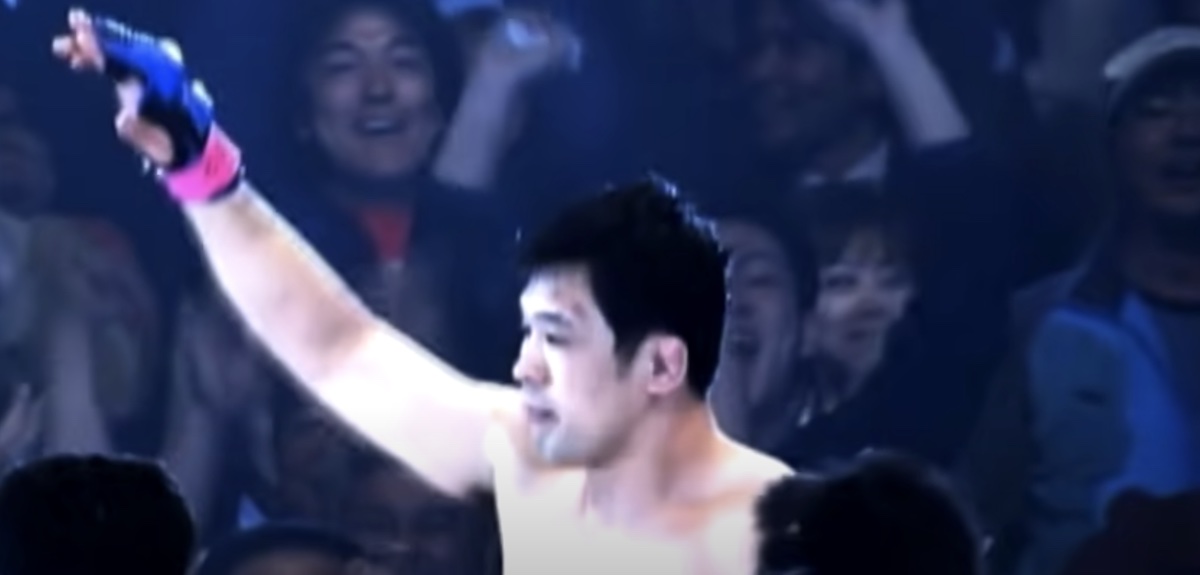 Kazushi Sakuraba becomes The Gracie Hunter
The Gracie family was still looking to even the score with Kazushi Sakuraba. They would send Renzo Gracie to fight the Japanese MMA star at Pride 10.
Renzo had better striking than his other relatives, but Sakuraba's wrestling and striking were better. He would play a similar game against Renzo and would win most of the fight until locking on a kimura.
Once he locked on the submission, they would fall to the ground. Renzo's arm was clearly broken, but did not tap and the referee was forced to stop the fight. Putting Sakuraba up 3-0 against the Gracie family.
Kazushi would peat Shannon Ritch by achilles lock before meeting Ryan Gracie at Pride 12. Once again, he dominated another Gracie and would win the bout by unanimous decision.
With his fourth win against the Gracie's, Sakuraba earned the nickname, "The Gracie Hunter."
Kazushi Sakuraba's decline in Pride
After his win against Ryan Gracie, the Gracie Hunter would face Wanderlei Silva for the first time. This would be a brutal KO loss for Sakuraba that would mark a decline in his time in Pride.
He would bounce back with a submission win against Quinton Jackson and face Silva in a rematch. This time for the Pride Middleweight Championship.
Even though the crowd was behind him, Kazushi Sakuraba would suffer another brutal loss to Wanderlei. This would be followed up by a hard TKO loss to Mirko Cro Cop.
During the end of Sakuraba's run in Pride, he would go 6-6 in the promotion. 5 of the losses were by devastating knockout.
The end of Sakuraba's MMA career
The Gracie Hunter was a shell of himself in the later years of his MMA career. Riddled with injuries and damage from over 3 decades of wars.
Sakuraba would fight in various promotions between 2006 and 2015. From K-1, Heroes, Dream, and Rizin.
He would lose 5 in a row before retiring from MMA after a TKO loss in 2015 to Shinya Aoki.
Kazushi Sakuraba's return to pro wrestling
Towards the end of Kazushi Sakuraba's MMA career, he would go back to his first love, pro wrestling. He would make his return to New Japan Pro Wrestling for the first time in 20 years.
Kazushi would be in various programs for the company between 2012 and 2016. Generally performing in tag team matches and most notably feuding with MMA legend Minoru Suzuki.
The two would feud throughout 2014 and would meet at Wrestle Kingdom 9 in front of 50k people.
Sakuraba is currently working for another Japanese pro wrestling promotion called Pro Wrestling Noah.
Kazushi Sakuraba UFC Hall of Famer
In 2017, Sakura was honored by the UFC by being inducted into the UFC Hall of Fame. A much deserved honor that both fighters and fans agreed on.
Kazushi Sakuraba creates Quintet
Since retiring from MMA, Sakuraba has gone on to create the grappling promotion Quintet. A tournament based grappling event where different teams compete against each other to crown a champion.
Sakuraba has competed at 4 Quintet events and is the team captain of his team. He had also previously competed in 3 other grappling matches against Renzo Gracie, Wanderlei Silva, and Frank Shamrock.
Kazushi Sakuraba's legacy
Kazushi "The Gracie Hunter" Sakuraba is one of the most beloved figures in the history of MMA. He is a showman with incredible ability that made millions instant fans of him.
Sakuraba may have not won every bout, but he put his soul into every match and gave it his all. This is why he is an all time great, who is still loved by MMA fans across the world.