Junior dos Santos expects Sergei Pavlovich to 'Dominate' the heavyweight division: 'Hell be a star'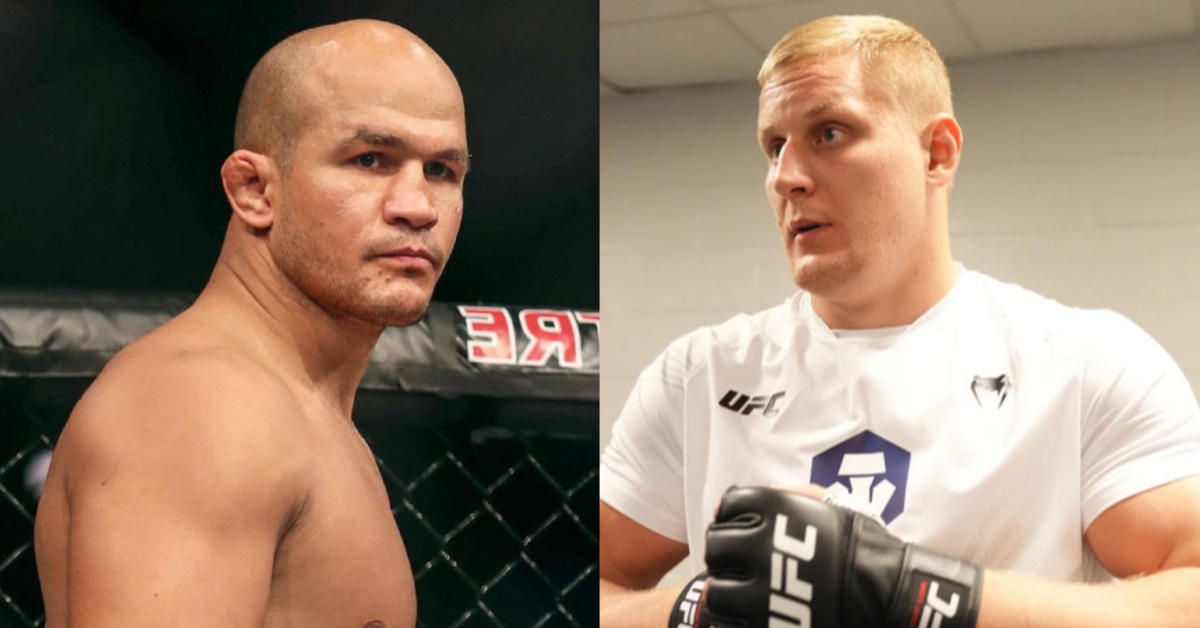 Former UFC heavyweight champion Junior dos Santos sees Sergei Pavlovich one day ruling over the division.
Pavlovich has established himself as one the breakout stars of the UFC's heaviest weight class courtesy of six straight first-round knockouts against some of the division's most formidable foes, including Curtis Blaydes, Tai Tuivasa, and Derrick Lewis. On the cusp of scoring his first shot at UFC gold, Junior dos Santos believes it's just a matter of time before the heavy-hitting Russian is dominating the division.
"I had the opportunity to train with him and he's really tough, brother," dos Santos said on an episode of MMA Fighting's Trocação Franca podcast. "He'll scare a lot of people in there. He'll be a star, he'll dominate this division soon, and he's only getting better."
Reigning heavyweight champion Jon Jones will put his title on the line this November when the promotion returns to the world's most famous arena, Madison Square Garden, for UFC 295. In the main event, 'Bones' will put his strap on the line against heavyweight GOAT Stipe Miocic, but no matter who comes out on top, both men could find themselves fading away into retirement, leaving the promotion without a heavyweight champ.
Enter Jailton Almeida, a fast-rising contender who has earned four straight finishes, including a first-round submission over Jairzinho Rozenstruik in his last outing. Almeida will attempt to earn his fifth win in a row when he meets perennial contender Curtis Blaydes on November 4.
Many fans believe 'Malhadinho' is destined to be the next big thing in the heavyweight division, but Junior dos Santos can't look past the impressive ability of Sergei Pavlovich, particularly after spending some time in the gym together.
"'Malhadinho' is doing great as well in every sense and I hope he continues to do so," dos Santos said. "But I had the personal experience of training and whatnot, to know how hard it is to train with Pavlovich, and that's why I'm saying this. He's super tough, you know? But we obviously see the work 'Malhadinho' has put in and it's impressive. I think he'll always be at the top as well. It's going to be an interesting battle. The heavyweight division is going through a great moment, especially after Jon Jones' arrival."
Junior dos Santos Sees Stipe Miocic Giving 'Bones' His Greatest Challenge
Jon Jones is already being dubbed the greatest mixed martial artist in the history of the sport. That's an undoubtedly difficult statement to argue against, but if there's one man out there who can pose a legitimate danger to Jones' legacy, it's the two-time heavyweight world champion.
"If there's anyone who can give Jon Jones a challenge right now, that's Stipe Miocic," dos Santos said. "I admire Stipe a lot, he's a great fighter with a solid wrestling background. UFC and Dana White made the right call. This is a fight that will excite all the fans, and I won't miss it. It makes all the sense."
Junior dos Santos stepped inside the Octagon with Stipe Miocic on two separate occasions, the first coming in 2014 with 'Cigano' walking away with a unanimous decision victory. Three years later, they would run it back at UFC 211. This time, Miocic would even the series scoring a first-round knockout.
"In my career, I think the one that hit me the hardest was Miocic — that I [still] had consciousnesses. The others, I slept," dos Santos said with a laugh. "I think he brings great danger to Jon Jones. And we don't need to talk about Jon Jones, he's incredible.
"Jon Jones is the favorite against anyone, obviously. He's exceptional, never lost in his career, and this is a fight you can't miss."