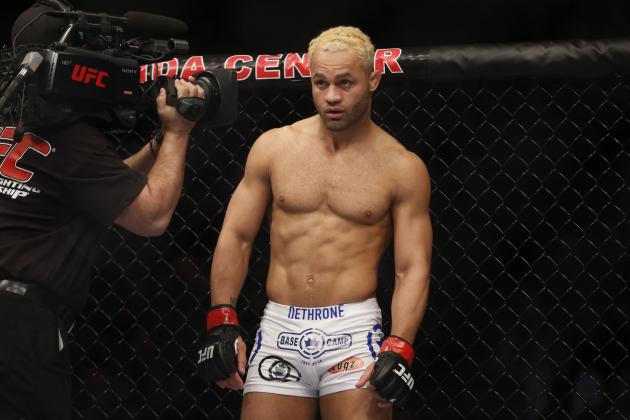 Josh Koscheck is the latest fighter to announce his retirement from MMA.
Koscheck retires from MMA with 17-11 record including posting a record of 15-10 under the UFC banner. He rose up the ranks in MMA after appearing on the inaugural season of The Ultimate Fighter. He lost a split decision to eventual winner Diego Sanchez in the semifinals of the tournament.
During his time as an active pro-MMA fighter, Koscheck had a successful career including a welterweight title shot against Georges St-Pierre at the UFC 124 pay-per-view event.
However, the past few years have not been kind to the former UFC title contender has he went gone 0-6 since 2012 where he was stopped five times in those six bouts.
After departing from the UFC, Koscheck was supposed to make his Bellator MMA debut against Matt Secor at Bellator 148 in the main event back in January of 2016 but that fight got nixed.
One idea that lured Koscheck to Bellator MMA was to have a rematch with Paul Daley. As you might recall, there was an incident at UFC 113 when Daley punched Koscheck after the bell sounded in the third round.
Years since that fight, the two have talked about fighting each other once again. As soon as both fighters were in Bellator MMA, the chances of that fight happening appeared to be good. Obviously, that didn't happen.
Koscheck announced his official retirement from MMA on The Luke Thomas Show on Thursday by stating that the reason he made this decision was due to him believing that he "didn't have it" anymore.
"You never know, I might come back some day," Koscheck said (transcript courtesy of MMA Fighting). "The biggest thing about my mixed martial arts career, at the ending it didn't go the way I wanted. It's almost like you kind of just lose it, and it pains me to say that. It really, truly pains me as a fighter because I have a big ego – everybody that steps inside that cage has a big ego – but I truly didn't have it.

I couldn't go out there and compete with these young guys. I felt great in the gym. I was in great shape. I don't think I was ever in better shape than I was at 38, 39, and 40, but I just didn't have it."
Well, Josh Koscheck just told me he's officially retired on #TLTS.

— Luke Thomas (@lthomasnews) June 28, 2018
If you enjoyed this story, please share it on social media!