Jon Jones is officially back in the UFC. Again. Well, at least hopefully.
It was announced at today's UFC Summer Kickoff press conference from UFC 211, that longtime former light heavyweight champion "Bones" will meet his bitter rival, current champion Daniel Cormier, at July 29's UFC 214 from Anaheim, California.
Cormier vs. Jones is one of the most infamous rivalries in UFC history, but outside of Jones' victory in their first fight at UFC 182, it's fallen apart far more times due to a variety of circumstances than it's actually transpired. Jones first pulled out of their initial meeting with an innocent-enough knee injury, beat Cormier, and was thought to be moving on to an awaited title fight against Anthony "Rumble" Johnson until his notorious New Mexico hit-and-run briefly made him a fugitive and ultimately resulted in him being stripped of his long-held title.
Yet Jones still believes himself to be the champ, starting the seemingly never-ending trash talk by saying "DC's" title was fake:
"Fuck no. He never beat me. So the belt he has over there is an imaginary belt. Until he beats me, that belt over there is a piece of shit."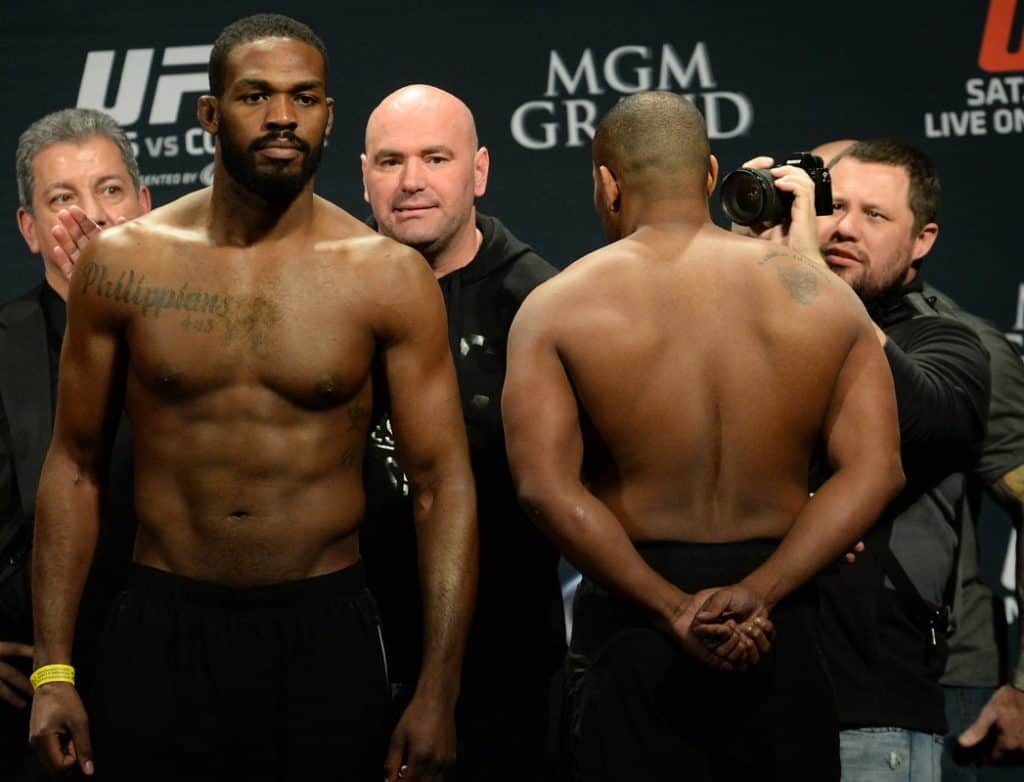 Cormier filled in against "Rumble" at UFC 187 and submitted the hulking power puncher in the third round, defending his belt against Alexander Gustafsson in a five-round war at October 2015's UFC 192 to earn the rematch with Jones at April 2016's UFC 197. But this time, Cormier pulled out with a groin injury, leaving Jones to fight late replacement Ovince Saint Preux for an interim title.
He won in a somewhat plain unanimous decision, and his rematch with Cormier was re-booked for the main event of July 2016's massively anticipated UFC 200. But then the fight was called off yet again, when only three days prior to the bout news arrived that Jones had failed a USADA drug test for two banned estrogen blocking substances and was off the card. Cormier fought Anderson Silva, using his wrestling to smother the all-time great, while Jones was suspended for one year after an arbitration hearing where he supposedly claimed the substance was due to a sexual performance enhancement pill.
Cormier was supposed to defend his belt against Johnson at last December's UFC 210 but pulled out with another injury. The fight was scheduled for a third time and Cormier submitted "Rumble" by rear-naked choke again, sending the fearsome knockout specialist into retirement and once again opening up the path for him to finally settle the score with Jones.
White has repeatedly stated that Jones would not headline an event he returned at because of trust issues he had created over the past two years of scandals. It's an expected response from the company whom Jones was once arguably the biggest star of, yet they most likely know they need any big name they can get – even one as uncertain as Jones – in the octagon for a high-profile fight before this year begins being labeled a total bust.
If they can, MMA's most heated rivalry may finally be put to rest. Just don't count on it until you see both fighters step into the octagon.