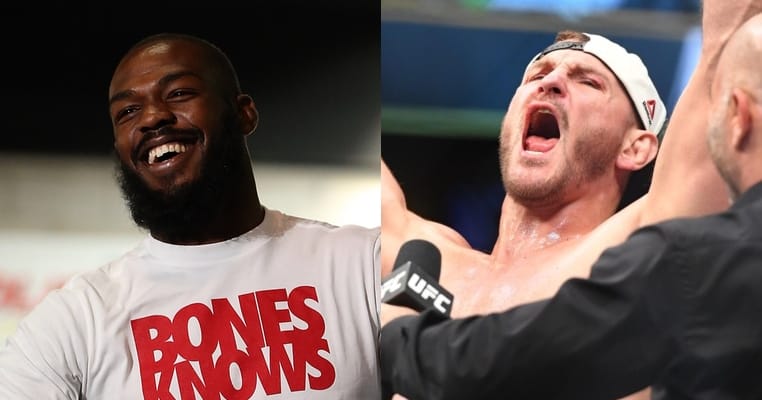 Former longtime UFC light heavyweight champion and former pound-for-pound king Jon Jones is currently dealing with a possible anti-doping violation that forced him to be pulled from his scheduled UFC 200 (July 9, 2016) title fight with bitter rival and current champion Daniel "DC" Cormier. The situation has yet to be resolved, but "Bones" has hinted that positive news could be coming. If the ex-champion does indeed avoid a two-year suspension, he'd likely return to the 205-pound division where he appears to have some unfinished business, but he may not remain there forever.
In fact, Jones has teased a possible jump to heavyweight in the past, and it could be a very realistic possibility. "Bones", when he does fight, has come dangerously close to cleaning out the light heavyweight class, and he also has the size to compete at heavyweight.
If he were to indeed make the move up, he'd likely find himself in a huge right off the bat, and he recently touched on a potential title fight with reigning champion Stipe Miocic on his official Twitter account. When asked about the possible scenario, "Bones" said that he'd be the 'challenge of a lifetime' for Miocic:
I'm starting to realize the hype is real with that guy. He's legit, I would be the challenge of a lifetime https://t.co/ybke2pAtAC

— Jon Bones Jones (@JonnyBones) September 12, 2016
Meant to say it* would be the challenge of a lifetime

— Jon Bones Jones (@JonnyBones) September 12, 2016
Haha screw it, saying I works too

— Jon Bones Jones (@JonnyBones) September 12, 2016
The reigning heavyweight king secured the title with a brutal first round knockout over Fabricio Werdum last May. He followed that performance up with another first round stoppage over Alistair Overeem in his first title defense this past weekend (September 10, 2016) at UFC 203.

Would you like to see Jones and Miocic one day do battle in the Octagon?