Jon Jones Finally Given Official USADA Suspension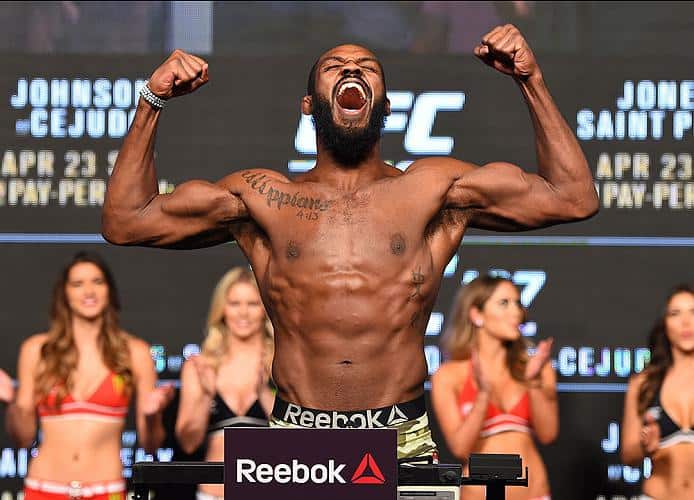 Everything seems to be falling right in place for Jon Jones to potentially headline UFC 230 in New York.
Today (Wed. September 19, 2018) it was announced by MMA Fighting that Jones had officially been handed a 15-month suspension by the United States Anti-Doping Agency (USADA) through an arbitrator. The suspension is retroactive to when the sample was collected on July 28, 2017.
Jones is officially eligible to fight again next month on Oct. 28th.
An official USADA statement including a full arbitrator decision is expected sometime tonight. Jones would be eligible to headline the upcoming UFC 230 pay-per-view (PPV) card from Madison Square Garden in New York City.
Following his UFC 214 victory over Daniel Cormier, in which he recaptured the 205-pound title, Jones tested positive for Turinabol. He was subsequently stripped of the title, which was returned to Cormier who still reigns as champion. Initially a third-round knockout win for Jones, the victory was overturned to a no contest as a result.
As a result, the California State Athletic Commission (CSAC) revoked his MMA license in February. The hearing determined the commission would honor the suspension USADA deemed fit along with a $205,000 fine for Jones. Jones was facing up to a four-year ban by USADA as a second-time offender.
His initial run-in with the agency came before UFC 200 when he tested positive for a banned substance. It has long been rumored that Jones could serve as the main event of the UFC 230 PPV.
Nate Diaz will meet Dustin Poirier in the co-main event Only a short list of names could be big enough to headline over the Stockton brawler, and Jones fits that bill. He has been linked to a rematch with Alexander Gustafsson for the main event of UFC 230.