According to Daniel Cormier's training partner, the UFC light-heavyweight champion and Jon Jones had a run-in after last week's press conference…
UFC light-heavyweight champion Daniel Cormier is once again involved in a deep feud with the ex-champ Jon Jones. After defeating 'DC' at UFC 182 last January, 'Bones' went on a bender in New Mexico that would leave a pregnant woman injured following a late night car wreck, and also Jones' reputation in tatters. The promotion yanked the belt from the shoulder of Jones, and Cormier submitted Anthony Johnson for the vacant belt at UFC 187.
Now set to collide at UFC 197 on April 23, Jones and Cormier have wasted no time in making their feelings toward each other known. The 'unstoppable' press conference last week topped off a back and forth over social media that perhaps saw 'Bones' take the upper hand, and he even brought his own belt to the conference to troll Cormier.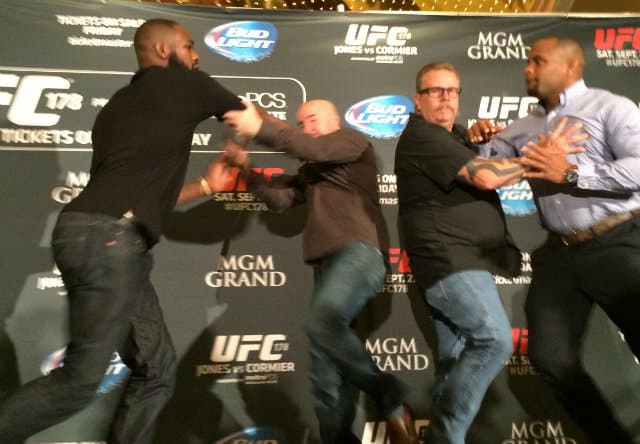 There was nothing like the infamous UFC 178 media day brawl to report, but an interesting segment from the latest edition of The MMA Hour flew under the radar. According to one of Cormier's training partners, heavyweight kickboxer Chi Lewis-Parry, 'DC' and 'Bones' had a pretty nasty confrontation after the press conference last week. Check it out:

Wow, some pretty nasty stuff going on between Jones and Cormier by the sounds of it, and not a camera in site. This would strengthen the opinion that the former Olympian has of his foe, having called the ex-champion a 'fake' on multiple occasions.

So what else is hot in the world of MMA right now? Well, unless you were chilling under a rock this past weekend, you'll know that Conor McGregor was defeated by Nate Diaz at UFC 196 after a very heated rivalry.
skip to the next page to see all the best memes and videos from UFC 196