Jon Jones is ready to get back to work.
The former UFC light heavyweight champion has been serving a one-year suspension after violating the United States Anti-Doping Agency (USADA) after being flagged prior to his scheduled title bout against Daniel Cormier at UFC 200 last Summer. Jones was taken off from the card just two days out from the bout, and Cormier went on to defeat Anderson Silva in a non-title fight.
Cormier has since reigned as the 205-pound king, earning the title after Jones' first run-in with adversity as he was stripped of his then-light heavyweight title and suspended indefinitely following a hit-and-run incident in which 'Bones' was at fault. He was scheduled to make his ninth title defense against Anthony Johnson, but was replaced by Cormier who went on to win the vacated title with a third round submission.
Now 'DC' is set to make his second title defense against Johnson tomorrow night (Sat. April 8, 2017) in the main event of the UFC 210 pay-per-view (PPV) from Buffalo, New York. With Jones' suspension nearing its end the New York native will be in attendance to witness the fight cage-side, which will most likely determine his next opponent.
Jones spoke to the media today to discuss his time away from the Octagon and his expectations for tomorrow night. The Jackson-Wink product is ready to get back to work inside the cage and get his old life back, which he appreciates so much more now that its been taken away from him:
"The time off has been great, I think you don't really appreciate what you have until you don't have it anymore. I think this last year has given me a lot of time to realize how great my life was and how much I want it back.

"I've spent a lot of time with my family and training. Doing a whole bunch of jiu-jitsu and wrestling. If feel great, I feel well preserved, well rested, and I'm ready to get back to kicking ass."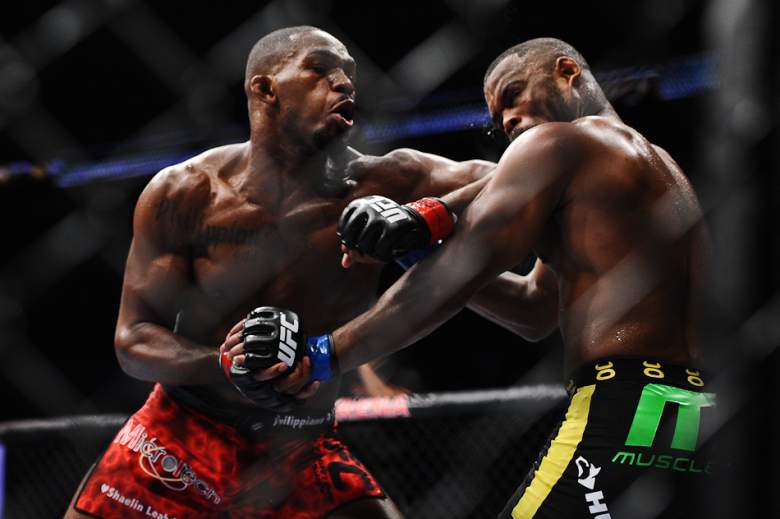 When asked if he expects to take on the winner of tomorrow night's title bout, Jones says he has no expectations for who he'll fight next and has yet to speak with the UFC regarding the matter:
"I have no expectations right now, I haven't really spoken to the UFC about any possible fights or match-ups. I'm just doing my part by remaining ready to go."
Earlier this morning during the official weigh-ins for tomorrow's show there was much controversy surrounding Cormier's weight. At first the champion weighed in just over 206 pounds, one pound over the 205-pound weight limit.
Nearly three minutes later Cormier returned and made weight at 205 pounds, but it seemed as though he was leaning against the towel that was being used to cover him up to toggle with the scale's reading. Jones called this action 'one of the dirtiest things' he's seen in sports:
"Yeah man that was absolutely nuts. I couldn't believe what I was seeing. I mean I watched the guy, if you focus on his hands you can see him looking down and balancing out his weight just right to make 205. What a clever trick, very dishonest of him. The crazy thing is that it was allowed to happen.

"I would imagine that there's some kind of commission to go back and see this blatant foul play and address it. Nobody has addressed it, they just completely gotten away with doing one of the dirtiest things I've seen in sports."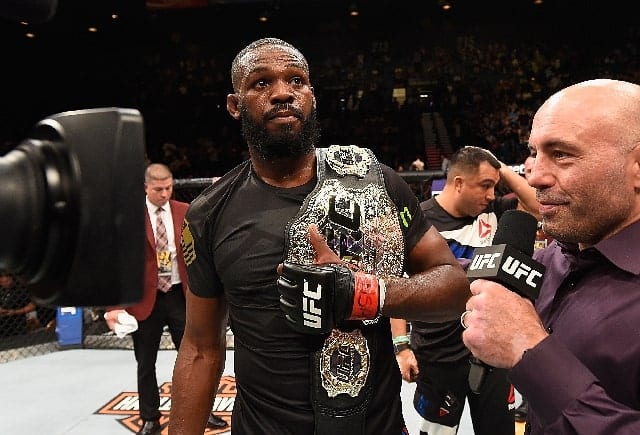 Cormier also recently stated that Jones shouldn't be coming out to the public eye until his suspension is officially over. While he may assume that Jones is after his spotlight this weekend, 'Bones' stated that couldn't be farther from the truth as he's just in Buffalo to watch a good fight:
"Stupidest sh*t I've ever heard. I haven't been out, I haven't been to a UFC event throughout my whole suspension. I barely Tweet or Facebook or anything on social media. He's saying okay now you've finally come out, you should be hiding from people. I haven't been hiding from people, I've been living my life. Instead of being a professional athlete I've been being a father, fiancee, living my own private life.

"You just want me to hide forever? It's some of the dumbest sh*t that I've ever heard really. I think he's just upset I'm here and stealing some of his spotlight, but that wasn't my intention. My intention was to come here and watch two guys that are going to be fighting. But yeah he hates me. He hates me and that's safe to say. I annoy him a lot and it definitely works to my advantage to be in this guy's head."
To end his press conference Jones put the entire 205-pound division on notice by reminding them that he's still the youngest fighter in the top 10, and that should be a scary thought for them:
"I'm still the youngest guy in the division that's in the top 10 – and that should be a scary thought for a lot of these guys, how preserved I am, and how hungry and rejuvenated I am."