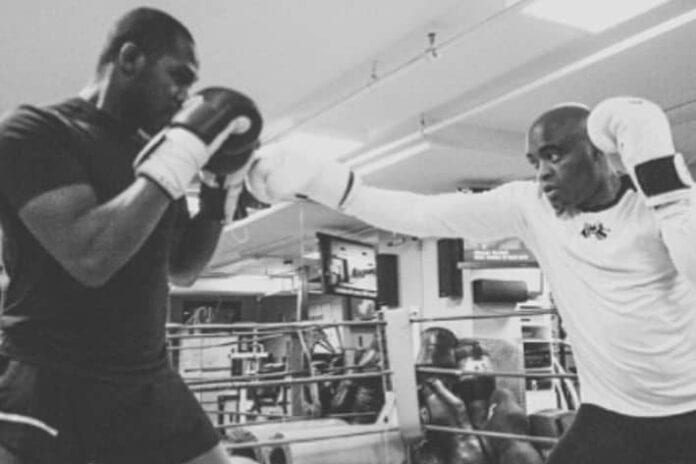 The elusive super fight, a fight pitting the best fighter in one division up against the best fighter in another to see who truly is the best in the world, is a very intriguing topic in mixed martial arts (MMA).
One of the most talked-about super fights is the dream match-up between reigning light heavyweight champion and current pound-for-pound king Jon "Bones" Jones and former middleweight champion and all-time great Anderson "The Spider" Silva.
It seems, however, that after years of speculation and hope from fans, that this hypothetical fight has finally been put to rest, as the two superstars seems to have become very good friends. The two famously trained together a short time ago after the UFC's The Time is Now press conference, and although Jones just defended his title this past weekend at UFC 182, "Bones" claims that he is willing to help "The Spider" get ready for his upcoming bout.
After notoriously breaking his leg at UFC 168 last December, Silva is set to make his highly anticipated return later this month in the main event of UFC 183 against Stockton Bad Boy Nick Diaz. A little help from the current pound-for-pound king could definitely help Silva, and Jones told Sportv that he would even travel to Silva's Blackhouse Gym in California:
"If there's anything I can do for you (Silva) leading up to this fight, let me know, because I will definitely come out to California and train with you."
Jones, who is nearing Silva's consecutive title defense record and nearing the title of Greatest of All Time (if he has not secured it already), is excited to see the Brazilian legend back in action. There are many questions as to what form of "The Spider" will return after such a devastating injury, but "Bones" feels good about Silva's chances against the former Strikeforce welterweight champion:
"I did it, and I cannot wait to see you knock out Diaz. I believe in you so much. I know you got it. Get it done, baby, it's your turn."
UFC 183 goes down on January 31, 2015 from the MGM Grand in Las Vegas, and it will truly be a spectacular night. Whether or not he enlists Jones' help, Silva will definitely have a lot to prove.

Will the former middleweight king prove he has one last title run left in him, or will UFC 183 mark the beginning of the end of an extremely decorated career?