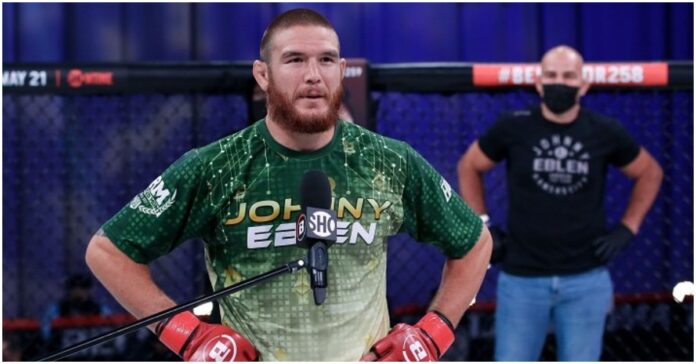 Bellator No.5 ranked middleweight Johnny Eblen is set for "15 minutes of violence'" as he takes on promotional newcomer Colin Huckbody at Bellator 272.
This bout will mark Eblen's third fight in just seven months, in an attempt to keep his undefeated record intact. Across from the former University of Missouri wrestler will stand Huckbody, who will aim to prove the bookmakers wrong in his Bellator debut.
Huckbody will enter the cage with a 10-3 record, with an impressive six submissions to his name. 'Young Huck' had also previously competed on the Dana White Contender Series, a bout in which he would win and earn a contract. Eventually, Huckbody would part ways with the promotion before his first fight, explaining that he did not feel ready for the level of competition. Huckbody is currently highly ranked on the regional scene, with Tapology ranking him as the No.1 active middleweight in America. 
In an interview with LowKickMMA, Eblen had this to say about his opponent "He's got decent striking from what I have seen via videos also he has a good grappling background, has a lot of submissions, likes to fight, gets in there. He's got a good amount of fights, what's he 10-3 so somewhat of a vet. I think I'm gonna put it on him and have fun with it."
Although Eblen is coming as high as a +1000 favorite, he didn't guarantee a finish.
"If I don't come in prepared and all guns blazing he could be a big problem but I don't think that will be the case.
"There will be 15 minutes of just pure violence, if it gets done before that, great, if not its gonna be a lot of fun."
Johnny Eblen Will Seek A Bigger Name After
Although Eblen is only nine fights into his MMA career his talent and ambition are evident. 'Diamond Hands' is happy to just be in the cage but he is looking for more.
"It is it what it is um I'm not a great matchup for people," said Eblen, "I more asked Bellator to set this up I was supposed to fight ranked opponents previously but they ended up falling through.
"I like to stay active, I really enjoy getting in that cage and putting on a performance for the fans so this is was the best thing they could set up and it's an unranked guy, it's all good I'm not really too worried about that.
"After this, I'm gonna definitely need a fight that makes more sense so yeah the thing is I could not sit out this one, I didn't have to fight this one. I could of waited till next year to fight a ranked guy so this is just more of a fill-in fight for me not saying I'm not taking it serious by any means, I'm taking it highly serious. The dude signed a contract saying he can put me away, well maybe he doesn't think but, maybe he thinks he can win the fight and I take that as disrespect so I'm gonna put it on this motherfucker."
Eblen still has to get through Huckbody but is sure of what he wants next.
"John Salter. Because I've already signed a contract to fight him. I was supposed to fight him in November at the Hard Rock, down here in Florida but he ended up having an injury and having to pull out so that's something I've already signed and sealed and ready to do."
What do you think? Will Johnny Eblen get the job done this Friday?