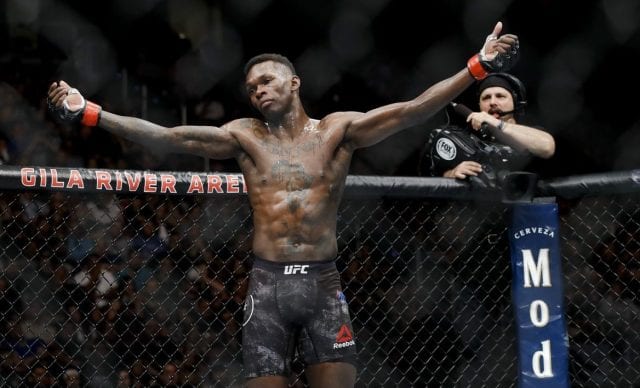 Israel Adesanya reacts to Kelvin Gastelum questioning if he should've received a title shot in the middleweight division.
Gastelum isn't the only fighter to question the wins that the rising contender has picked up. UFC middleweight champion Robert Whittaker is expected to the fight the winner of their interim title bout. Even the champ has expressed questions about the hype around him.
Part of that is due to how Adesanya got to the title fight, which was beating former champion Anderson Silva, who is still competitive but past his prime. For Adesanya, he pointed out the fighters that Gastelum has beaten to get to this point in his pro-MMA career as well.
"So someone actually on Instagram kinda pointed out to me that everyone keeps saying, 'Oh, I fought an old Anderson.' Anderson's beaten a lot of the guys [Gastelum]'s beaten when they were younger," Adesanya told MMAFighting. "[Gastelum] fought Belfort when he was old, 'Jacare' when he was old, Bisping when he was old, (Nate) Marquardt when he was old, and the list goes on. So I don't know why people aren't considering that.
"Like, these guys that he's dropping, they're just literally [covering up] and just getting hit. Anderson's a different kind of beast, so that's why getting ready for him I felt was harder physically and also a harder fight to deal with than Kelvin."
The UFC 236 pay-per-view event is set to take place on Saturday, April 13, 2019, at the State Farm Arena in Atlanta, Georgia.
If you enjoyed this story, please share it on social media!