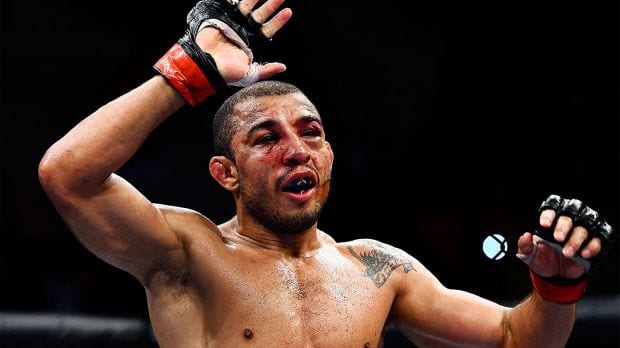 Jose Aldo (25-1) is the most decorated mixed martial arts (MMA) featherweight in the history of the sport. From his reign of terror at World Extreme Cagefighting (WEC) to his current run as the Ultimate Fighting Championship (UFC) 145-pound king, Aldo has proven himself to be an elite competitor.
Recently, however, we have seen a side of the Brazilian bruiser that we are not used to seeing. The usually calm, cool, and collected champion seems to have had his feathers ruffled by his next potential challenger Conor McGregor (17-2).
We'll get to the "potential" part later.
McGregor's trash talking has been proven to mess with Aldo's head numerous times. "Junior" uncharacteristically flipped the bird at "Notorious" at a press conference in Rio. And of course who can forget when McGregor snatched Aldo's championship in Dublin? Aldo, who is known for being more reserved, stood up enraged and had to be restrained by UFC president Dana White.
Later on, Aldo found himself in the middle of a drug test fiasco. When a sample collector, licensed by the Nevada State Athletic Commission showed up at Nova Uniao, Aldo's coach Andre Pederneiras grew suspicious and called Brazilian police to have the collector deported for not having a visa.
To top it all off, the featherweight champion suffered bruised ribs during training. The injury can be attributed to a sparring session with Alcides Nunes, the man brought in to emulate McGregor's style. While Aldo plans on making it to UFC 189 on July 11, 2015 in Las Vegas, Chad Mendes is said to be on standby should those plans fall apart.
That would be the "potential" part.
With all that said the question remains, is Jose Aldo starting to crack? With his inability to keep his emotions in check when "Notorious" appears, the drug test controversy, and his injured ribs, Aldo appears to be letting the pressure of this fight get the better of him.
Even if he makes it to UFC 189, "Junior" will have a lot on his mind. First off, he probably wants to hurt his opponent badly and when a fighter has that mentality it can impact their performance. Just ask Tito Ortiz. "Notorious" thrives on taking his opponents out of the fight before it even begins. Should Aldo throw his game plan out the window, he may be on his back staring at the lights when the bout is over.
Second, his ribs probably won't be completely healed come fight night. With all these factors coming into play, Aldo's head must be a mess and if he can't get the extra baggage out of the way, he may no longer be in possession of his title next month. It's difficult to overcome someone with the skills of McGregor as it is, but doing so with an injury and mental clutter makes it worse.
But then again, times like these are when champions shine and Aldo is a champion.