All of the sudden, Georges St-Pierre has a lot of leverage with the UFC.
In a surprising outcome to many, the longtime welterweight champion returned to the Octagon after almost four years off and submitted Michael Bisping in the main event of last Saturday night's (Nov. 4, 2017) UFC 217 from Madison Square Garden in New York City, and now the fight game is his proverbial oyster.
Now that he's the middleweight champ, the fans who said it was a travesty for Bisping to be fighting a former welterweight who had never fought at 185 after four years off will almost definitely be calling for him to defend his new belt, and indeed UFC President Dana White insists that unifying the belts with interim champion Robert Whittaker will be next for "Rush."""
It's a fight that makes the most sense in terms of pure meritocracy, something that the UFC was founded on and also an aspect of mixed martial arts (MMA) we don't see a whole lot of in this trash-talking, star-driven era of today. To illustrate that point, a point of view that's surfaced from many experienced media members in the fight game is that St-Pierre should take on lightweight champion Conor McGregor, who also has an interim champion waiting to take him on in his own division, in what would almost assuredly be the biggest MMA fight of all-time.
That potential over-the-top booking, which would conceivably take place at 170 pounds where both men have fought in the UFC, comes at a time when the promotion needs a truly huge fight (Mayweather vs. McGregor doesn't count as their own), and it's no secret UFC owners Endeavor could use a smashing pay-per-view hit after a yearlong slump in 2017. St-Pierre vs. McGregor is a huge fight – it would feature two champions who are the two biggest names in the sport at the time.
The fact that the larger St-Pierre would be heavily favored due to his dominant wrestling and grappling doesn't really matter because we've seen the decision-making process for booking fights in today's UFC has more to do with dollar signs that actual sport. Without a true star like either McGregor or St-Pierre in 2017, they've struggled to build any momentum, so it would be kind of silly to not book the star power-driven bout now that they actually have one.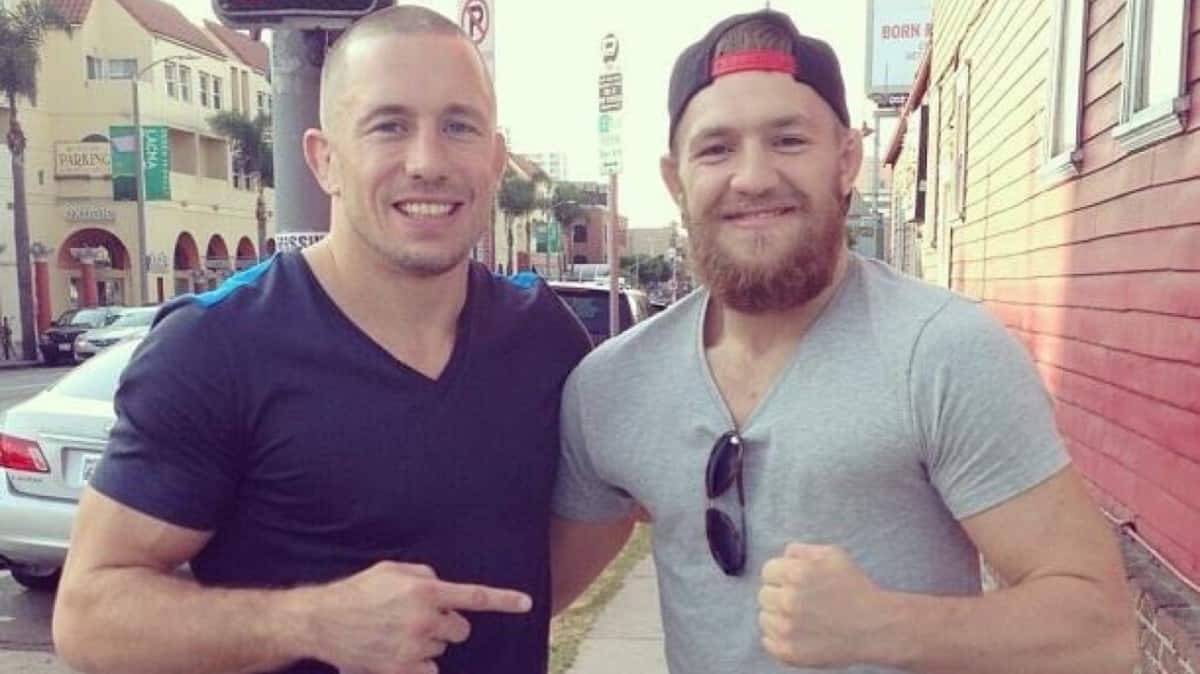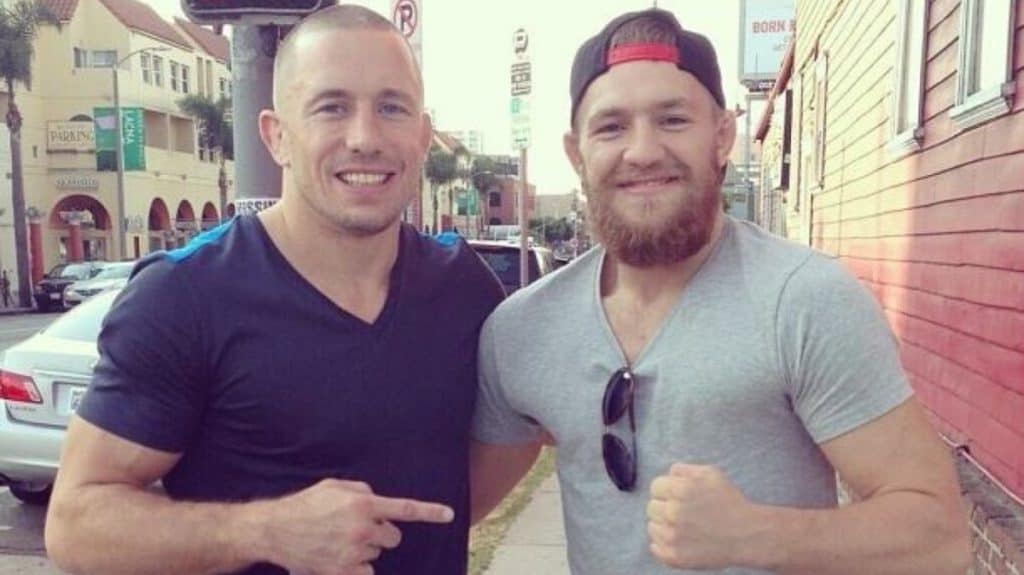 The financial ramifications of the bout would be obvious – it would make more money than any other mixed martial arts bout in the sport's 24-year history. But it could really only happen if both fighters abandoned their current titles because leaving two of the UFC's best divisions held up even longer after a full year of inactivity already would leave the legitimacy of the UFC in serious question, something many fans already believe has happened this year. Maybe St-Pierre could cut all the way down to lightweight to challenge McGregor for a third UFC title, but that would take quite some time and the entire promotion can't wait for his next move.
They already do that with McGregor. Two fighters holding up basically everything from 155 to 185 pounds would just be too much.
If both keep their titles and book the fight at 170 or a catchweight, then the actual value of UFC championships will have to be put in serious question. They'd be more like flashy pieces of pseudo-importance the promotion attaches to pay-per-views rather than true gold to be defended.
Overall the discussion is a difficult one. St-Pierre vs. Whittaker and McGregor vs. Ferguson just don't have that same zing that a St-Pierre vs. McGregor super fight does. Few, if ever, really do. There are just some issues with it being booked right away. It may be a bit of a copout, but I'm not saying it is or is not the right fight to book at this time. If young fighters like Whittaker and Ferguson want to fight for the titles in their prime, perhaps it's best for St-Pierre and McGregor to abandon the official belts and sign on for the biggest sort of the big fights they seem to be looking for at this points in their respective careers.
The backlash directed towards McGregor and to a lesser extent, St-Pierre would probably be drowned out by the sheer volume of checks being cashed. If that's enough for McGregor to potentially put his legacy in question, well, this is prizefighting at the highest level, after all.
Do you think the UFC should strike while the iron is hot with potentially their biggest fight of all-time?