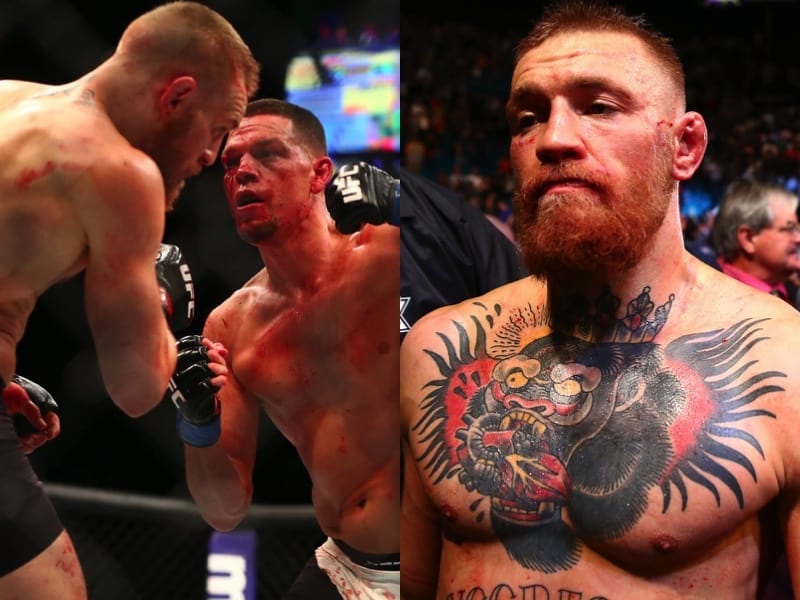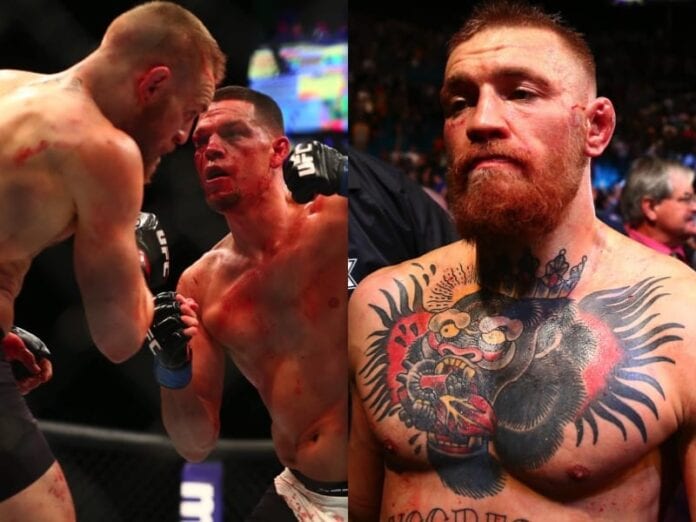 The mixed martial arts (MMA) world is understandably still digesting the fallout of last night's (Sat., March 5, 2016) epic UFC 196 from the MGM Grand Garden Arena in Las Vegas, Nevada, and for good reason.
Formerly steamrolling 145-pound titleholder Conor McGregor infamously lost a bout he was winning thanks to the gritty toughness, accurate boxing, and dangerous jiu-jitsu of Nate Diaz, who weathered an early storm of powerful straight lefts and uppercuts to submit 'The Notorious' with an impressive second round rear-naked choke (watch the full video highlights here).
It was a historic win for Diaz, but for the prohibitive betting favorite McGregor, it was a gamble that ultimately didn't pay off after he accepted a short notice fight two weight classes up from his usual 145 pounds.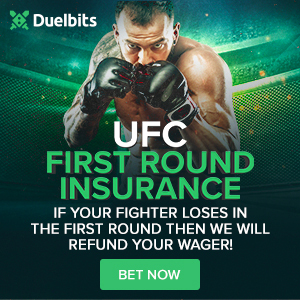 The Irish slugger deservedly shouldn't lose much standing overall, as he's still featherweight champ and has a clear path to a title defense at UFC 200 this July. He could also certainly come back to defend his belt and eventually fight for the 155-pound strap as originally planned if he can pick up a few wins.
But his air of invincibility is gone, as are the potential super fights with lightweight champ Rafael dos Anjos and welterweight champion Robbie Lawler; at least for now. His detractors will also suggest that he was heavily exposed in the area of weakness everyone has always pointed to, his ground game. Overall, it was most likely a mix of motivating factors that lead to McGregor's first-ever loss inside the Octagon.
The brash McGregor may have just bitten off a bit more than he could chew. Let's take a look at the major reasons he lost to Diaz at UFC 196.

5.) Conditioning:
Following a largely effective first round, McGregor seemed to gas in the second round when he absorbed a nonstop volley of accurate punches from Diaz. The Irishman admitted this was case at the post-fight press conference, stating that he did not use his energy efficiently when Diaz was able to eat his huge power punches and keep fighting despite being badly bruised and bloodied.
He also gave Diaz credit for using his energy efficiently on the flip side, showing grace in defeat for the superior gameplan in a fight he didn't necessarily have to take but did, and up two weight classes.
However, overall his lack of cardio and conditioning after not cutting any weight and packing on muscle was just incredibly lacking and contributed to his vicious loss. He'll have to shore that up if he wants to be able to fight on past the opening rounds, and it could definitely be the case based on the opponents he's likely to be facing from here on out.

4.) Size:
'The Notorious' simply had problems with Diaz' superior size in the Octagon after dominating at featherweight, and this was again something he admitted after the fight at the presser. He was incredibly respectful of Diaz' ability to walk through his shots, which he thinks would have crumbled featherweight opposition.
He's most likely right, but the main tenet here is that moving up two weight classes, even if Diaz is usually a lightweight, made for a challenge that was much, much harder to knock out. Famously hailing from Stockton, California, Diaz is well known for his toughness, and it was on full display in Las Vegas last night.
McGregor showed the class of a true champion in admitting that it was a big factor in a loss.

3.) Gameplan:
In the frantic two weeks leading up to the impromptu fight, Diaz' main trash talk weapon, aside from his insinuation that McGregor was on steroids, was his proclamation that 'Notorious' didn't have even close to the team of world-class martial arts competitors that he did.
On paper, that just can't be argued, and whether or not that actually played a big part in McGregor's loss is debatable. But what is certain is that McGregor came in to score a huge knockout by throwing heavy leather with a veteran known for his iron chin and a specific style that wears opponents down with high-volume boxing. That gameplan played right into Diaz' hands, because even though he ate many big punches and was bloodied up for it, it became clear that he just getting warmed when he nailed McGregor with the flurry that signified the beginning of the end of 'The Notorious.'
Showing respect and class in defeat, McGregor once again admitted this in his post-fight interviews, and will most likely have a much better gameplan in his next contest.

2.) Mat Skill:
A big part of bringing a more sound, strategic, and effective gameplan to the Octagon the next time out will rest on McGregor's ability to improve his ground game, the single area that has been perceived to be his Achilles' heel since he was repeatedly taken down by Chad Mendes in another short notice war at UFC 189.
Those that believed he had holes in his game pointed to the fact that he tapped rather quickly in his two professional MMA losses, and he had no other option but to do the same when dangerous submission wiz Diaz locked him up in aa tight choke at UFC 196.
Diaz is a huge lightweight who has competed at welterweight, and he has a decorated jiu-jitsu pedigree under Cesar Gracie. Basically every high-level mat technician at featherweight and lightweight is licking their chops in hopes of getting a fight with McGregor right now. He could bounce back and knock some of them out; however, he needs to stay upright long enough to do so.
With the blueprint to defeat him supposedly out there (similar to that of beating former lightweight champion Anthony Pettis), it's going to be a telling 2016 for McGregor.

1.) Hubris:
Finally, first it has to be said that 'Notorious' is a true champion who still owns the featherweight belt and will be back strong as the best 145-pound competitor in the UFC. The manner in which he handled the loss with humility and grace is a testament to his true fighting spirit, respect for the game, and dedication to truly being the best fighter on the planet.
But you just have to wonder if all of the attention building from his beyond meteoric rise got to him just a little bit as well, similar to the all-out media blitz that undoubtedly factored into former women's bantamweight champion Ronda Rousey's shocking loss to Holly Holm last November. McGregor had a camera in his face almost 24 hours a day, and he got ahead of himself by teasing he would fight beastly welterweight champion Robbie Lawler before he had even defended the featherweight belt.
True, a lot of McGregor's talk is meant to hype a fight, and he showed the more humble side of himself in the loss. He was just built up to an unattainable level, however, as we've seen countless UFC hype trains like Rousey, Paige VanZant, and Sage Northcutt get thrown into too much, too quickly and fade just as fast or faster than they arose.
McGregor is still the champ. What he is not is the world's top pound-for-pound fighter, or the top nine like he said in the lead-up to his bout with Diaz last week. He and his supporters might have thought he just couldn't lose, and that's a dangerous place to dwell in the world of MMA.
McGregor will be back to achieve more greatness. When he does, he'll most likely be there with more humility.