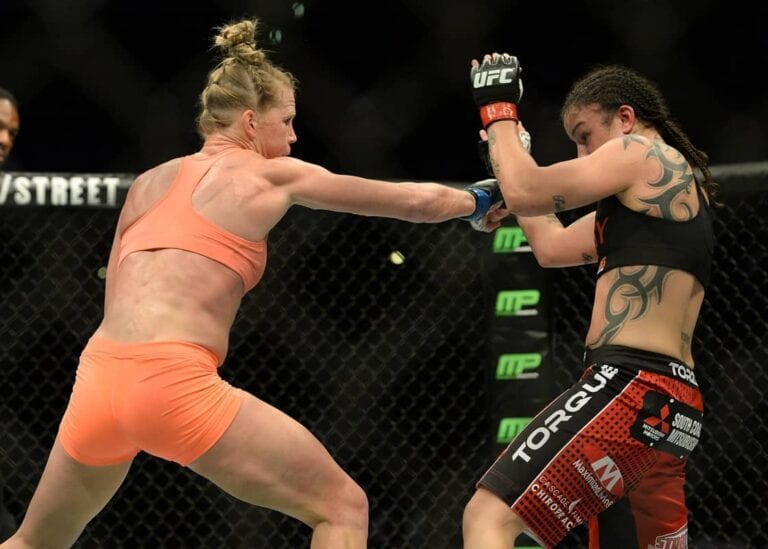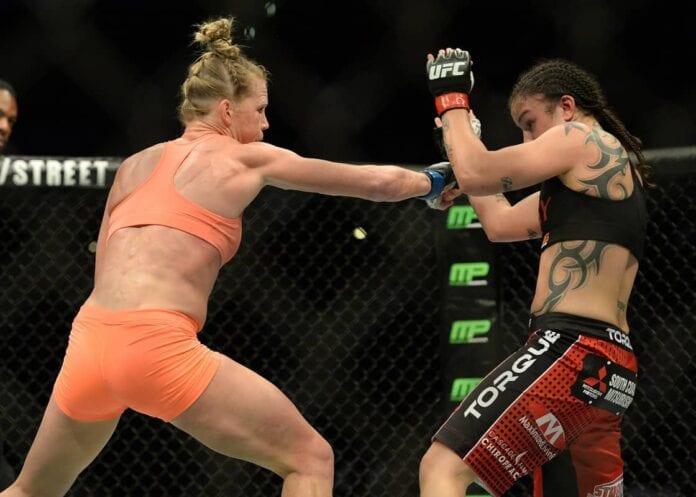 When former world boxing champion Holly Holm (9-0) made her Ultimate Fighting Championship (UFC) debut earlier this year, many wondered if she didn't have a stellar performance due to "UFC jitters." Holm had a chance to put the doubters to rest when she stepped inside the Octagon to meet Marion Reneau (6-2) at UFC Fight Night 71 in San Diego.
And that's what she may have done.
Reneau whiffed a leg kick in the early going. Holm connected with a side kick to the thigh. Holm threw punches to set up her leg kicks. "The Preacher's Daughter" kept backing off Reneau with side kicks to the body. Holm landed a stiff body kick. "The Bruiser" seemed tentative with Holm's kicks keeping her at bay. Holm temporarily stunned Reneau and rushed in. She backed off for a bit and the round ended with the two fighters exchanging kicks.
Round two saw Reneau being a bit more aggressive early, but she backed off due to the pressure from Holm. While Holm's shots didn't pose much of threat in terms of power, she was simply outclassing her opponent with body kicks. A left hook and uppercut combination once again pushed "The Bruiser" back. The second round was much like the first with Holm landing side kicks and using her hands to set up kicks. Holm caught a kick and Reneau jumped guard. Holm slammed her down and landed kicks to the leg as the round concluded.
If you thought the final round would see a turnaround for Reneau, then you thought wrong. Holm blitzed Reneau with a hook and uppercut combination. "The Preacher's Daughter" continued to put on a clinic with her leg and body kicks. She dropped "The Bruiser" as she was losing her balance, but the fight quickly returned standing. Reneau found no success in timing Holm's leg kicks and was unable to catch her leg. Reneau jumped guard again, but the results were just as ineffective.
The final round ended with Holm peppering Reneau with punches and kicks. Unsurprisingly, all three judges gave the nod to Holm.
Final Result: Holly Holm def. Marion Reneau via unanimous decision (30-27, 30-26, 29-28)