End Of Year Hit List: Five Most Amazing Fights Of 2015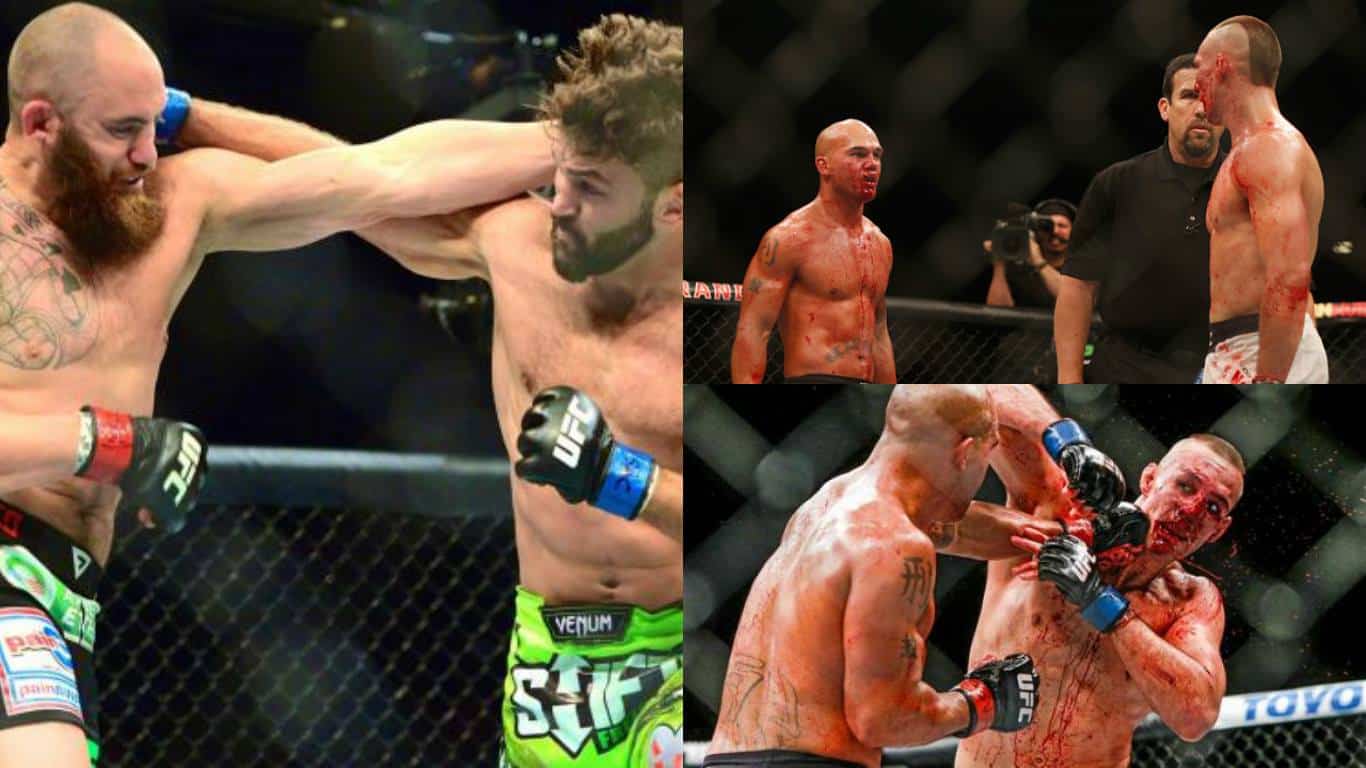 It's been a momentous rebound year for the UFC in 2015, one that's seen record-setting live gates, pay-per-view buyrates, the rise (and fall) of some new top stars, the changing of many titleholders, and overall, just an insane amount of furiously paced MMA action.
The final card of 2015 went down at last weekend's Sat., December 19, 2015) UFC on FOX 17, and it featured some great scraps fitting enough to cap off the year in style. Did any of them make the list of 2015's top five UFC fights?
Read on to find out the best fights of an amazing year to remember.

5.) Nate Diaz vs. Michael Johnson – UFC on FOX 17:
This lightweight tilt at last weekend's UFC on FOX 17 from Orlando, Florida, was a triumphant return and a fitting end to the year for Diaz. Bouncing back strong from a dominant loss to current champion Rafael dos Anjos last year, Diaz boxed, taunted, and largely outclassed the much higher-ranked Johnson to earn a unanimous decision victory and re-establish himself as a player in the stacked 155-pound division for the first time in quite awhile.
But it wasn't without its own price, as Diaz absorbed many low kicks from 'Menace,' who also cracked Diaz hard enough to give him a black eye and bloody his face towards the end of the bout.
It was Diaz' precise one-two combinations that ruled the day, however, as he out-landed Johnson to open up the opportunity to call out featherweight champion Conor McGregor for what would most certainly be one of the most hyped fights in UFC history.
It was a classic Diaz moment, something that many MMA fans probably feel they don't get enough of in the cage these days. At UFC on FOX 17, Diaz fans and MMA fans everywhere were reminded why the brothers from Stockton bring something unique to fighting, making this bout one of the best of the year.

4.) Tony Ferguson vs. Edson Barboza – TUF 22 Finale:
The co-main event at December 11's TUF 22 Finale from Las Vegas was undoubtedly one of the bloodiest of the year, as top lightweights Ferguson and Barboza took turns lighting each other up with huge shots from all angles.
Barboza threw several of his famous spinning kicks, nailed 'El Cucuy' with several stinging leg and body kicks, and hit him with some thudding pinpoint punches.
But it was Ferguson who laughed last, as he somehow walked through all of Barboza's strikes and landed a ton of his own to strangle Barboza with his signature d'arce choke, signifying an end to his biggest-ever win and one of the best fights all year.
'El Cucuy' is most certainly on the short list of truly deserving title contenders at lightweight, but Barboza also showed why he is one of the most exciting fighters in MMA today, even in a loss.

3.) Daniel Cormier vs. Alexander Gustafsson – UFC 192:
'DC's first title defense came against the man who took his own arch nemesis Jon Jones to the limit at UFC 165, Alexander Gustafsson.
While most picked Cormier to run through Gustafsson, who had just been badly knocked out by Anthony 'Rumble' Johnson (the man whom Cormier beat for the belt) earlier in the year, in reality, their fight unfolded as anything but.
Cormier used his world-class wrestling skills to lift Gustafsson high and slam him as expected, but 'The Mauler' unleashed several daunting strikes of his own, capped off by a vicious third round knee that nearly knocked the champ out cold.
Despite being wobbled, Cormier was able to somehow fight through the damage and continue blasting Gustafsson. He dug deep and applied even more pressure in the fifth and final round, signifying that he was the true champ in a narrow split decision over one of the most game competitors in the UFC.

2.) Andrei Arlovski vs. Travis Browne – UFC 187:
This bout could very well be the best one-round affair in UFC history, and for good reason.
These ultra-powerful heavyweights wasted no time in throwing heavy leather at May's UFC 187, hitting one another with some absolutely huge blows. Each fighter was rocked in this standout slugfest, and just when it appeared that Arlovski had 'Hapa' on the ropes, the Hawaiian heavyweight came back to rock Arlovski and drop him with a big shot of his own.
But the former champion wouldn't quit, immediately rising back to his feet to pepper Browne with a brutal fight-ending combo that put an emphatic stamp on one of the best victories of his career. It was a fight that will be remembered forever, and one that amazingly put Arlovski back into title contention in the UFC after his initial run as champ in more than a decade ago.

1.) Robbie Lawler vs. Rory MacDonald – UFC 189:
There's simply no other bout that could top this list other than Robbie Lawler's championship rematch with Rory MacDonald in the co-main event of July's blockbuster UFC 189.
Their first match at UFC 167 ended via split decision, but this one was destined to be quite a bit more exciting. MacDonald came out sharp and precise, landing his jab effectively and out-striking Lawler early. Yet when the brutalizing champ did land, he landed with authority, and soon turned the tables in the second round with a barrage of vicious one-two combos.
MacDonald shifted the momentum yet again in the third, nailing Lawler with a vicious head kick that hit him in the neck and stunned him, leaving ''The red King' smelling blood for a finish. He battered Lawler with a nonstop stream of punches and elbows, and despite being on the ropes, 'Ruthless' was able to survive.
It was a back-and-forth battle in the fourth, with MacDonald perhaps owning the slight edge on the judges' scorecards. But when the fifth round rolled around, Lawler's nonstop straight left hand had simply done too much damage, as he nailed Macdonald with the final one-two that badly broke his nose and sent him crumpling to the canvas in one of the year's most harrowing and infamous MMA images.
It was an exhausting, bloody fight that certainly ranks up there with the best of all-time, making it an easy pick for 2015's 'Fight of the Year.'