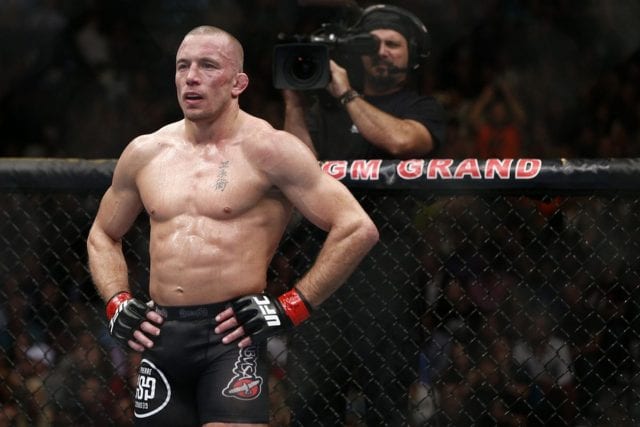 UFC President Dana White still isn't sold on the dedication of Georges St-Pierre.
White already expressed his doubts about the former Canadian welterweight champion prior to his return to the Octagon in November of last year. However, "GSP" returned to defeat Michael Bisping for the promotion's middleweight title. Unfortunately, health concerns have prevented St-Pierre from returning to the cage since.
Not wanting to hold up the division, St-Pierre vacated the middleweight title, promoting then-interim champion Robert Whittaker to undisputed champ. Now, St-Pierre's health seems to be progressing, so the Canadian could be gearing up for a return to the Octagon soon. St-Pierre knows he only has a few fights left in him before he decides to retire for good.
Because of that, the rest of the fights he accepts will be bouts that can add to his already amazing legacy. St-Pierre has already captured UFC gold in two weight classes. He has expressed interest in becoming the first-ever to do so in three. Fights against the likes of Conor McGregor and Khabib Nurmagomedov could be prospects for "Rush" at 155 pounds.
White Isn't Buying 
However, UFC President Dana White's stamp of approval would be required for that to happen, and that doesn't seem likely. Speaking to MMA Junkie recently, White said he doesn't believe the Canadian is serious about fighting right now:
"I don't think Georges St-Pierre is looking to fight right now," White said "You'll hear him go out and do interviews: 'I'll fight Conor' and stuff like that. But that's not realistic.
"I think if Georges sees a fight that he likes, he'll call it out, but he's not looking to dive back in there anytime soon."
White took issue with St-Pierre retiring from the UFC initially in 2013, vacating the welterweight title without having lost it. He was once again furious when St-Pierre vacated the middleweight title when he returned four years later. The UFC boss is reluctant to take a chance that happens again a third time by granting St-Pierre a lightweight title opportunity:
"The reality is this: The guy won the 170-pound championship, never lost it, gave it up," White said. "Won the 185-pound championship, gave it up. I'm not going to have him come in to fight at 155 to give it up and not defend it. No."
If you enjoyed this story, please share it on social media!