Over the course of just a few years, reigning UFC featherweight champion the "Notorious" Conor McGregor transcended the sport of mixed martial arts like none other (MMA), rising to the top of the fight game in rapid fashion.
It's clear that McGregor is the UFC's biggest star, but how did he get there?
Some would say his fighting skills, others would note his patented mic skills, as well as the promotional push he's received.
As a fighter, the Irishman is often criticized. He's coming off of a disappointing loss to Nate Diaz at last March's UFC 196, and his ground game is constantly questioned, but the fact of the matter is that McGregor has indeed established himself as a legitimate fighter.
The "Notorious" one possesses a 7-1 Octagon record with six knockouts as well as a 20-3 overall professional record including 18 knockouts.
With that being said, however, McGregor's mic skills are indeed second to none, and it could be argued that he wouldn't be where he is without his gifted trash talk.
Let's take a look back at some of his most memorable lines with eight of the best Conor McGregor quotes to date: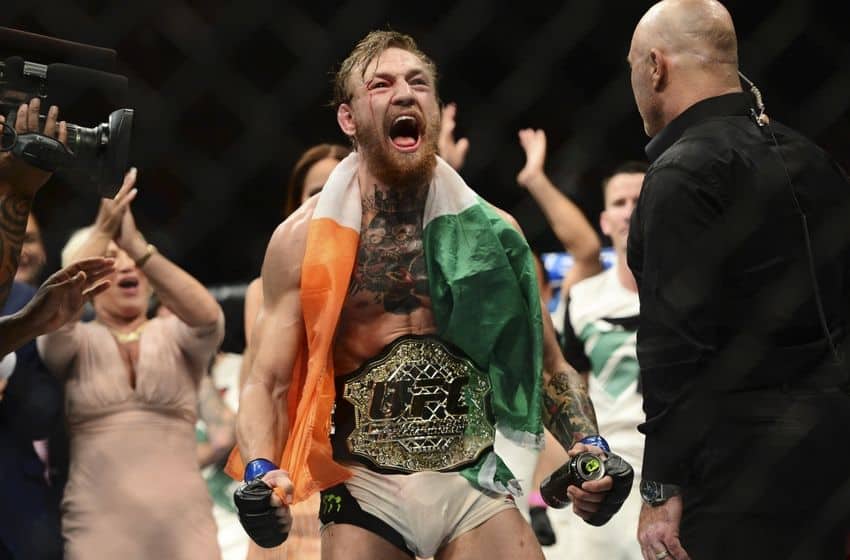 "We're Not Here To Take Part – We're Here To Take Over"
Perhaps his most famous line, McGregor stated this in his hometown of Dublin, Ireland after an electrifying knockout victory over Diego Brandao in the main event of UFC Fight Night 46 on July 19, 2014.
With the UFC making its first trip back to Ireland in quite some time, it was clear that the "Notorious" one was emerging as an Irish hero.
With teammates and fellow Irishmen Paddy Holohan, Cathal Prendred, and Neil Seery not only competing, but also succeeding on the card, McGregor established the fact that the Irish were here to make a statement in MMA, and it was obvious that he was leading the charge.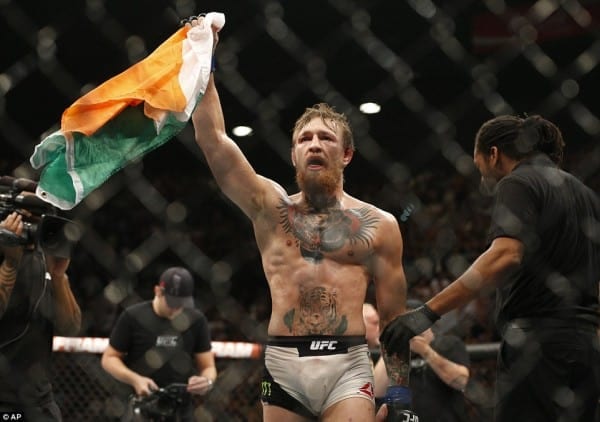 "I Wanted To Come Over Here To America and show the American public the new era of the fighting Irish, and I brought my whole country with me. If one of us goes to war, we all go to war."
After putting away Brandao with relative ease, McGregor would make his debut in Las Vegas at September 2014's UFC 178, taking on a dangerous and respected contender in Dustin "The Diamond" Poirier.
Once again, however, McGregor got the job done, and he made it look easy, knocking Poirier out cold in the very first round.
On the mic in the Octagon with Joe Rogan during his post-fight interview, the "Notorious" one produced yet another memorable line that would show his deep connection with the thousands of Irish fans in attendance, showing a sense of unity, and loyalty amongst his country.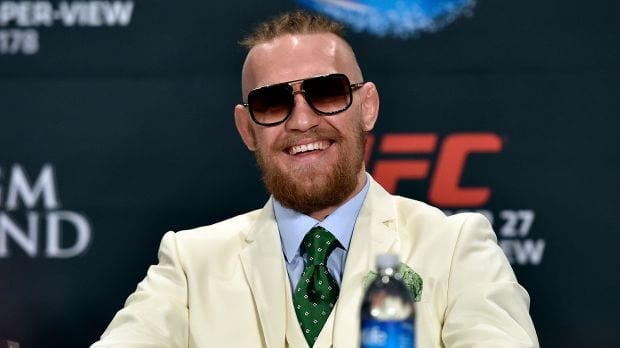 "I am cocky in prediction. I am confident in preparation, but I am always humble in victory or defeat."
Showing up to the UFC 178 post-fight press conference in a flashy suit, McGregor would unleash a statement that would define who he is in the fight game.
Never being afraid to call his shot, and predict an early knockout, McGregor is undoubtedly cocky in prediction.
The Irishman appears to push himself to his limits in training until he is confident that he is unbeatable.
And as shown by his recent UFC 196 loss to Nate Diaz, a loss he took rather well, the brash and outspoken slugger is indeed humble in victory or defeat, and this quote ranks among his most memorable.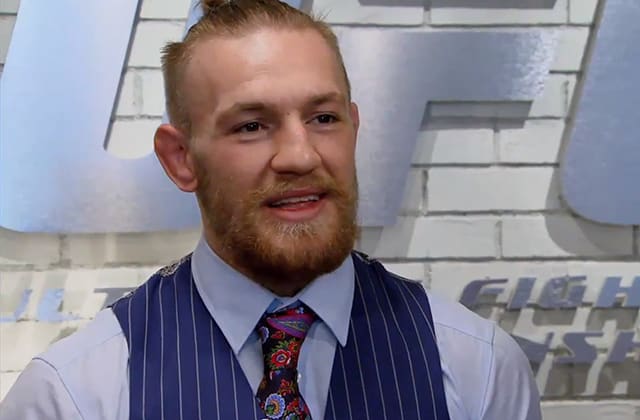 "I Could Rest My Balls On Your Forehead."
Prior to Chad Mendes' rematch with then champion Jose Aldo in October 2015, "Money" and McGregor appeared on an edition of BT Sport, and it's safe to say that matters became a bit heated.
When asked by Mendes if he knew what wrestling was, the Irishman responded with the classic "I could rest my balls on your forehead" line.
Undoubtedly one of McGregor's very best trash talk quotes, and a quote that sure added fuel to the already brewing fire between Mendes and McGregor before their eventual July 2015 clash at UFC 189.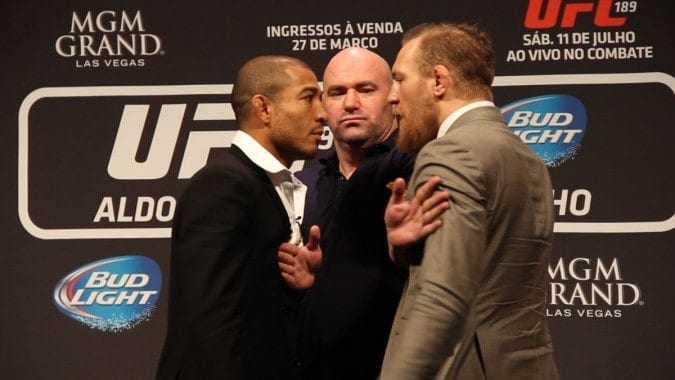 "I own this town, I own Rio de Janeiro, so for him to say that he is the king and I am the joker, if this was a different time, I would invade his favela on horseback, and would kill anyone who wasn't fit to work, but we're in a new time, so I'll whoop his ass instead."
At a pre-fight press conference with Jose Aldo in Aldo's home of Brazil, tensions began to rise between then champion Aldo and McGregor, as the two clearly did not like each other.
Taking charge, the Irishman expressed his power in enemy territory, threatening to kick Aldo's a**, and as December 2014's UFC 194 proved, the "Notorious" one may have had a point.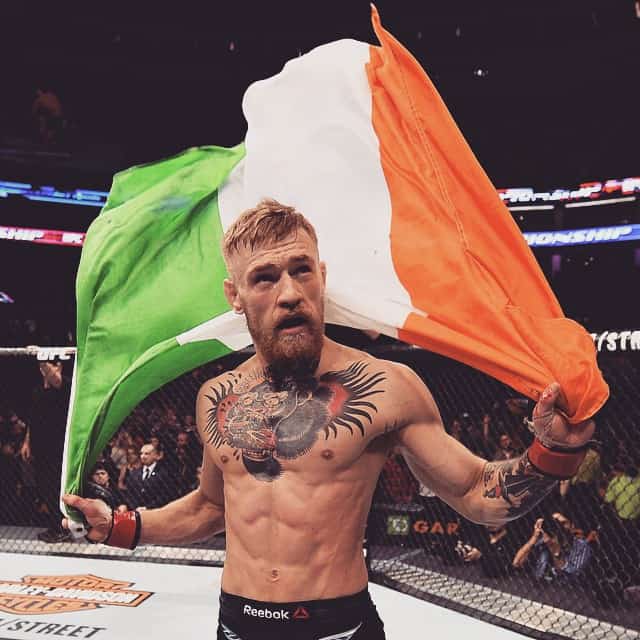 "He (Jose Aldo) has been medically cleared to fight. Doctors have looked at him, examined him. He went out and saw a gynecologist and it turns out, it was just a little period pain."
Before eventually meeting at UFC 194, Jose Aldo and Conor McGregor were scheduled to fight at July 2015's UFC 189.
Aldo, however, suffered a rib injury in training that at first put the fight in jeopardy, but in the end forced him to withdraw.
Check out McGregor's infamous assessment of Aldo's injury above.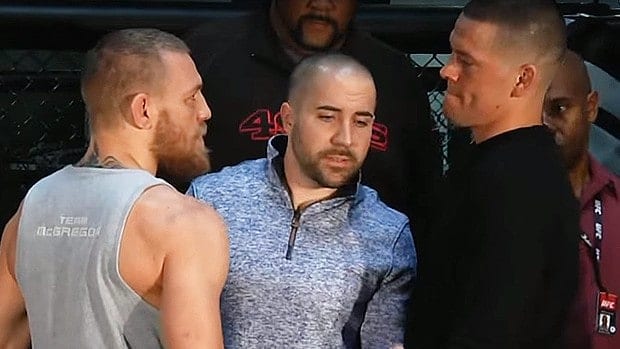 "I like Nick's little bro. How can you not like him? He's like a little cholo gangster from the hood," McGregor said. "But at the same time he coaches kids' jiu-jitsu on a Sunday morning and goes on bike rides with the elderly. He makes gang signs with the right hand and animal balloons with the left hand. You're a credit to the community."
Despite the bout being on short notice, fans knew they would be treated to some incredible pre-fight banter between two of the best trash talkers of all-time in Nate Diaz and Conor McGregor.
This proved to be true, and it didn't take long for the two to start taking shots at each other at the first UFC 196 press conference.
This infamous line was arguably McGregor's most memorable towards Diaz, and definitely the one that annoyed the Stockton native the most.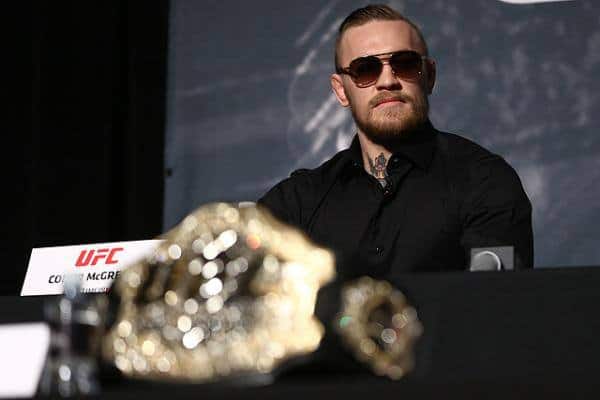 "I should create my own belt. I am, in myself, my own belt. It doesn't matter if its featherweight, lightweight, welterweight. It's the McGregor belt. That's it, I'm fighting for my own belt."
Yet another McGregor quote that defines who he is a fighter.
The Irishman has time and time again lived up to his theory that weight classes don't matter to him, and that he will fight any man at any time.
To the "Notorious" one, he fights because he loves to fight it's as simple as that – and of course for his money.

Obviously these aren't all of McGregor's noteworthy quotes, as the brash knockout artist spits out memorable lines every time he touches a microphone, but here are just some of our favorite.
What are your favorite Conor McGregor quotes?