| | |
| --- | --- |
| Name: | Giancarlo Bodoni |
| Date of Birth: | October 15th, 1995 |
| Place of Birth: | Miami, Florida, USA |
| Academy: | New Wave Jiu Jitsu |
| Affiliation: | Formerly Alliance |
| Trainer: | John Danaher, Lucas Lepri |
| Weight Class: | Heavy, No G-i Weight Classes, Under 91.5 kilograms (202 lb) |
| Championships: | ADCC Champion, IBJJF No-Gi Champion(Brown Belt) |
Giancarlo Bodoni is a name that you probably didn't know before last year. But within a year, he evolved into an elite grappler and came out of nowhere to win the ADCC championship.
Here's everything you need to know about reigning ADCC champion, Giancarlo Bodoni. Going from his time under the Alliance affiliation and now training under the tutelage of mastermind John Danaher.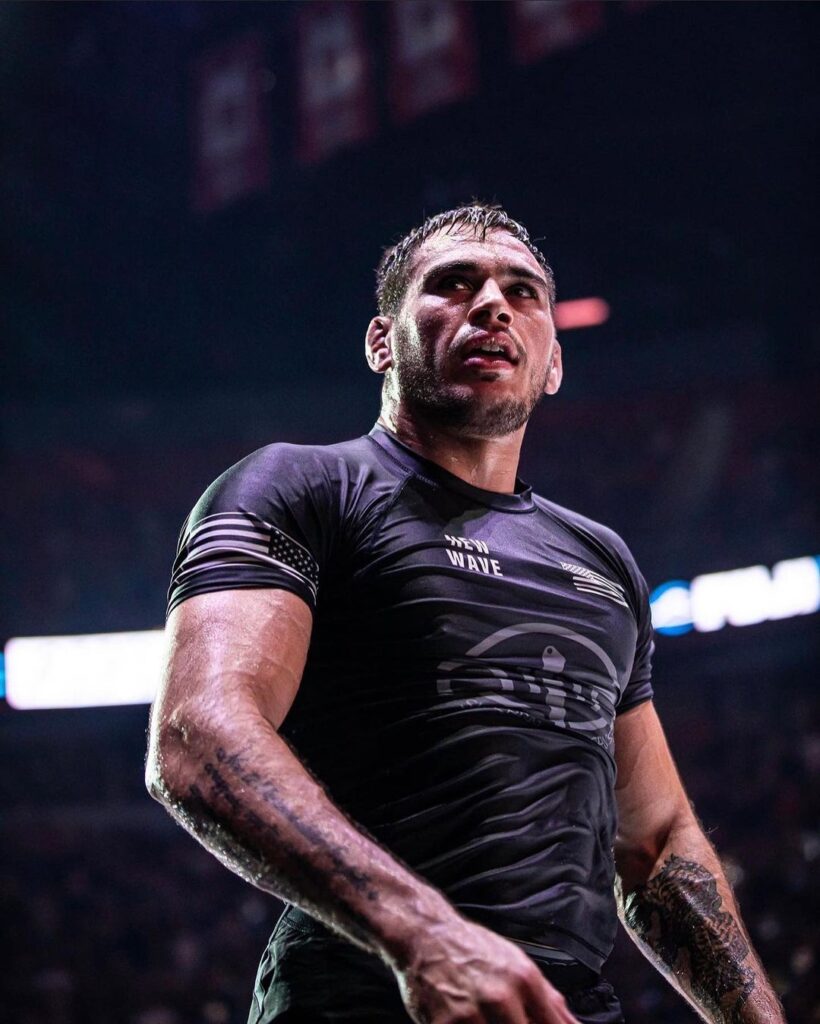 Giancarlo Bodoni's Start In Jiu Jitsu
Giancarlo Bodoni grew up in Florida and started practicing martial arts at a young age. At first, he was introduced to Karate when he was five and then Taekwondo.
Bodoni would practice both Karate and Taekwondo until the age of twelve. That is when he would discover Jiu Jitsu and begin training under Rillion Gracie.
Under Rillion, Giancarlo would train under him for eight years and work up to the rank of purple belt.
Giancarlo Bodoni's Travels
When Bodoni was twenty two, he was given the chance to travel to Rio de Janeiro. There, he would fulfill a goal of training in the birthplace of Brazilian Jiu Jitsu.
While in Rio de Janeiro, Giancarlo Bodoni would train primarily with GF Team affiliate schools. He would befriend future BJJ champion Gutemberg Pereira.
Before returning home, Pereira would invite Bodoni to come with him to Toledo, Ohio. There he would train along Gutemberg for a short time and improve his skill.
Bodoni Joins Alliance
After Bodoni completed his travels, he would move in with his father, who had recently relocated to Charlotte, North Carolina. As luck would have it, this is where BJJ champion Lucas Lepri's Alliance BJJ school was located.
Giancarlo Bodoni quickly signed up with Lepri's school and became an official student of Alliance Jiu Jitsu. He would spend a year training with Lepri, who would promote him to brown belt.
His skills had greatly improved, which led to a job offer from another BJJ champion in Bernardo Farias. The creator of BJJ Fanatics had just opened a school in northern Massachusetts and wanted Bodoni to be an instructor.
This was another opportunity that Giancarlo could not pass up to teach and train under a 4x champion.
Giancarlo Bodoni's as a Brown Belt Competitor
When BJJ became Giancarlo's full time job in 2019, he would greatly improve his skills. Becoming one of the best brown belt No-Gi competitors in the world.
In late 2019, Bodoni would win the No-Gi World Championship at brown belt and the No-Gi Pan American Championship in 2020. The biggest wins of his career up until this point.
Winning these major grappling championships would lead to Giancarlo being promoted to black belt. The ceremony took place in North Carolina, where he was promoted by Lucas Lepri.
Giancarlo Bodoni's Struggles
Even though Giancarlo Bodoni was now a black belt, he went through some tough struggles as a competitor for the next two years. He had good skills, but he was lacking in many facets of No-Gi.
This would lead Bodoni to go into a drought. He would go through fades of losing multiple matches in a row, then win a few, and repeat the cycle.
The worst of his struggles happened at the end of 2021. Bodoni would lose six straight matches to numerous high level grapplers.
Giancarlo Joins New Wave Jiu Jitsu
After going through numerous struggles as a competitor, Bodoni was desperately looking for ways to improve. This would lead him to reaching out to master BJJ coach John Danaher.
Giancarlo Bodoni knew John from when Danaher would visit Bernardo Faria's school to film instructionals. The two developed a rapport and Danaher would always pick his brain when he was in town.
This connection would lead to Giancarlo reaching out to John when he and Gordon Ryan moved to Austin. Danaher would invite Giancarlo to train with him and improve his No-Gi skills.
As Danaher has openly said, Bodoni had glaring holes in his game. He had no leg lock defense or knew how to attack from his back.
The first months of training were brutal for Giancarlo. He would get beat down in multiple training sessions per day that would break most young grapplers.
But Bodoni would persevere and continue developing his skill and building his confidence.
Giancarlo Bodoni's ADCC Breakout
Going into one of the ADCC US East Coast Trials, Bodoni was ready to prove himself. He spent months developing his skills and building up his confidence to get ready for the trials.
At the ADCC US East Coast Trials, Bodoni would show that he had the skills of an elite grappler. In his seven matches, Bodoni would submit five of his opponents and not get a point scored on him.
One of the submission wins was against young standout Jacob "Hillbilly Hammer" Couch. Bodoni would punch his ticket to the ADCC tournament and look to shock everyone.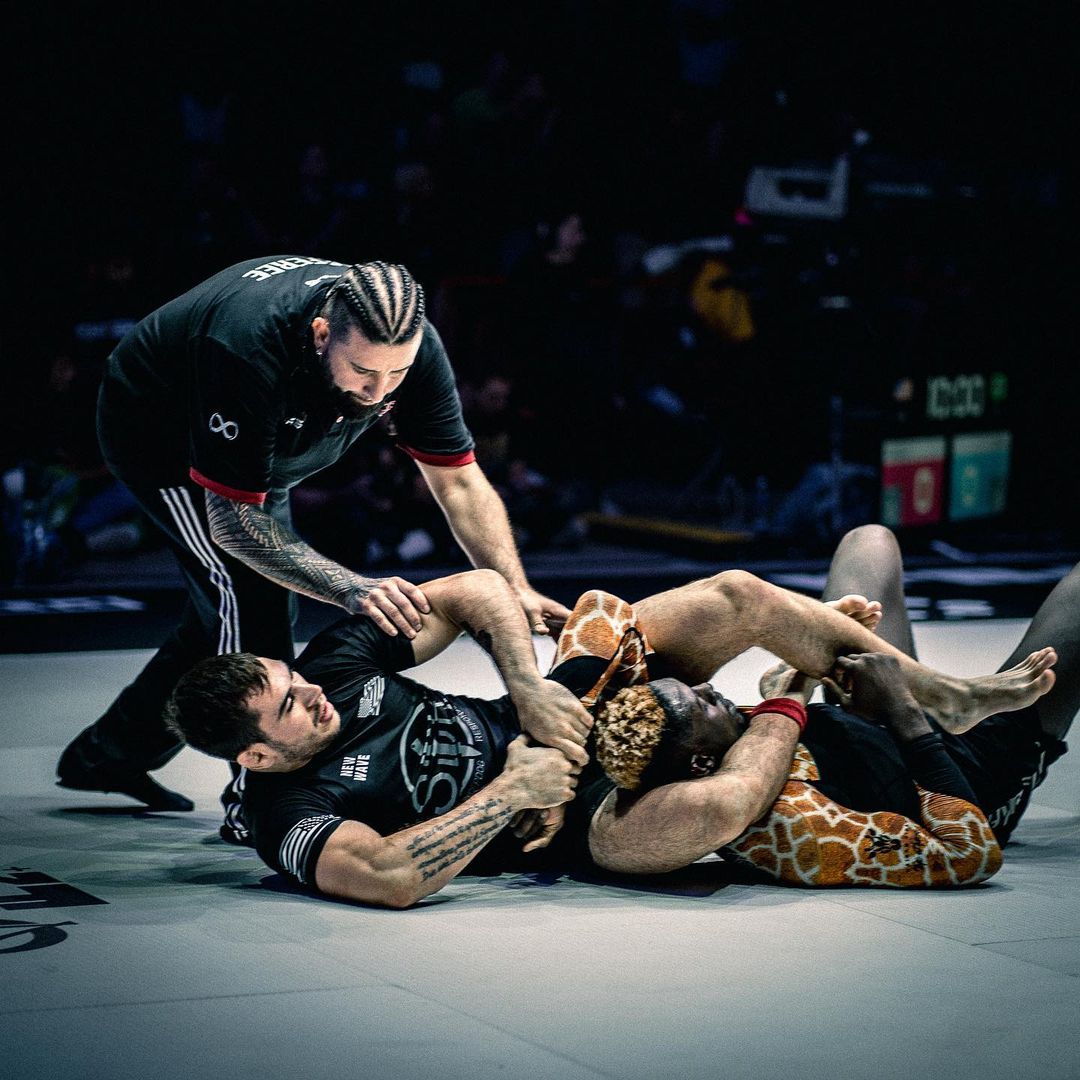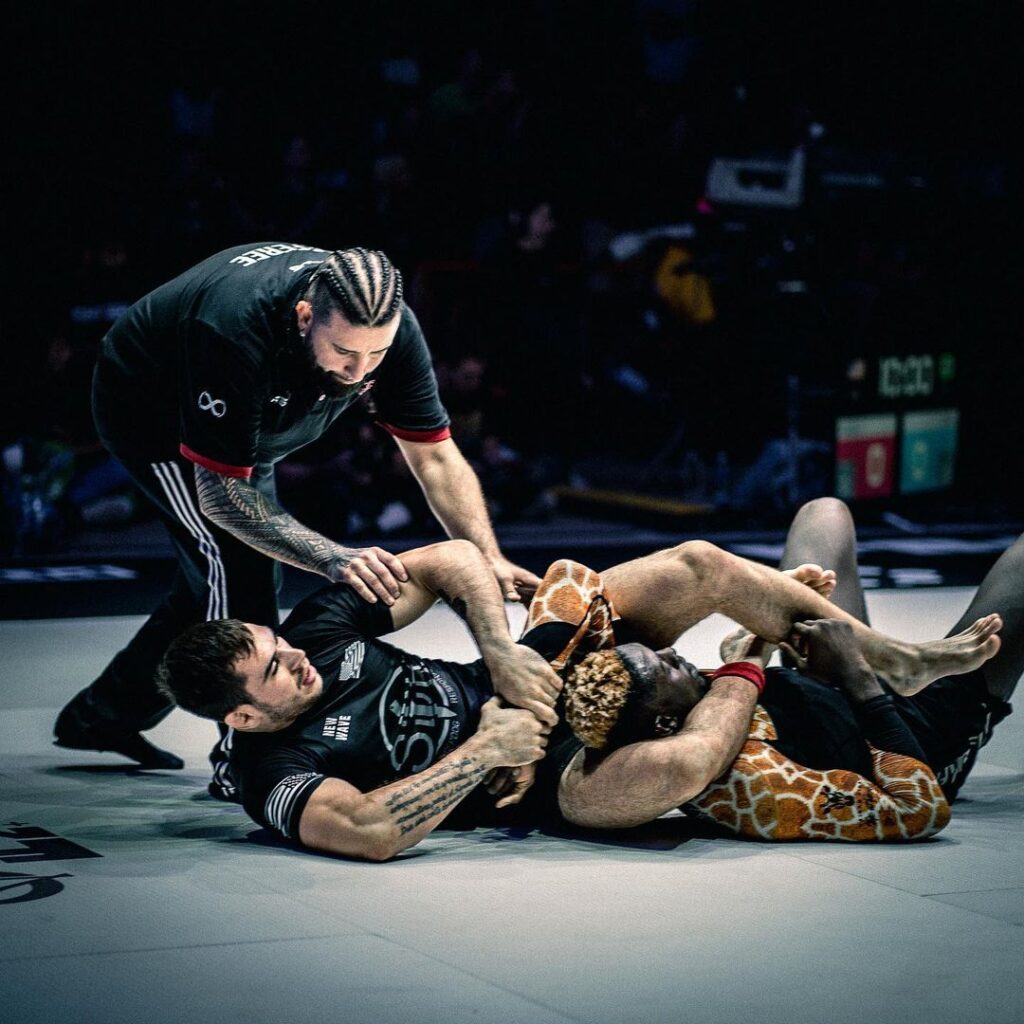 Giancarlo Bodoni's Breakout Performance
Giancarlo Bodoni came into ADCC 2022 under the radar of the spectators. Nobody expected much from him and figured he would be an early elimination.
Everyone assumed that Dream Art creator Isaque Bahiense would make easy work of Bodoni. But Giancarlo had other plans as he dominated Bahiense with wrestling to win 6-0.
In the next match, Giancarlo would fast No-Gi world champion Matheus Diniz. This would be a statement win by Bodoni in the first round of competition.
He would consume Diniz with pressure to open up the opportunity for a triangle choke. After beating two of the top 88 kg competitors got people talking.
On day two, Bodoni was ready for the semifinals against Irish grappler Eoghan O'Flannagan. Both would hunt for leg locks, but training under Danaher had Giancarlo well prepared for the match.
O'Flannagan would make a critical error when going for a heel hook and left his leg exposed. Leading to Bodoni to lock up a footlock and punch his ticket to the finals.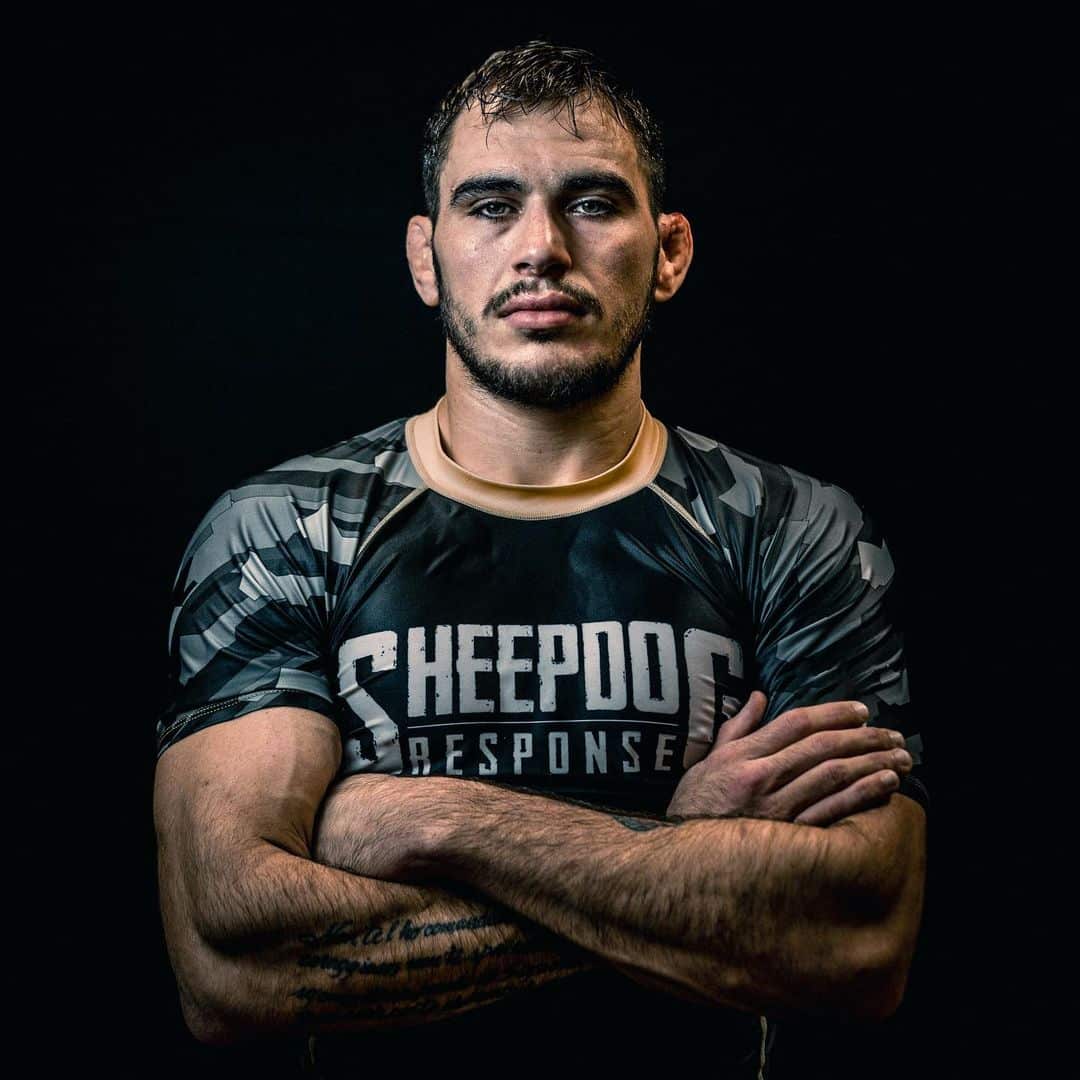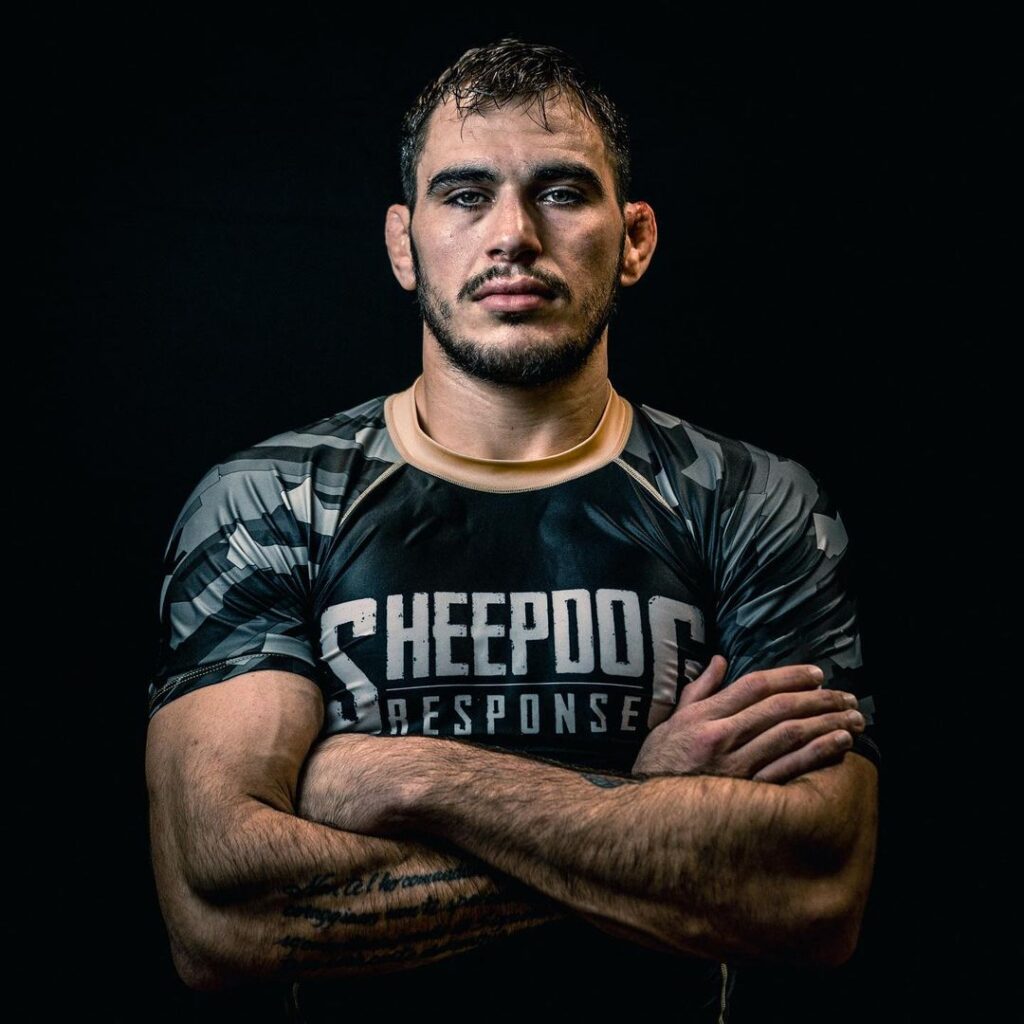 Giancarlo Bodoni vs. Lucas Barbosa
In the finals, Giancarlo Bodoni would face division favorite Lucas "Hulk" Barbosa. Hulk had actually beaten Bodoni multiple times in previous competitions before meeting in the ADCC finals.
Barbosa assumed that he had Giancarlo figured out, but the young American would have a surprise for him. From the first moments of the match, Bodoni was all over Barbosa.
Dominating the hand fights from standing, landing takedowns, and gaining dominant positions. By the end of the match, Bodoni was well up on points, but kept looking for the finish.
He would get to Hulk's back and lock up a Rear Naked Choke to win the ADCC championship. The biggest win of his young career.
The Evolution of Giancarlo Bodoni's Grappling Game
Before joining New Wave Jiu Jitsu, Giancarlo was a decent black belt, but not an elite level competitor. He had a few good aspects to his game, but also had numerous holes in his game.
By working with Danaher, Giancarlo Bodoni greatly improved his skill and fixed his flaws. Not only fixing his technical flaws, but also his mental flaws and developing more confidence within himself.
All of this was brought together and Bodoni evolved into a world class Jiu Jitsu athlete.
What's Next For Giancarlo Bodoni?
Giancarlo proved that hard work and perseverance can improve your confidence and develop you into a better version of yourself. He went from a decent black belt to world class Jiu Jitsu athlete in just over a year of training.
Proving that the sky's the limit for anyone if they're willing to work hard enough for their goal. We'll definitely be seeing Giancarlo Bodoni in the mix winning grappling world titles for many years to come.