It's no secret that the UFC is currently dealing with a lack of legitimate pay-per-view (PPV) draws.
Lightweight champion Conor McGregor hasn't competed since last November's UFC 205 from New York. After the bout, he said that he would be taking time off due to the fact that his girlfriend, Dee Devlin, was pregnant with his first baby. He's also been campaigning for a boxing match with Floyd Mayweather, leaving his UFC future up in the air.
Former bantamweight champion Ronda Rousey's fighting future is also unclear, as she returned to action last December only to suffer another devastating loss, this time at the hands of Amanda Nunes.
Jon Jones, the former light heavyweight champion and former pound-for-pound king, is currently serving out a suspension handed to him by USADA (United States Anti-Doping Agency) and won't be eligible to fight again until July. Finally, Brock Lesnar, the former heavyweight champion who made his return last July at UFC 200, recently announced his retirement from active competition.
That leaves four of the biggest stars in promotional history out of action, but luckily for the UFC, it was recently announced that former longtime welterweight champion Georges "Rush" St. Pierre had come to terms on a new contract with the promotion, and it was announced yesterday by UFC President Dana White that St. Pierre will make his return later this year when he battles Michael Bisping for the middleweight title.
St. Pierre is without question one of the biggest pay-per-view draws of all-time, and it's clear his return is needed by the UFC and especially at this time, but does he necessarily need to return to fighting?
The last time St. Pierre fought was when he won a controversial split decision in the main event of UFC 167 back in 2013. The two men fought for five rounds in a bout that resulted in "Rush" taking home a victory, although the majority of fight fans felt it was  Hendricks who should've been awarded the decision.
Either way, St. Pierre looked defeated in the aftermath of the fight, as he had taken much more damage than we were used to seeing him take. Shortly thereafter, he vacated his 170-pound title and announced that he would be taking some time away from fighting.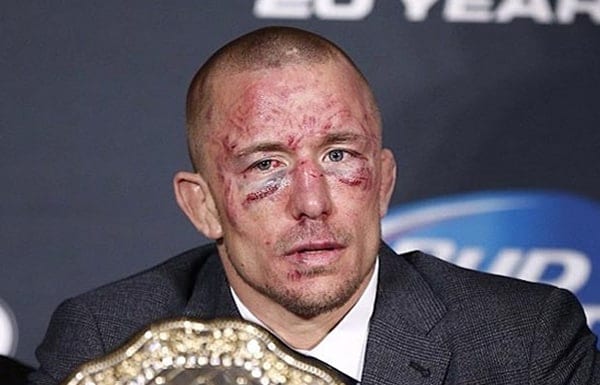 Fast-forward to present time and St. Pierre is 35 years old. During his time off, he has appeared to stay in shape, but he also went through another torn ACL and another reconstruction surgery. By the time he returns to action, the Canadian star will have been away from the cage for nearly four years.
Sure, St. Pierre could very well return in peak form, but that is no certainty. What is a certainty, however, is that he has nothing left to prove inside the cage. Many still consider him to be one of the best fighters of all-time, and he's undoubtedly the best welterweight of all-time, as he defended his title a divisional record nine straight times. It's also quite evident that the Canadian is financially secure.
When he vacated his title, many praised St. Pierre for doing something very few fighters have done: exit the game on top. Now, he will attempt to make a triumphant return to the Octagon he once ruled. The UFC certainly needs his return and it's safe to say that millions of fight fans will tune in to see 'Rush' when he fights again, but does he necessarily need to come back?
Well, that's where things get a bit more cloudy.