The wait is finally over and legendary longtime former welterweight champion Georges St-Pierre will return to the Octagon to fight middleweight champion Michael Bisping in the main event of tonight's (Sat., Nov. 4, 2017) UFC 217 from Madison Square Garden in New York City, New York – even if the fight isn't necessarily bringing the buzz and fanfare you might expect of such a decorated match-up.
The bout pits the fighters with the first and second-most wins in UFC history against one another, a dynamic that perhaps hasn't had enough emphasis placed upon it, and certainly not enough promotional push behind it. That makes it a unique fight, one the likes of which we probably won't see for quite some time in MMA, if ever again.
St-Pierre's return requires sheer courage to jump right back into the circumstances he has, even if you don't agree with him jumping the middleweight pecking order to get his title shot. And that leads to an even less-covered dynamic of the bout, the overall danger he's put his legacy in attempting to claim the middleweight belt.
A legitimate candidate for the greatest MMA fighter of all-time and certainly the best welterweight the UFC has ever seen, St-Pierre has been out of the sport for almost four years now, and those who do remember the end of illustrious run (apparently many current fans don't know who he is, or care) remember that he was starting to take a lot of damage in his mounting defenses, most notably in his incredibly controversial decision win over Johny Hendricks in his last fight at 2013's UFC 167.
That absolutely casts a shadow of doubt on his return, where he's moving up a full weight class to take on a fellow legend (yes, Bisping is an MMA legend) who is at the peak of his skills during his late-career surge. He can say he's been training the whole time and was actually having fun doing so after being worn down by the grind of constantly defending his belt, but the fact is he hasn't been training to take on the top fighters in the world in his semi-retirement. One would presume there's a difference, and perhaps not a small one, either.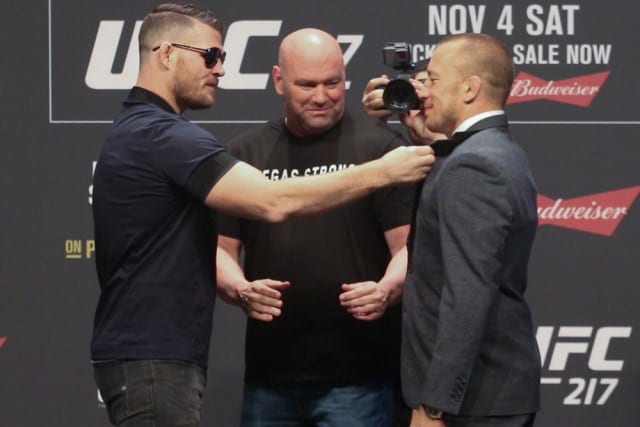 An admitted perfectionist with obsessive-compulsive tendencies, St-Pierre is also giving himself an incredibly small margin for error in his return by claiming that he will retire for good if he loses only one fight. Those are big shoes to fill, even for a fighter of his caliber. Bisping is at the top of his game and has defeated Anderson Silva and Luke Rockhold for the two biggest victories of his career during his improbable title run.
But the final aspect of St-Pierre's return is the most daunting.
He was legitimately the only champion who was able to walk away from the sport with his title and health intact. He did so on his own terms, even if it greatly angered Dana White at the time, bypassing the inevitable downfall that every top MMA fighter suffers, usually in a streak of losses that many times includes brutal knockouts. Yes, St-Pierre was beginning to show some kinks in his armor, but he was unquestionably the UFC's biggest pay-per-view (PPV) star when he left.
He could have stayed retired and been one of the sport's all-time greats, even if the casual Conor McGregor and Ronda Rousey fans didn't care about or respect his body of work. Now, however, he finds himself in a fight where he's facing a bigger, more active champion who also has stellar takedown defense, which could hinder his ability to use his go-to skillset of wrestling.
A loss most definitely tarnishes his great legacy, and a win, while making him one of four fighters to ever hold UFC titles in multiple weight classes, may or may not improve it as much as said loss would hurt it.
It's a tough call. So while St-Pierre deserves the utmost respect for returning in the fashion in which he is, he's also treading on extremely dangerous ground when he steps into the Octagon at UFC 217 tonight, and he's doing so with hardly any margin for error as well.
We'll just have to see if he can parlay the factors weighing against him into what would be one – if not the – greatest comeback stories in MMA history. Either way, it's fair to wonder if the risk is worth the reward, but few got anywhere notable in MMA by playing it safe.
Do you believe the danger is worth it for "GSP?"