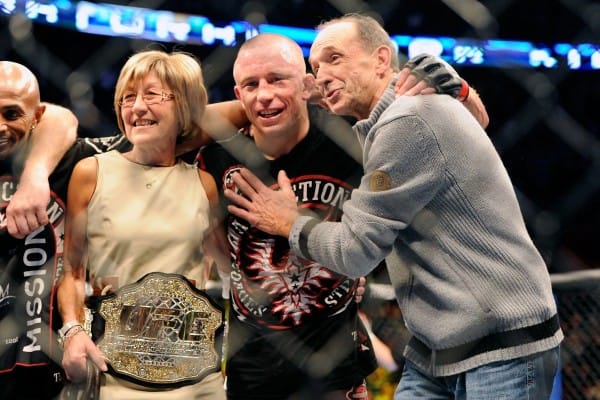 Decorated former UFC welterweight champion Georges St. Pierre has been out of action since his controversial UFC 167 split decision over current 170-pound champ Johny Hendricks last November.
Many felt that "Bigg Rigg" had done more than enough to take the belt from "GSP" that night, and even more could tell that the once-unstoppable champion's heart wasn't in the fight game like it used to be. St. Pierre confirmed this assumption by telling Octagon announcer Joe Rogan that he would be taking some time off the sport, irritating UFC President Dana White to no end.
Despite his company's obvious desire to keep their top draw fighting, St. Pierre did step back from the sport by vacating the belt, first citing personal reasons, then issues with the UFC's drug testing (or lack thereof).
But St. Pierre continued to train, and in doing so, he tore his ACL in March and underwent surgery to repair the debilitating injury. He's apparently well on the road to recovery, as Firas Zahabi recently reported that "GSP" can resume light training next month.
It's unknown whether or not that will lead to a return to the cage for "Rush," but if it does, UFC President Dana White, speaking on today's The Download, said that St. Pierre would probably get an immediate title shot if he did:
"It would be tough to deny that GSP comes right back and doesn't fight for the title, you know what I mean? GSP can do whatever he wants. If he wants to come back and fight for the title, or if he wants a fight before that – he can do whatever he wants."
And White seems to think that St Pierre will indeed come back to the UFC. He knows that the temptation to retire on top is alluring, but he doesn't believe that "GSP" is done competing:
"It's always a huge debate on a guy who's had a career like GSP – to go out on top and walk away with the belt. That's a personal decision that a fighter has to make. Being the competitor that GSP is, I can't see GSP [walking away yet]. But that's up to him."
Indeed it is up to him, but with the UFC now implementing random drug testing for fighters, St. Pierre may feel a bit better about the overall situation. With ACL surgeries mounting and St. Pierre not getting any younger, the time to return would probably be right when he's deemed medically fit to do so.
The UFC welterweight division isn't getting any easier, and the belt has been on hold since Hendricks required surgery after his title-sealing win over Robbie Lawler at UFC 171 way back in March. Lawler subsequently earned a rematch by defeating Matt Brown in the main event of July's UFC on FOX 12.
With potential title contenders seemingly lining up for a shot at the belt, would "GSP" be the logical choice to leapfrog them all if he returns?
Photo: Eric Bolte for USA TODAY Sports