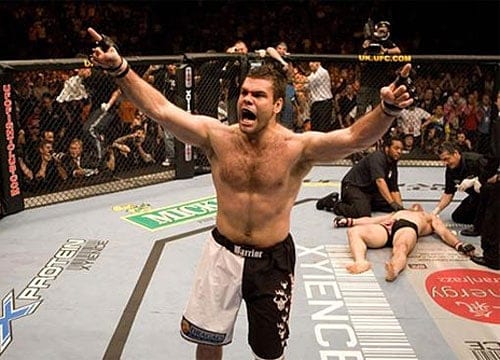 UFC Fight Night 64 goes down this weekend (April 11, 2015) from Krakow, Poland presented live on UFC Fight Pass. The main event features a rematch between heavyweight veterans Gabriel "Napao" Gonzaga and Mirko Cro Crop. The two met years back at UFC 70 in 2007 when Gonzaga brutally knocked out Cro Crop with a high kick.
Cro Crop now hasn't competed in the Octagon since 2011 and has spent recent years testing the waters in kickboxing shows and also making pit stops in MMA shows around the world. At age 40, many would've guessed that the Croatian's UFC career was over, and even Gonzaga was surprised when the fight was offered:
"I wasn't expecting this fight," Gonzaga told MMAFighting.com. "I knew he was still fighting, but I had no idea he was coming back to the UFC. But I'm here to fight anyone they want, and this is a good fight. I haven't watched his fights, but some friends did and told me he was fighting well and winning."
Despite scoring a thunderous knockout the first time the two met, Gonzaga knows how dangerous Cro Crop is on the feet, regardless of where he's recently fought. "Napao" stated that his plan is to exploit the Croatian's weaknesses, and bring the fight to the ground:
"He's always dangerous, doesn't matter how he looked in his last fights," Gonzaga said. "Cro Cop is a great fighter, you can see how many knockouts wins he has in his career. I'm going to get ready, focusing on what I'm going to do. I'll try to take this fight to the ground. I won't let him use his best weapons."
Although not fighting in the UFC recently, Cro Crop is riding a two-fight winning streak nonetheless, unlike Gonzaga who has dropped his last two bouts to Stipe Miocic and Matt Mitirione. Continuing on, "Napao" discussed the importance of this fight, noting that a loss could mark the end of his Octagon tenure:
"This fight keeps me alive in the UFC," said Gonzaga. "If I lose this fight, the UFC will probably… Everybody knows how the UFC works. Three losses, it's rare who stays in (the UFC) after that, and I want to stay in the UFC, so I have to win this fight."
Gonzaga also mentioned that he believes Cro Crop will be expecting everything this time. The Brazilian says he is going to try to get the win in any way possible:
"My goal is to win this fight the best way possible," he continued. "In the first fight, I took him down and worked there, and saw an opening to throw the kick. He wasn't expecting that. I believe he's expecting everything this time, but I will try to finish him with a kick, a punch or a submission."
Will Gonzaga extend his UFC life and spoil Cro Crop's return party, or will the Croatian make a splash in the heavyweight division?