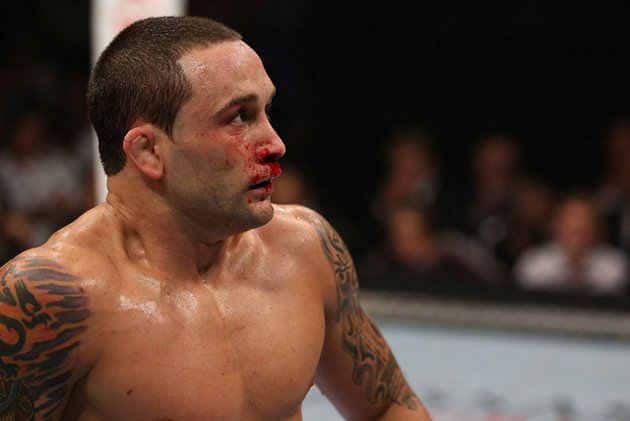 Former UFC lightweight champion and former featherweight title challenger Frankie "The Answer" Edgar has undoubtedly earned another shot at 145-pound gold.
Since dropping a hard fought decision to then champion Jose Aldo in 2013, Edgar has rattled off an impressive five straight wins including three finishes. His most recent victory, a stunning first round knockout of multi-time title challenger Chad Mendes at December 11's The Ultimate Fighter (TUF) 22 Finale, should have sealed the deal on a title shot.
He was even promised by the UFC that he would meet the winner of December 12's mega fight between Aldo and Conor McGregor.
McGregor would shockingly knock Aldo out cold in just 13-seconds, and Edgar had believed that he would enter the cage to face off with the "Notorious" one, but UFC president Dana White had other plans:
"I thought they wanted me to go in the cage," Edgar said during an appearance on The MMA Hour on Monday. "And then as I'm about to walk in Dana [White] was walking out, he said, 'you're not going in there, Conor's going up, blah blah blah, we might give Aldo a rematch, we don't know.' I just kind of…I've never been, I mean granted Conor put himself in a position to be in charge, but I've never been there. Usually I do what they ask me." 
McGregor indeed may move up for a showdown with lightweight champion Rafael dos Anjos, meaning Edgar could be skipped over yet again. It's safe to say that "The Answer" is fed up, especially given the fact that he considers himself a "company man":
"For sure, I'm pissed," he said. "I've been at it for a while now, I've been knocking on the door for this title shot for a while. It started with Cub [Swanson]. If Cub beat me he was promised a title shot. I beat him, I finished him in pretty dominating fashion and no, I'm not even considered for that title shot. I take it in stride. I do everything in stride, I really do think I'm a company man, but it's not really panning out for me being that way."
Continuing on, the former 155-pound title holder admitted that he was losing patience, also noting that the UFC brass simply hasn't paid any attention to him:
"I'm there — I'm there already," he said. "I'm not one to sit there and cry about it. People, my whole career say, 'you're too quiet, you need to say stuff,' and the minute you say something it's, 'you're f*cking crying.' I mean come on, you just can't win with these people. And you really can't pay attention to them. The people I need to talk to are Dana and Lorenzo, and they seem like they're not listening either."
In attempts to remain optimistic, Edgar is hoping for the best, but at the end of the day, he knows well and clear that his long-awaited title shot may not be coming next:
"Realistically, I'm setting myself up for that already," he said. "I'm setting myself up for hope for the best, expect the worst. I'm expecting the worst."

Is it time that the UFC finally awards Edgar his shot, or should the promotion look to book McGregor vs. dos Anjos?