Watch: Francis Ngannou and 'Iron' Mike Tyson put on a show at open workout session ahead of Tyson Fury fight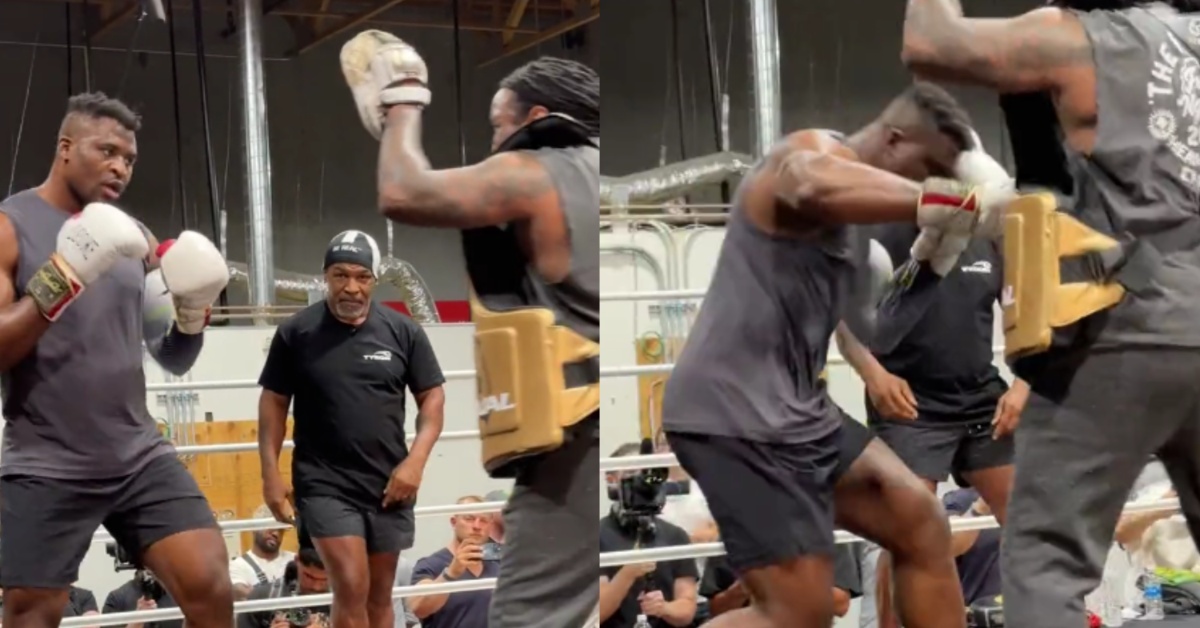 Francis Ngannou and legendary pugilist 'Iron' Mike Tyson put some work in during an open workout session on Tuesday evening.
The former UFC heavyweight world champion is roughly a month away from his highly anticipated return to combat sports. But this time, 'The Predator' won't be stepping into the cage. Instead, he'll get back to his roots by strapping on the 10-ounce gloves for a clash in the squared circle with perhaps the greatest boxer in the world today, Tyson Fury.
Ahead of their showdown in the Kingdom of Saudi Arabia on October 28, Francis Ngannou showed off his evolution as a striker during an open workout session in Las Vegas alongside boxing icon Mike Tyson.
Francis Ngannou is Getting Back to His Roots
Going into the contest, many fight fans believe that Francis Ngannou's only chance to walk away with the victory is by landing one big punch. While 'The Predator' has made a name for himself with his legendary knockout power, Ngannou is more than ready to show the world that he's more than a one-shot type of fighter.
"In fact, that's what I'm going to prove," Ngannou said during Tuesday's open workout media scrum in Las Vegas. "That's why I'm doing this. I think, OK, the one-shot guy, you can get away with the one shot for some time, but not always. I have heard that same story before. Looks like deja vu."
Before dominating the world of mixed martial arts, Francis Ngannou began training as a boxer. Getting back to where it all began for him, Ngannou sees his fight with the reigning WBC heavyweight champion as a boxer vs. a boxer. Not MMA vs. boxing.
"I know there is a difference," Ngannou said. "I never thought it was the same thing. There's some similarities, basically, as a combat sport, but they are very different on the focus, the training on the stance, and everything. Just a little reminder: I started doing boxing even before MMA, and when I came to MMA, I had to adjust my boxing style to fit in MMA. Otherwise, it wouldn't work."
He continued, "I see it more like two boxers. For this fight, I'm not training with an MMA mentality like I'm an MMA guy. I'm going out there to box. I'm training as a boxer. I'm not seeing myself as an MMA guy, so I hope you guys, too, see me as a boxer" (h/t MMA Junkie).