With tattoos becoming increasingly more popular, it's no surprise that nearly every mixed martial arts (MMA) fighter comes to the cage with some form of ink on his body.
Fighters' bodies are on display much more than your average human being, and their skin has become the canvas for some truly wild, unique, and entertaining artwork that tells the stories of their struggle to get to the top levels of the fight game in the UFC.
But there are also some tattoos that simply inspire a cringe upon first glance, leaving fight fans everywhere to wonder what that certain athlete might have been thinking when they sat down into the artist's chair that day. There are many, many horrific tattoos in the world of MMA.
Let's take a look at the five worst:

5.) Conor McGregor:
The wildly popular McGregor has gotten an alarming amount of ink done since he stormed into the UFC in early 2013, first of which consisted of getting a massive ape's head covering the vast majority of his upper chest and on to his neck.
That tattoo didn't exactly please UFC President Dana White, but McGregor took it a big step further when he puzzlingly got a huge tiger's head tattooed on his stomach right under the ape's head, making for two large animal heads in one very close proximity. The tattoo itself is not of bad quality, but the location and symmetry certainly is.
Plus, there's that whole thing that McGregor supposedly stole his style and tattoos from Canadian model Josh Mario John: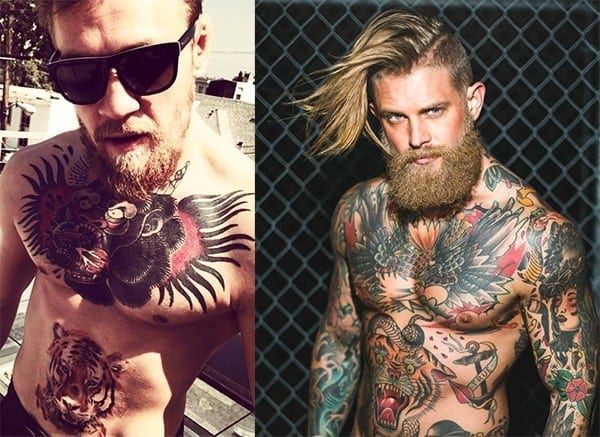 4.) Kimo Leopoldo:
This throwback to the early days of MMA was always known for his wild tattoos.
The brutally powerful Hawaiian started his MMA career with a 7-2 record, and his only losses came to legends Royce Gracie and Ken Shamrock.
But his tattoos didn't seem to find the same kind of access. Leopoldo had a wild, sprawling mix of ink that just didn't seem to have all that much of a goal in mind. Some twisting tribal art gave way to several large religious references to earn a spot among MMA's worst tattoos.

3.) Alan Belcher:
There's not much else to say about this veteran middleweight's bad tattoo other than that it's a large picture of Johnny Cash that isn't all that great a quality of artwork or all that discernible as 'The Man in Black.'
Check it out.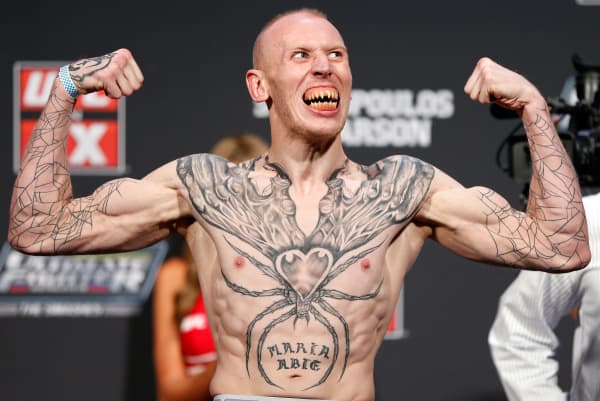 2.) Colin Fletcher:
British fighter Colin 'Freak Show' Fletcher nearly took the top spot on this list. Fletcher made his way into the UFC as part of The Ultimate Fighter: The Smashes in 2012, where he won his way to the lightweight finals before losing to Norman Parke.
But when he got into the octagon he wasn't nearly as successful as he was on the show. He did, however, make a mark with his notoriously awful set of freakish tattoos, which included (but not limited to) a set of creepy, extending hands on his upper chest and other assorted oddities.
Fletcher earned much more attention for his tattoos than his actually fighting ability.

1.) Brock Lesnar:
There's only man who could edge Fletcher out for the worst tattoo in MMA, and that's former heavyweight kingpin Brock Lesnar.
'The Beast' made a name for himself by dominating opponents en route to the NCAA national championship in wrestling, the WWE title, and finally the UFC belt before returning to pro-wrestling by calling his MMA career over.
But during the time he was one of the UFC's biggest-ever pay-per-view (PPV) draws, Lesnar unfortunately did with some kind of sword tattoo that was stabbing into his chest (or something); a sword that many deemed something much more phallic.
Even if it is a sword, it's quite the strange looking one that has brass knuckles for a handle. Or something. You decide.
Either way, it's undoubtedly the worst tattoo in MMA.