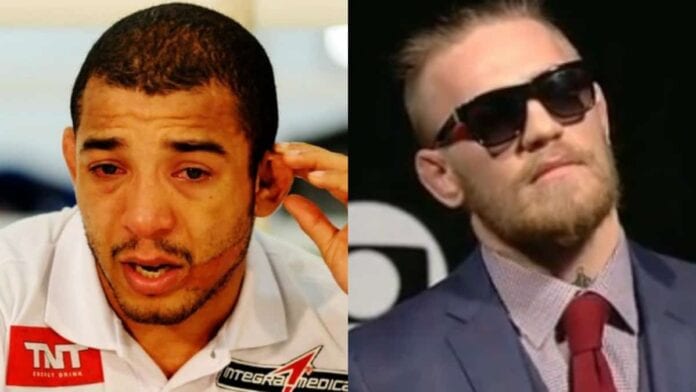 It seems as if the MMA world has moved on from the shock of Conor McGregor's amazing 13-second knockout of formerly dominant champion Jose Aldo in the main event of December 12's UFC 194, and now the focus is understandably on just whom 'The Notorious' will face next.
There are several potentially great fights available for the Irish trash talker, as a bout with Frankie Edgar, lightweight champion Rafael dos Anjos, or even the polarizing, resurgent Nate Diaz have all dominated the airwaves in one form or another over the past two weeks.
However, one bout that hasn't been talked bout hardly at all for McGregor is an immediate rematch with Aldo, which may be a bit confusing given that many recent UFC champions who lost their belts did get the next title shot after losing.
But Aldo and his situation are a bit different, and it isn't necessarily for the better in the eyes of his employers. Here are five reasons why Aldo, despite being the only featherweight champion the UFC ever knew before McGregor, won't get his coveted rematch with 'The Notorious' just yet.

5.) He Spoke Out Against The Reebok Deal:
To start, Aldo has been a very vocal opponent of the UFC's highly criticized uniform sponsorship deal with Reebok.
Indeed, the deal seemingly couldn't have come off with more mistakes, flubs, and mishandling of the situation, yet it appears that the UFC is in it for the long haul and that means that fighters will have to fall in line or bear the consequences. Never one to step in line or hide his true feelings, Aldo has called the deal for what it is by criticizing the low fighter sponsorship payouts in the media earlier this year.
There are many fighters who probably don't like the Reebok deal and how it lowered their sponsorship pay; in fact, it may be most of them. However, most of them have been largely too scared or too smart business-wise to speak out against it publicly, and Aldo's ability to get the rematch he wants is undoubtedly going to be affected by how he addressed the UFC's laughable apparel deal.

4.) He Just Isn't That Marketable:
At the center of the matter, Aldo just isn't that marketable, and that can be akin to a death sentence in today's social media driven MMA world.
True, he was the UFC's only featherweight champ since the division's inception in 2011, and he also hovered atop the pound-for-pound rankings for a long time, as well. Yet that's not quite enough to become a huge star these days, and Aldo has seemingly refused to learn English in order to make himself more marketable in a public sense.
Of course that's his right and his decision, but it has certainly cost him millions of dollars in the process. The perfect example of this was the UFC's whirlwind 10-city UFC 189 World Championship Tour for his originally scheduled UFC 189 bout with McGregor. Aldo was put at an extreme disadvantage in all of the stops save for his native Rio de Janeiro, as he was blasted with nonstop verbal barbs from McGregor with no chance to respond with anything that most of the fans understood.
That just doesn't translate to the best of promotion, and while McGregor can obviously carry that aspect of a fight all by himself, it's clear that a bout with Diaz, or even Edgar and/or Dos Anjos, would simply be more marketable fights.
We've seen McGregor vs. Aldo, and quite frankly, it didn't deliver on the massive hype. Perhaps if Aldo were able to promote himself better, he'd get his rematch – right or wrong.

3.) His Criticism Of Fighter Pay:
Along the lines of his widespread bashing of the Reebok deal, Aldo has also spoken out against one of the hottest topics in MMA, that of the UFC's supposedly low fighter pay scale.
He's said that he does fine as a once-revered champion, but many of his teammates and friends have been made the victim of unfair wages. While that's definitely a relevant and pressing issue that affects many fighters, not just Aldo's friends, it's also not the way to go about getting the fight you want.
Aldo held the leverage when he was champion, and obviously there's nothing that could have been done to keep him out of the limelight if he beat McGregor. But he got knocked out with one punch, and now his outspoken antics against his employers may come back to haunt him.
Is that fair? Maybe not, but we've seen time and again, that if you don't 'play the game' as Dana white likes to put it, then you aren't going to get nearly as far as you could in the fight game, especially from a financial standpoint.
Aldo doesn't seem to care about the money all that much, but he does care about the belt. He's not really even being talked about as one of McGregor's next opponents, and that could at least partly be due to his criticism of the UFC's business practices.

2.) He Pulls Out Of Fights Frequently:
Another big reason Aldo won't get the immediate rematch with McGregor is his concerning injury history.
He's pulled out of five UFC title fights due to injury, and while the statistics would state that he defends his belt as much or even more than many of the UFC's recent champions, those numbers are bit skewed by lengthy absences from Cain Velasquez and Anthony Pettis.
The bottom line is that the UFC needs champions that show up and actively defend their belts, and while Aldo has done that to a measured degree during his time as champ, he is still a liability who can pull out of any fight at any time. We saw it at July's UFC 189 when he postponed the biggest fight of the year after bafflingly taking a spinning kick straight to the ribs two weeks out from his biggest match-up ever, and that's something that just can't happen.
Love him or hate him, McGregor just doesn't pull the same antics. Save for the torn ACL he suffered in his second UFC bout against Max Holloway, McGregor has never missed any significant time, and he's no doubt an active fighter who has also never pulled out of a fight.
That could certainly change over time, but Aldo has shown that injuries can and will force him to pull out of bouts with relatively frequently. With a host of name contenders literally lining up to face McGregor, there's just no reason for the UFC to book a rematch with a malcontent who could pull out of the fight while other big names are ready to fight.

1.) The Devastating Nature Of His Loss:
Overall Aldo most likely won't get an immediate rematch due to the devastating fashion in which McGregor put his lights out.
Yes, fighters like Ronda Rousey, who was viciously knocked out by Holly Holm at UFC 193, and even his training partner Renan Barao, who was dominated by TJ Dillashaw at UFC 173 and got a rematch at UFC 177 before passing out during his weight cut, got immediate rematches, but the circumstances were a bit different.
Rousey, while dominated, was still able to last over a round with Holm and landed some good shots of her own. Barao was finished in the fifth round and fought in a division that was sorely barren of legitimate title contenders.
Rousey has arguably done more for the UFC than any fighter ever has in terms of media exposure and overall attention, and women's bantamweight is also devoid of true top-level contenders. All of that adds up to an obvious instant rematch between her and Holm, presumably at July's UFC 200.
But the situation is reversed for Aldo, as McGregor has a long line of contenders. If Aldo had 'played the game' and been a self-promoting champ who fell in line with the UFC's business ideals like Rousey did, then maybe he would have got his immediate rematch regardless of the shocking result of his fight with McGregor.
He hasn't, however, and the fact that he got knocked out with the very first punch 'The Notorious' threw at UFC 194 make it an incredibly tough sell.
Does Aldo deserve an immediate rematch? Maybe, it's tough to say. But like the luster of their UFC 189 bout that wore off a bit when the fight was rescheduled when Aldo got hurt this summer, there just isn't much wonder, allure, or attraction for a rematch right now due to the knockout, and that's the biggest reason why Aldo won't be getting the fight next.