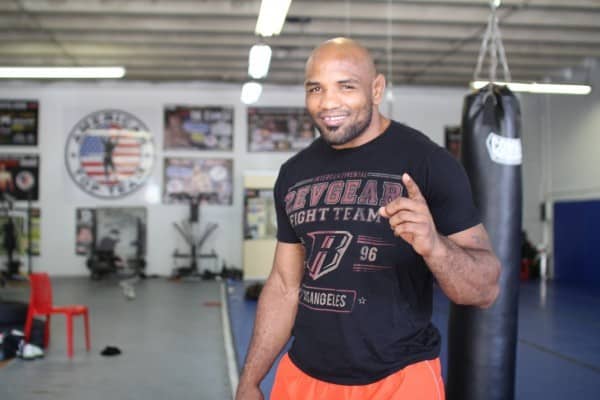 No. 1-ranked Yoel Romero has made UFC history, but not necessarily the way he might've hoped for.
The Cuban is now the first fighter in UFC history to miss weight in back-to-back title fights. He was initially scheduled to challenge Robert Whittaker for the middleweight championship in the main event of tomorrow's UFC 225 pay-per-view (PPV) in Chicago.
Instead, Romero came in one pound overweight. He was given an extra two hours to cut the extra pound, but still came in .2 pounds overweight. As a result, the bout's future is uncertain as of this writing.
In Romero's last fight he also failed to make weight for an interim middleweight title bout against Luke Rockhold. Romero won that contest via third round knockout.
Several fighters took to Twitter to offer there thoughts on The Soldier Of God missing weight yet again. Here are a few of their reactions:
Ha

— Luke Rockhold (@LukeRockhold) June 8, 2018
YOU HAVE TO MAKE WEIGHT!!!! #ufc225 https://t.co/JFF7N4hyNL

— The Mane Event™ (@EliasTheodorou) June 8, 2018
OMG ??‍♂️??‍♂️??‍♂️ https://t.co/fhy28rK3Fz

— patrick cote (@patrick_cote) June 8, 2018
And let the missing weight memes start in . 5-4-3-2-1 …. #UFC225

— Derek Brunson (@DerekBrunson) June 8, 2018
Yoel just missed weight…. thanks Obama! #ufc225 weigh #weightgate ##ruinitfortherestofus #? #? #? #? #? #? #? #? #?

— Chas Skelly (@ChasSkelly) June 8, 2018
Jesus ??‍♂️ 0.2 over
Caramba 80 gramas acima ??‍♂️ https://t.co/VsgrqS6c3O

— GILBERT BURNS DURINHO (@GilbertDurinho) June 8, 2018
Lack of preparation even if he has history ! What a shame !! Underestimating the cutting is dumbass !! https://t.co/H6o5RenAh6

— patrick cote (@patrick_cote) June 8, 2018
??‍♂️ Show up on time, on weight, or move up. This is getting embarrassing for us all. Be professional. #UFC225

— Anthony Smith (@lionheartsmith) June 8, 2018
I really hope the UFC/Dana doesn't use this as an example as why early weigh ins must be changed back… that benefits the unprofessional fighters! #UFC225 #smh

— The Mane Event™ (@EliasTheodorou) June 8, 2018
Early weight ins is huge!! I hope and please @danawhite don't change that cause the guys who are missing weight! Man still can't believe 0.2 ??‍♂️ https://t.co/VsgrqS6c3O

— GILBERT BURNS DURINHO (@GilbertDurinho) June 8, 2018
Maybe Yoel could learn a thing or two from my man Winston! #ufc225 #weightgate #doodles #nosnackforyou pic.twitter.com/huQYeEoVTO

— Chas Skelly (@ChasSkelly) June 8, 2018
I would but, 40% off his purse and tomorrow nothing more than 200 pounds fight weight https://t.co/Sy0HdTlSjb

— GILBERT BURNS DURINHO (@GilbertDurinho) June 8, 2018
I weigh 185 and live down the street ?

— Belal muhammad (@bullyb170) June 8, 2018
That's what I'm afraid of too

— Chas Skelly (@ChasSkelly) June 8, 2018
Welcome to another episode of, we can't have s**t nice in MMA!!! #UFC225

— Derek Brunson (@DerekBrunson) June 8, 2018
Good luck to Whittaker true champ.

— Luke Rockhold (@LukeRockhold) June 8, 2018