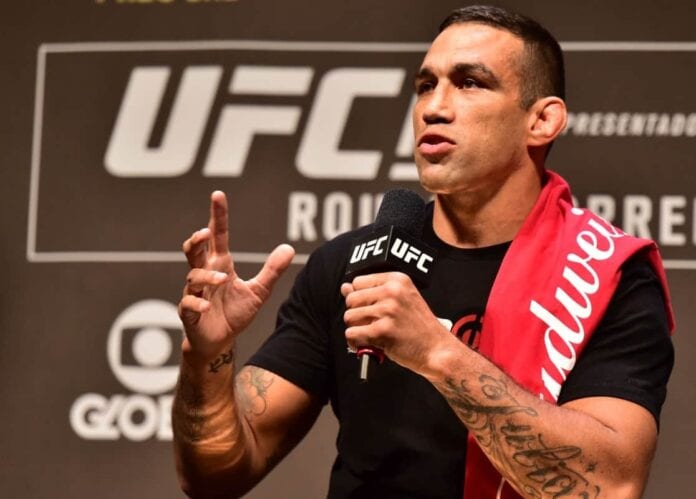 Fabricio Werdum was more than confident he would score his first defense of the UFC heavyweight title when he met Stipe Miocic in main event of last night's (Sat., May 14, 2016) UFC 198 from Arena da Baixada in Curitiba from his native Brazil.
Yet he may have been a bit too confident, as the loose, joking mood of Werdum appeared to echo his fighting style against Miocic, which saw him rush in carelessly only to be finished by a powerful counter right from the challenger.
After his illustrious six-fight run since 2012 that saw him rise up to UFC champion status, a humbled Werdum revealed his respect for Miocic in an interview with UFC on FOX after the card:
The experienced gave all due credit to the new champion, but also gave his opinion that a rematch is the best choice for the promotion to book next:
"Yeah, I think he beat me for sure, one hundred percent. You know heavyweight is so hard, one punch, that's it, and the light is black, I saw. He knocked out me for sure, one hundred percent, I say congratulation for him, but I think the best way is the rematch, because I mean, I have a six victory straight. I think the best way is the rematch, for sure, one hundred percent."
As for the reason why he didn't perform his best last night, Werdum gave no excuses. He said his body was completely healthy and uninjured going into the fight, and losing to one punch is just the nature of the UFC heavyweight division:
"No, I'm one hundred percent, my body, I don't have an injury. Everything's great. I think that just because he got it, he got it one punch, that's it. Heavyweight is like this one."
With his world-class Brazilian jiu-jitsu pedigree widely known as his most noteworthy skill, Werdum instead utilized his improved Muay Thai to land varied kicks and punches on Miocic in the bout's early going. But then the finish obviously came when he got careless, something that "Vai Cavalo" addressed in laying out his desire to have been more patient at UFC 198:
"Just a little bit more calm, you know? Just calm, have five rounds to beat him. Tonight, he beat me, tonight, he's the best, but I think I'm more completed. Yeah I change this one, just a little bit more calm."
Werdum did appear to be winning the very beginning stages of the pivotal bout by staying just that, so it's hardly a surprise that he wants a rematch soon to prove the one-punch knockout was a fluke. Asked just when he was ready to set foot in the cage at July 9's blockbuster UFC 200 card from Las Vegas, which already features three title fights and a slew of other elite bouts.

"Soon, my athletic commission give me 30 days off, but after 30 days I'm waiting for maybe the UFC 200. Maybe. I think it's very good to rematch there."