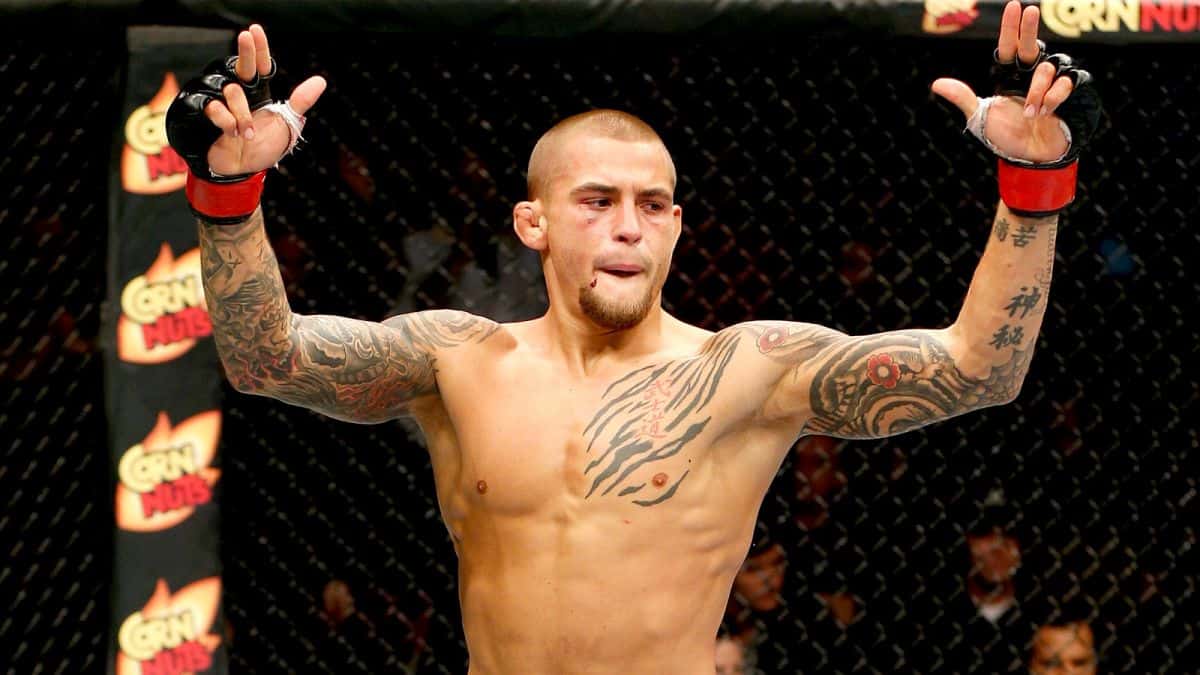 The Ultimate Fighting Championship's (UFC) first pay-per-view (PPV) of 2017 got started with a lightweight scrap. The two 155-pounders in action were No. 10 ranked Dustin Poirier (21-5) and seasoned veteran Jim Miller (28-9, 1 NC).
Miller fired off the first shot of the fight, which was defended. Poirier threw a stinging leg kick. A right hook into a leg kick combination was there for Miller. "The Diamond" thwarted a takedown attempt. A left uppercut found the mark from Poirier as the two broke from the clinch position.
Miller landed a body kick followed by a counter left hand. Miller grabbed a leg and threw a straight right hand. He connected with a right hand counter. A hard left hand from Poirier was blocked, but it got Miller's attention. Poirier caught a leg and took Miller down, but Miller popped up and took his opponent down.
Miller quickly took the back of Poirier. He went for a choke, but his opponent reversed the position to get in top control. The two stood back up and traded shots to end the round.
They met at the center of the Octagon to begin the second stanza. Poirier opened with a leg kick. A hard leg kick from Miller had Poirier off balanced. Poirier moved forward and Miller returned fire. He rocked Miller and went for a choke. He let it go and teed off.
"The Diamond" threw combinations. A right hand pierced through the guard of Miller. Poirier landed a right hook, but Miller connected with his own shot. A left hand landed for Poirier. A hard kick to the body connected for Miller.
A right hand followed by a left was there for Poirier. Miller shot in and ate some elbows. Poirier reversed the position and took Miller down. They stood back up and Poirier swung heavy shots. He blocked a kick high. The round ended with Poirier landing a knee to the body.
The final frame began with a left hand from Miller. He then got in a right hand. A leg kick from Miller tripped up Poirier a little. Miller kept hammering away at Poirier's right leg when he sensed something was off. Color commentator Joe Rogan mentioned Poirier trying to hide a limp.
Miller was relentless with leg kicks. He found himself on his back, going for an omoplata. He couldn't get it, but held onto Poirier's neck. "The Diamond" avoided danger and remained in control. Miller popped up and pressed his opponent against the fence.
Poirier dumped Miller back down to the canvas. Miller went for a kimura. Poirier was able to avoid the submission and rained down some punches until the final horn sounded. Excellent opener.
Two of the three judges awarded the fight to "The Diamond," who was hurting thanks to the bulge on his right leg. One judge had a baffling score of 28-28.

Final Result: Dustin Poirier def. Jim Miller via majority decision (28-28, 30-27, 29-28)