Former UFC foes Junior dos Santos and Fabricio Werdum face off ahead of bare knuckle MMA fight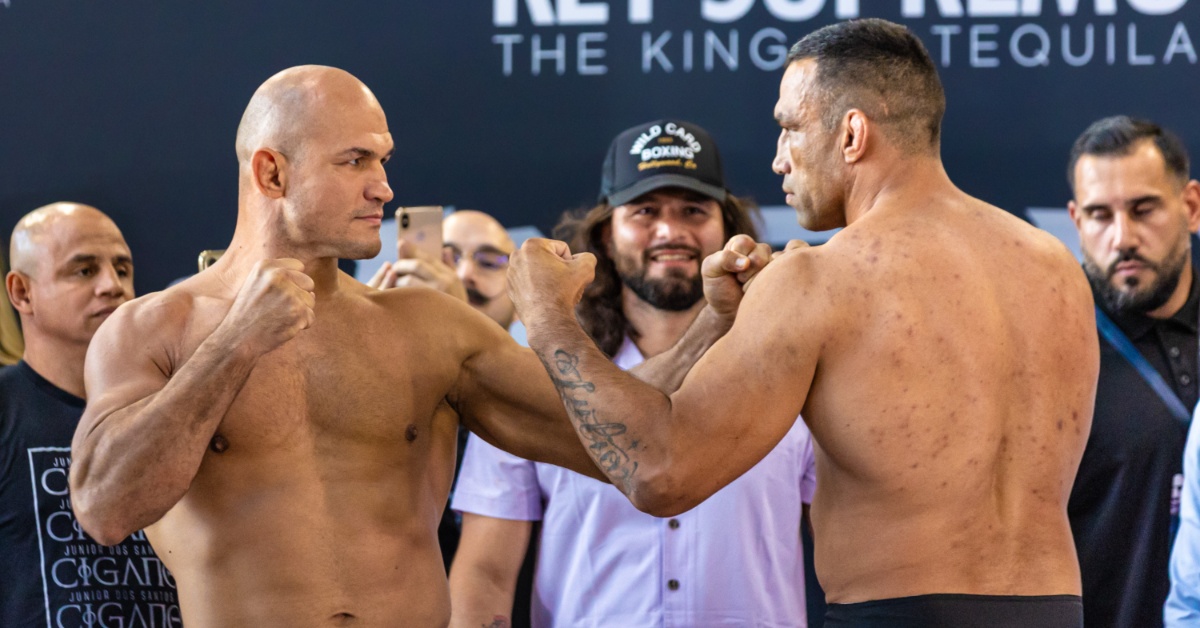 On Friday night, fight fans will be treated to a rematch 15 years in the making as ex-UFC champions Junior dos Santos and Fabricio Werdum put down the four-ounce gloves and go toe-to-toe at Gamebred Bareknuckle 5.
Emanating from the VyStar Veterans Memorial Arena in Jacksonville, Florida, Jorge Masvidal's promotion will offer fans a heavyweight clash between two legends of the sport. Junior dos Santos (21-10-0) will make his first appearance in the cage since suffering his fifth-straight loss at the hands of Yorgan De Castro under the Eagle FC banner more than a year ago. Meeting him will be submission specialist and fellow former UFC heavyweight world champion, Fabricio Werdum (24-9-1).
Ahead of their main event clash in the Sunshine State, Junior dos Santo and Fabricio Werdum went face-to-face at the official Gamebread Bareknuckle weigh-ins on Thursday.
Junior dos Santos is Ready to Start a New Chapter in His Career
The two heavyweight icons first met at UFC 90 in what was Junior dos Santos' promotional debut. As a result, 'Cigano' entered the bout as a significant underdog, but he only needed 80 seconds to prove the oddsmakers wrong, scoring a highlight-reel-worthy KO against Werdum that earned him Knockout of the Night and Upset of the Year honors.
"I don't think of this as a rematch because so much is different today," Dos Santos said during the weigh-in ceremony. "The main thing hasn't changed though, it's still his grappling against my striking. My motivation is to go in there and show the world the best of me. When I do that, I'll walk away with a win. I built who I am through a lot of hard work and sacrifice. That's why I'm privileged to be in this position again. I just love to fight and now that I'm doing a new thing in bare-knuckle, it's gonna be very fun."
Having his turn on the microphone, Fabricio Werdum suggested that a bare-knuckle fight would give him a decided advantage over the heavy-hitting Brazilian on Friday night.
"I don't think about the past, I just think about today," Werdum added. "My moment is now and I don't think about what's come before. No gloves will help my grip and with my grappling. I think it might be a little bit of an advantage for me. I'm very comfortable with no gloves. I think it's only a small difference for me to be bare-knuckle because MMA gloves are small. I train a lot of the time with no gloves in the gym anyway. I'm really excited to have this bare-knuckle fight for the first time," (h/t MMA Mania).
Gamebred Bareknuckle 5: Dos Santos vs. Werdum will air live and for free on the Gamebred YouTube channel starting at 7 p.m. EST.