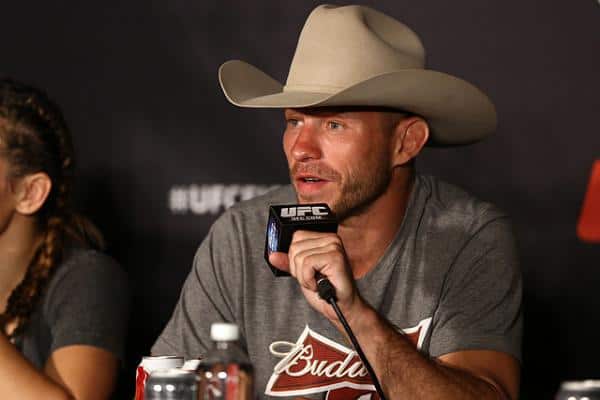 UFC lightweight contender Donald Cerrone will go to war with Rafael dos Anjos at UFC on FOX 17, in an attempt to dethrone the Brazilian from the head of always deep 155-pound division. 'Cowboy' has strung together an eight win streak during a very busy two year period, earning the chance at winning his first ever major title on December 19.
Beefs with Conor McGregor and 'RDA' have brought the exciting Cerrone plenty of attention lately, and fans were given the opportunity to quiz 'Cowboy' during a recent Q&A session on periscope. MMA Digest uploaded the video to Youtube, and first up the Greg Jackson's product addressed Jose Aldo vs. Conor McGregor:
"Abso-fucking-lutely (I'll beat Conor McGregor), yeah I will. As for Aldo vs. McGregor, I hope Jose is gonna beat his ass.(on CM Punk) I don't know if he's even going to fight. (on Dana White) yeah, Dana gets angry with me, we have some talks. He talks about the stupid shit I do. But I just go on and do some more stupid shit."
Another matter that's been at the forefront of the MMA headlines recently is Nick Diaz's controversial five year ban by the Nevada Athletic Commission. The Stockton native was slammed with a hefty fine also after it was revealed he'd failed a UFC 183 drug test. The outrage caused when the decision was handed down in the face of seemingly air tight evidence to the contrary was amazing. Cerrone not only supports Diaz, but says he uses medical THC (tetrahydrocannabinol) himself for medicinal purposes:
"The Diaz brothers have some serious hardcore fans, I love it. But for smoking a little pot, I don't think he should get five years. I'm from Colorado, if you wanna smoke some weed you should be able to do what you want. Weed is going to get you an advantage or in any sort of shape for a fight. I use CBD oils, which is the medicinal side of THC, I'm a fan of it. Fucking right, toke toke!"
The over-100,000 strong White House petition to 'Free Nick Diaz' has shown the fan's response to this abysmal scenario, and fellow fighter Ronda Rousey, Conor McGregor, Cerrone and countless others have spoken out about Diaz's ban. Even pop idol Cher had her two cents to give, but that's another kettle of fish all together.
For now, enjoy the full episode of Cerrone's fan Q&A below: