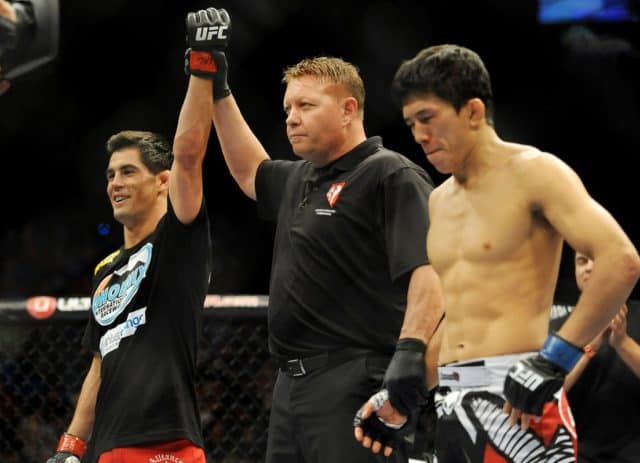 Former Ultimate Fighting Championship (UFC) bantamweight champion Dominick Cruz is currently sidelined with an ACL injury. That hasn't stopped "The Dominator" from speaking his mind while he awaits his return to the Octagon.
Cruz appeared on The MMA Hour to discuss his future plans. While "The Dominator" doesn't have a set return date, he feels it isn't necessary to have because he isn't holding gold:
"The truth is I don't need to say an exact (return) date because I have nothing that I need to hold up. I'm not the champion right now, I'm not in the top five rankings right now. I don't have anything that people are waiting for to try to take from me, except my fame."
Current 135-pound title holder TJ Dillashaw recently made his second successful title defense against Renan Barao in a rematch at UFC on FOX 16. While the win marked Dillashaw's third straight finish, Cruz says people don't have faith in the current champion:
"When I come back, the only thing TJ is looking for is my fame. Nobody believes he's champion right now. They think he's good, but they don't believe he's champion. That's why they couldn't sell the fight in Chicago. The gate was terrible in Chicago with Renan Barao and TJ Dillashaw. They couldn't sell it."
"The Dominator" says he feels the higher ups at the UFC booked the rematch because they knew that Dillashaw would pose major problems for Barao stylistically:
"One, they knew it was a perfect matchup for TJ. Two, they know that TJ is just using things that I've used to be successful, he admitted that."
Despite the fact that Dillashaw is on a four-fight winning streak, Cruz doesn't appear to be impressed at the caliber of the champion's opposition:
"He doesn't know if he's a champion yet, he has to fight me to believe that. He only beat Renan Barao, that's the only guy in the top five he's beaten. He lost to (Raphael) Assuncao, who was in the top five when he lost to him, lost to John Dodson when he was in the top five, and now he's only beaten Renan Barao. He beat Joe Soto, is he even in the UFC anymore?"
As far as Dillashaw's striking coach Duane Ludwig predicting that Cruz would get knocked out in the potential title bout goes, "The Dominator" has some harsh words for "Bang" Ludwig:
"Duane Ludwig is talking a bunch of nonsense about (Dillashaw) knocking me out. He doesn't know anything. Have you seen him in an interview? The guy's stuttering all the time, he's been hit in his head too much already." If you enjoyed this story, please share it on social media!