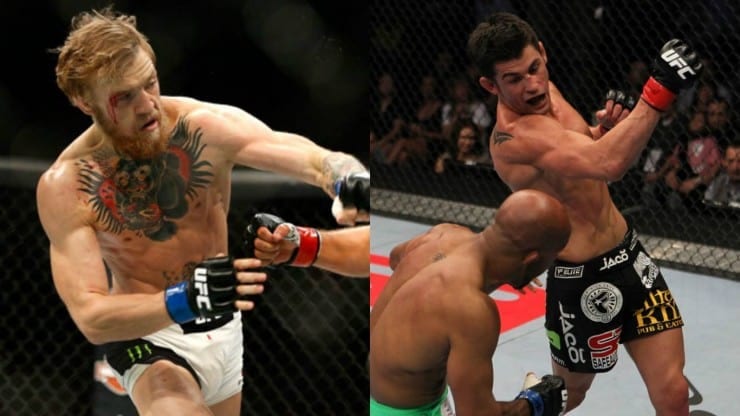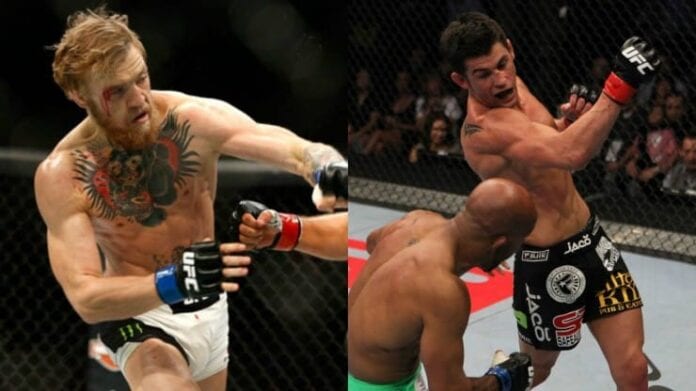 Former UFC bantamweight champion Dominick Cruz has recently ramped up his trash talk heading into his title fight with TJ Dillashaw, but he just won't be able to match Conor's McGregor's unattainable level…
Billed as one of the most pivotal and resonating bantamweight title bouts in UFC history, former champion Dominick Cruz is finally set to return from a 16-month absence against current champion TJ Dillashaw in the headlining bout of this Sunday night's (January 17, 2016) UFC Fight Night 81 from the TD Garden in Boston, Massachusetts.
Cruz will seek to regain the belt that he never lost, as a seemingly never-ending slew of serious knee and groin injuries held 'The Dominator' to only a single fight since his decision victory over pound-for-pound great Demetrious Johnson in October 2011.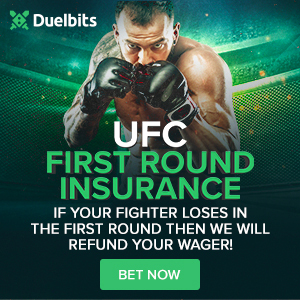 The former titleholder has since spent his time off becoming one of the most well known and respected analysts in the fight game, breaking down cards on FOX Sports with a technical expertise that few, if any, have ever demonstrated in the broadcast booth. That has resulted in a refined wit for the already sharp Cruz, and it's clear that he's certainly stepped up his smack talking outside the cage in his recent spots with a badly outclassed Dillashaw.
Its no doubt a cue that all fighters can take from Cruz, who's apparently emulated featherweight champion Conor McGregor in a sense to create more buzz for his fights by berating his opponent outside of the Octagon. While that's certainly nothing new in the fight game, Cruz has taken it to a new level for the bantamweight division.
Yet no fighters can match McGregor's silver-tongued comebacks and his thunderous knockout power in the cage, and despite deserving recognition for his efforts, Cruz is one of these competitors. Let's examine why.

4.) Injuries/Inactivity:
The most obvious reason Cruz just isn't McGregor is his lengthy and unfortunate injury history.
Suffering through various serious ailments since his scheduled 2012 rematch with Urijah Faber when they were coaches on TUF 15. He tore his ACL in training, and then sustained a serious setback when he chose to have a cadaver ligament inserted in his knee. When the foreign tissue didn't agree with his body, he was dealt another lengthy rehab stint before finally getting a unification fight with Renan Barao at February 2014's UFC 169.
'The Dominator' suffered a torn groin in training, however, and was forced to vacant his undisputed belt to Barao while he entered another recovery period. Cruz made an emphatic return later that year at September 2014's UFC 178, destroying Takeya Mizugaki with a vicious first round onslaught to signify he had never left the top.
From there he was immediately slated for his unification bout with Dillashaw, who had upset Barao to win the belt at UFC 173. But a torn groin in training meant another year-plus layoff for Cruz, putting his title hopes on hold as Dillashaw destroyed Barao once again at UFC on FOX 16.
Comparatively, McGregor suffered a similar injury when he emerged from his decision victory over Max Holloway at UFC Fight Night 26 with a torn ACL that forced him to miss around 11 months, but overall he's certainly been the more active fighter. And after fighting three times last year with another huge bout coming this March, it's hard for any UFC combatant to match McGregor's frenetic schedule, let alone Cruz.

3.) Finishing Ability:
This one's a no-brainer as McGregor and Cruz are just about polar opposites in terms of fight-ending stopping power.
Yes, Cruz did finish an seasoned veteran in Mizugaki in his last bout, yet with decisions wins in eight of his previous nine fights, 'The Dominator' earned the not-so-endearing nickname of 'The Decisionator.' There's no doubt that Cruz is refocused on finishing fights with more authority in his comeback, and that will be key when fighting a dominant, brutalizing opponent like Dillashaw.
But even if he knocks out 'The Viper,' Cruz is still going to be light years away from what McGregor has accomplished in the UFC in less than three years. He's knocked out six of his seven total opponents in the Octagon, and four of those have come in the first round, including his recent jaw-dropping 13-second KO of longtime pound-for-pound king Jose Aldo at UFC 194.
It could be argued that no one in the UFC has more effective stopping ability than McGregor, so while Cruz has taken a page out of the 'Notorious's' book in terms of hyping his fights with witty trash talk outside the cage, he'll never come close to finish fights like McGregor has already showed he can.

2.) More Narrow Appeal:
Another reason that Cruz won't match McGregor despite his newfound love for publicized trash talk is his more narrow appeal. You might think it unfair to compare to the most popular fighter in the UFC right now, and perhaps it may be. But the fact remains that McGregor is the gold standard to which all elite UFC title challengers and champions will be held to, regardless of fairness.
McGregor obviously appeals to a much larger and more dedicated fanbase thanks to his electrifying finishes in the cage and his endless, venomous trash talk outside of it. In an era where MMA 'fans' love nothing more than to jump online and trash talk people they don't know or will never see in real life, McGregor is simply the perfect role model as he makes keyboard warriors feel empowered.
They'll bnever feel that same connection to Cruz even if they have jumped to his side in the wake of his brutal verbal onslaught on Dillashaw where he dubbed him a 'meathead' who just 'wasn't that smart.' A bit of trash talk gold for sure, but merely a blip on the radar in a universe that McGregor currently rules with a heavy hand.
Cruz' fanbase will certainly grow if he wins the belt from Dillashaw this weekend, but traditionally the lighter weight classes just don't bring in numbers like the heavier ones do. Featherweight was like that before McGregor came in guns blazing, and it's hard to imagine a scenario where Cruz' ramped up smack talk is enough to motivate fans to become heavily invested in the 135-pound landscape.
Again, it's hard to compare what McGregor's done to any other fighter because his entire UFC whirlwind has been unique. However, he's simply the measuring stick used to judge UFC fighters these days; especially champions.

1.) No One Will Ever Equal Mac In Trash Talk:
The most obvious and telling reason Cruz will never match McGregor even with his media friendly, slick-talking persona of late is that no one will ever math 'Mystic Mac' when it comes to spouting off at the mouth to promote a fight.
The Irishman took over that coveted throne from Chael Sonnen when a PED scandal forced 'The American gangster' into retirement in 2014, and he's taken the reigns and hasn't looked back since. It's plain to see that Cruz has noticed how effective this has been for McGregor, and he's smartly followed in those footsteps a bit to promote his fight with Dillashaw. Yet his smack, although good, just doesn't hit home with the resonance of McGregor's and he's also got a much smaller talent pool of truly legitimate contenders to berate at 135 pounds.
McGregor, on the other hand, has two teeming divisions full of top-flight competitors just aching to get a shot at him, evident by the fact that he was called out by no less than three fighters who won at Decembers UFC on FOX 17. The man is a transcendent force in fighting whether you love him or hate him, and that isn't going anywhere anytime soon.
Cruz may be the best bantamweight to eve fight in the Octagon, and a win over 'The viper' would almost assuredly solidify that. A rematch with Faber would no doubt be filled with stinging back-and-forth banter from both sides, and it would also do some very respectful numbers for the UFC. But it's just not going to match the level of any one of McGregor's bouts, which may legitimately set up an unattainable standard for fighters in the UF.
Cruz is great, his new level of trash talk is entertaining; but like everyone else, he just can't outdo 'Mystic Mac.'