Details Released Surrounding the UFC's New And Improved Drug Testing Program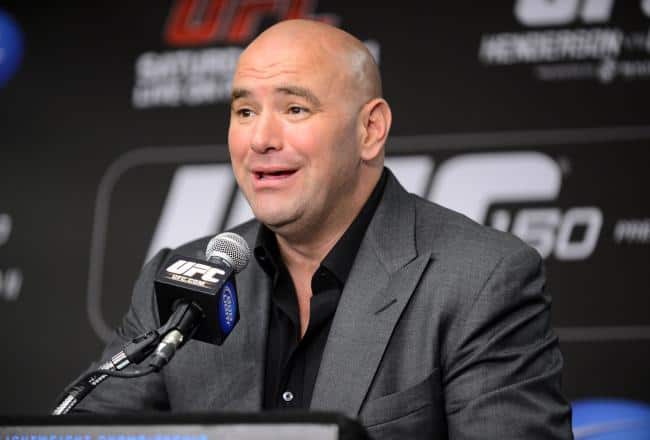 Performance-enhancing-drugs have been a dark cloud over the sport of mixed martial arts, and have seemed to become a bigger problem over the last few years with big name fighters such as Vitor Belfort, Chael Sonnen, Hector Lombard, and Brazilian legend Anderson Silva getting popped for PEDs.
Looking to clean up their promotion and move it towards the mainstream as a respectable sport, the UFC revealed earlier this year that they would be debuting a brand new, stricter drug testing program at some point that would work towards cleaning up the sport. Fans knew the UFC was serious this time when the company hired famed anti-doping advocate Jeff Novitsky to act as the UFC's Vice President of Athlete Health and Performance.
Novitsky spoke up for the first time at a Las Vegas press conference today (June 3, 2015), detailing the new plan, which seems to definitely be a step in the right direction. Working with some of the most prolific organizations in all of sports, it's comforting for fans to hear Novitsky describe the UFC's new program as "the best anti-doping program in all of professional sports." Just like the UFC's new uniform policy, the new drug testing program is set to be put into effect on July 1, 2015.
As far as the changes, first and foremost, every single UFC fighter is now susceptible to random, year-round, in and out-of-competition drug testing that can occur at any time and any place without any notice. This seems to be something that could do wonders for solving the PED problem in MMA, and we haven't even gotten to the new punishment system for PED abusers and offenders.
Just like the Nevada State Athletic Commission's new drug testing policy, the UFC's new program will include similar punishments, which are much stricter and can really impact the career of a fighter who tries to play the system. Punishments will now be based on the substance used and also whether or not the fighter is a "first time" offender, "second time" offender etc.
"Non-specified" substances are being described as anabolic steroids, growth hormones, peptides, blood doping drugs and methods. The punishments for the abuse of any of these substances are as follows:
1st offense: 2 years (with possibility of 4 years for "aggravating circumstances")
2nd offense: Double the sanction for the 1st offense
3rd offense: Double the sanction for the 2nd offense
Specified substances are being described as marijuana, cocaine, other stimulants and glucocorticosteroids. The consequences for the use of these types of drugs has been debated quite a bit in recent memory, with Nick Diaz testing positive for marijuana surrounding his UFC 183 bout, and now disgraced former light heavyweight champion Jon Jones testing positive for cocaine metabolites after his UFC 182 bout. The new punishments for the abuse of any of these substances are as follows:
1st offense: 1 years (with possibility of 2 additional years for "aggravating circumstances")
2nd offense: Double the sanction for the 1st offense
3rd offense: Double the sanction for the 2nd offense
Wow, talk about laying down the law! The UFC clearly isn't playing games anymore as these punishments are extremely serious. The fact that a fighter could be suspended for multiple years, which would be extremely detrimental to his career, should play a role in a fighters mind when he considers using PEDs.
USADA (United States Anti-Doping Agency) CEO Travis Tygart also spoke at the press conference, saying that this new system is not only a win for the fighters, who will set a new precedent for professional athletes, but for the UFC, as a the company has now taken a bold step forward in solving a major problem:
"Today is a huge win for the athletes in the UFC as they set a new standard for all professional sport in protecting the rights and health of clean athletes and the integrity of competition,"
"The UFC has taken a bold and courageous leap forward for the good of its athletes in developing a comprehensive and cutting edge anti-doping policy expressly modeled on the key elements of the WADA Anti-Doping Program and by having it run by an independent and transparent National Anti-Doping Organization. USADA looks forward to supporting clean athletes in this sport, as in all sport, to achieve success on the playing field fairly and safely."
With many fans believing that the UFC roster is inhabited by PED users, this program could cause many of our favorite fighters to be taken out of competition, and many big fights to fall apart, but UFC CEO Lorenzo Fertita said that the company is prepared for this, and that they needed to make a statement:
"We are jumping into this issue into a very aggressive manner," UFC CEO Lorenzo Fertitta said. "There is the potential that some very high profile fighters, or any fighter on our roster, now has the potential to be caught. There could be major fights that fall out, but we are prepared to deal with that. That's a consequence that, hopefully it won't happen, but if it does, then we understand that.
"But I think that at the end of the day, the way this program was structured and the education process and the way it's going to be rolled out, we're hopeful that there is a strong enough deterrent aspect to what we are doing here, that is very clear to every athlete on the UFC roster — and even an athlete who potentially believes they will be on the UFC roster in the future — that they cannot use any prohibited substance. And that's the bottom line."
The UFC undoubtedly took a major step in the right direction today, and although it could have negative effects as far as fighters being pulled from fights, it will clean up the sport and make the playing field much safer, which at the end of the day is the most important thing.