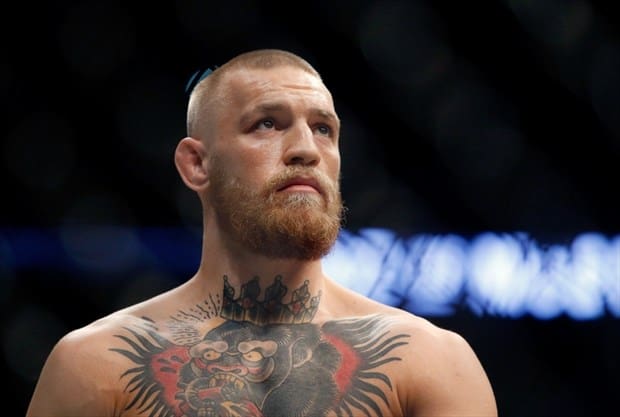 Former UFC featherweight and lightweight champion Conor McGregor was in court on Thursday morning (June 14, 2018).
The hearing didn't last long. In fact, it lasted about 90 seconds if that.
Back in April during fight week of the UFC 223 pay-per-view event, McGregor and several members of his entourage decided to fly from Ireland to Brooklyn, New York to get revenge on current lightweight champion Khabib Nurmagomedov. 
It all started once the UFC lightweight champion got into an argument with McGregor's training partner, Artem Lobov, earlier that week.

This led to McGregor attacking the fighter bus that had Nurmagomedov on and he was arrested as a result.

He was charged with three counts of assault and one count of criminal mischief. McGregor was due in court to face his charges. At the hearing, McGregor and his training partner, Cian Cowley, went in front of the judge at the same time.
At the hearing, it was revealed that McGregor's legal team and the prosecutor are still trying to iron out a plea agreement. The judge set the next court date for July 26, 2018.  MMA Fighting's Ariel Helwani tweeted out this video of a member of his legal team issuing a statement on the hearing.
McGregor stated in this prepared statement that he understands the "seriousness" of the matter and hopes it is resolved soon.
Here is a statement from Conor McGregor via a member of his legal team: pic.twitter.com/RXHMAG3hxD

— Ariel Helwani (@arielhelwani) June 14, 2018
McGregor's manager Audie Attar declined to discuss any fight plans at this time but did note that the focus is this court case and fighting is on the back burner for now.
Spoke briefly to Conor McGregor's manager @AudieAttar outside the courthouse about today's hearing and what's next in terms of the negotiations with the UFC. Here you go: pic.twitter.com/NtudaHRPG8

— Ariel Helwani (@arielhelwani) June 14, 2018
McGregor has not been seen in the Octagon since at UFC 205 when he won the lightweight title from Eddie Alvarez. McGregor then fought in a boxing match with Floyd Mayweather.

McGregor's status as an active MMA fighter is on hold once again due to his recent arrest.
If you enjoyed this story, please share it on social media!