ONE world champion Demetrious Johnson offers timeline for scrap with bodybuilder Bradley Martyn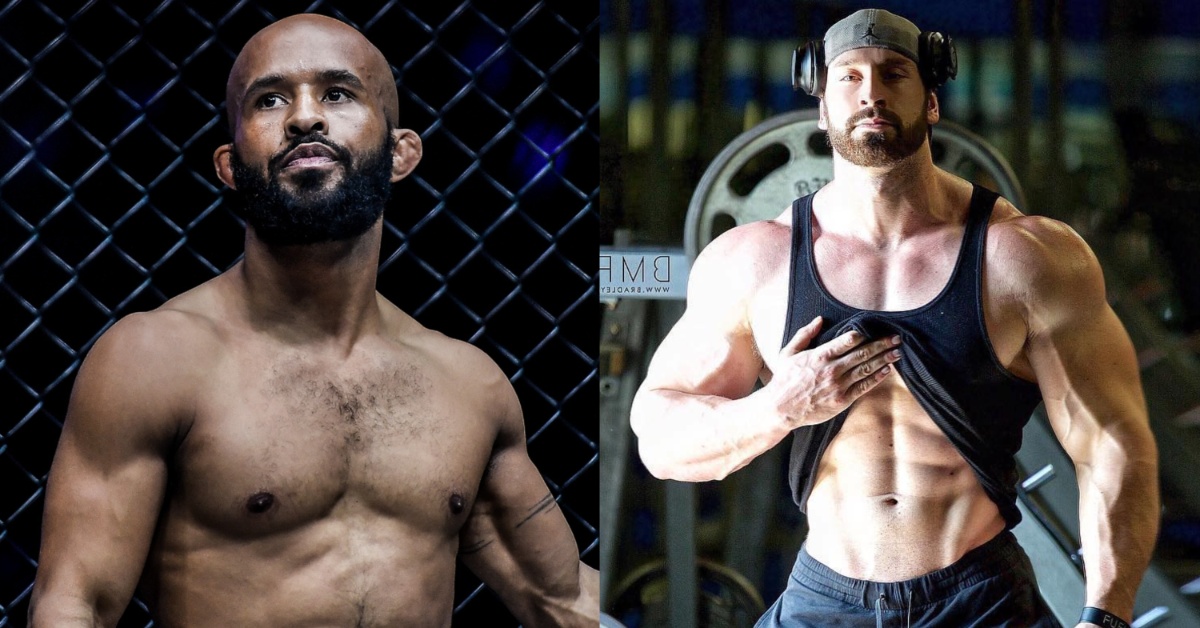 Pound-for-pound great Demetrious Johnson offered an update on his proposed scrap with fitness guru Bradley Martyn.
In recent months, the popular podcaster and bodybuilder has made a name for himself in the mixed martial arts community by suggesting that he could handle himself in a street fight with some of the sports' biggest stars, including Nate Diaz, Alex Pereira, Sean O'Malley, and ONE flyweight world champion, Demetrious Johnson.
While most fighters were quick to disregard Martyn's comments, 'Mighty Mouse' was more than willing to call his bluff, suggesting the pair could settle things in a grappling match.
Since then, things have quieted down a bit, but during a recent interview with The Schmo, Demetrious Johnson provided fans with an update on their potential clash.
"I don't know. Last time I heard he's trying to fight Aljo and Merab so I have no idea what's going on with that," Johnson said. "I think Bradley Martin, one of his schtick in the podcast world is, 'Hey, do you think I could beat you in a street fight? Yes or now, blah, blah, blah.' I think he had an offer to fight Mac Perry for some good money so I have no idea."
Currently, Demetrious Johnson is competing at the World Master IBJJF Jiu-Jitsu Championships in Las Vegas. Once that is out of the way, he has a few more obligations to take care of but is more than willing to carve out time for Bradley Martyn if the muscle-bound trash-talker is willing to put his money where his mouth is.
"I was gonna go there after my vacation. My wife was like, 'Babe, really? Are we really going to entertain this? You have jiu-jitsu worlds coming up. Let's get that done.' Then I have to cover for my professor. I have to go open a gym. Help Bibiano Fernandes open his gym in Canada," Johnson continued. "Then after that, we have free time to go out there and do it. So I have prior obligations. More important obligations to attend to instead of just drop out of a plane and go grapple some gentleman that doesn't even know if he wants to grapple."
Demetrious Johnson Commends Aljamain Sterling and Merab Dvalishvili for Refusing to Fight Each Other
Switching gears, Demetrious Johnson offered his take on the traffic jam atop the UFC bantamweight division. With Sean O'Malley now holding the gold, there is a world of options for 'Sugar' when it comes to his first title defense slated for December.
But in an interesting turn of events, the top-two ranked contenders, Aljamain Sterling and Merab Dvalishvili, are best friends and as a result, refuse to fight one another. That did not sit well with UFC President Dana White who suggested that if Dvalishvili isn't willing to fight his friend, maybe he should compete elsewhere.
Demetrious Johnson, on the other hand, commended both fighters for putting their friendship above money and titles.
"I'm happy about that," Johnson admitted. "I think that friendships and bonds are a lot bigger than winning a world championship. After I spent time, maybe 30 minutes, talking to Aljamain Sterling, I could tell in his soul that friendship means more to him. Because money comes and goes. World championship, that stuff comes and goes and Aljamain Sterling had his opportunity to be a world champion. He's got four consecutive title defenses I believe.
"Merab hasn't had that opportunity and for Aljo to give Merab the opportunity to fight for the belt while Aljo sits back and chills, I think that's great. There are people out there who might think that's the wrong mindset, but for me, I applaud Aljo for doing that."
As for who O'Malley should defend his title against first, Demetrious Johnson sees the easy marketability of a rematch between 'Sugar' and the only man to beat him inside the Octagon, Marlon 'Chito' Vera, but suggested that the shot should go to the man with the biggest win streak.
"I think 'Sugar' Sean O'Malley is in the perfect position to have options," Johnson said. "I think at the end of the day, it brings fresh air into the division because, yes, he does have a loss to 'Chito' Vera so that's an easy matchup, an easy storyline that they can do. Merab, he's on a [nine] fight win streak. I think for me, I give more priority to people who are on a win streak. So I think [Merab] deserves the shot over Corey [Sandhagen] and everybody else."