UFC featherweight champion Conor McGregor has made an impact like very few before him, bringing waves of fans from his home nation of Ireland and also the much coveted casual market. Aside from Ronda Rousey, there are very few fighters in modern mixed martial arts whose fights are talked about by people who don't even follow the sport. But one thing that's clear about 'The Notorious' is that he has a very divided following. There are those that love to watch him talk trash outside the octagon and batter his opponents on fight night, and then there are legions that watch in the hopes he'll catch a whooping himself.
As is the case with many heroes of the sport, McGregor is no stranger to hate, but his outspoken style, again almost identical to 'Rowdy' before UFC 193, has garnered the 145-pound champ an almost unprecedented amount of haters. So what are the reasons, and are they even justified? At the core of all this media frenzy is a man who fights for money, and at the same time provides entertainment, isn't that the exact reason we follow combat sports?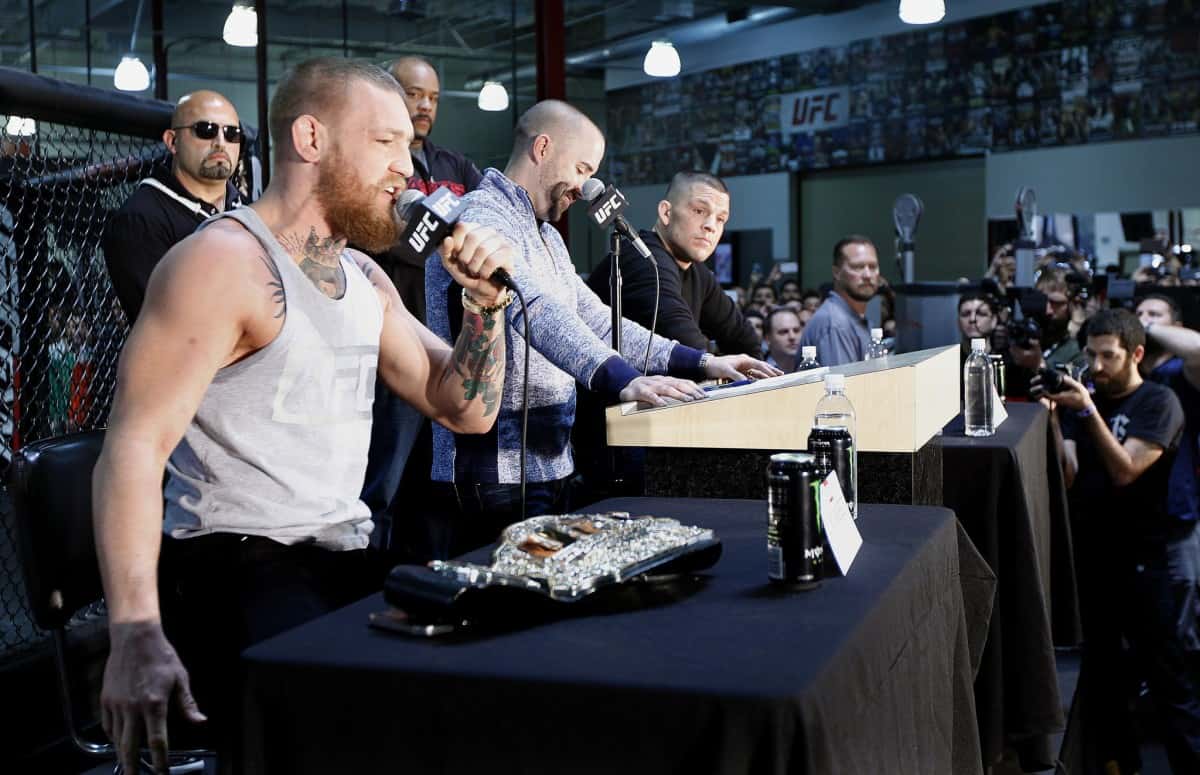 Real life
So let's look at this objectively, and we'll provide evidence for both sides of the argument. So what do we know about Conor McGregor?
Well, first off let's take a look at some of his activities outside the octagon. Here's a brief snippet from an interview with 'The Notorious,' where he's clearly choked up by talking about one of his fans who was terminally ill:

@TheNotoriousMMA thanks for the call!!! Made my day pic.twitter.com/5dNhZtprKO

— Brendan Mcglone (@mcglone_brendan) 9 June 2015

The young Irish boy by the name of Brendan Mcglone tragically passed away before being able to meet McGregor, whom he was a huge fan of. This shows a very human and empathetic side to the normally somewhat crude showman we see in the UFC. What's not to admire about a man who's charitable and caring side is so obviously more real than his antics on camera?
The truth on McGregor is that he grew up in a poor part of Ireland, and since making fame has bought his entire family new BMW's and a house for his mother and father. He's campaigned for numerous human rights groups, shown love to sick children, BUT…
Let's not beat about the bush, and take a look at some of the moments that have seen McGregor catch some serious hate…
continue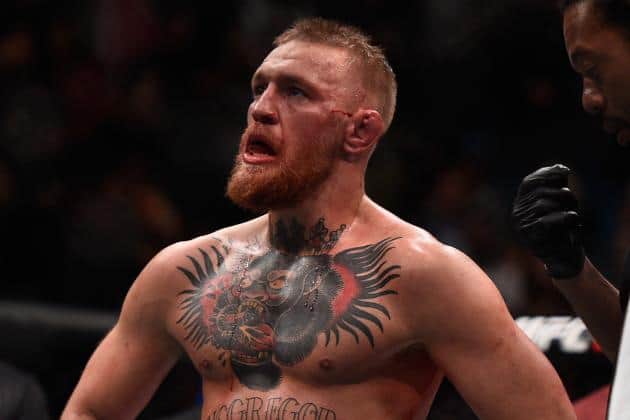 The showman
We first started hearing about Conor McGregor after his debut win in the UFC. The promotion knew what the slick talking Irish lad was capable of even back then, as was obvious by their giving him a post fight interview following his KO win over bloated bantamweight Marcus Brimage. He called out the entire featherweight division, but no one was aware that he would follow through on his promises. It wasn't until July 19, 2014 that the MMA world really stood up and paid attention to 'The Notorious,' but we'll address that later on in the article.
For now, here are some of the moments that make McGregor the most notorious, but often polarizing figure in combat sports:

It's no secret that Conor McGregor likes to talk when he's on camera, but how can we expect him to get exposure for the sport outside of his performances without these kinds of brash and outlandish displays? Of course there are many times that the line has been crossed, but is that judgement just a result of our perception of things? Let's not pretend that 'The Notorious' is the first man to use trash talk to sell fights. The reality is, that's been a staple of all combat sports since, well, pretty much forever.
Perhaps it's the undying confidence that McGregor exudes, it tends to rub people the wrong way, but again this is nothing we aren't used to seeing from sports men and women. To compete, especially in such a dangerous pursuit, requires the kind of fiery belief that fighters like Jon Jones, Ronda Rousey, McGregor and so many other possess.
Is there a hint of jealousy in the air? Quite possibly, McGregor is a young and talented man, no matter what any of us say, capable of doing amazing things in the arena of combat. Which brings us nicely on to the final section of this argument…
continue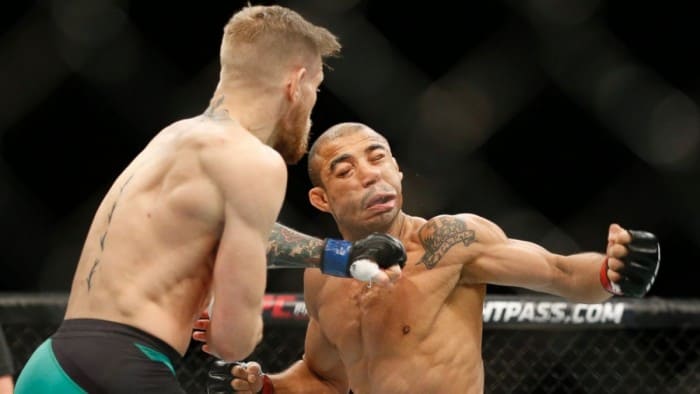 The fighter
Put aside his brazen antics outside the octagon, his trash talk and insults, or even the side that sees McGregor helping out his community or touching the lives of sick children, and what you have is a naturally gifted fighter. No matter how you look at it, McGregor has made history in three years. Elsewhere, this is unheard of, and it all started at UFC Fight Night 46. Nobody saw what would happen on the night of McGregor's third UFC fight, except for perhaps Conor himself.
As with most cards outside the USA, UFC Fight Night: McGregor vs. Brandao was chock full of local talent, not the star studded line up of a big PPV by any means. The event was hosted in Dublin, Ireland, and is often referred to as the best event in UFC history. Not for the fights, but for the electric atmosphere in the air. The commentators could barely be heard over the roar of the rampant crowds in attendance, and it was clear from this moment onwards that 'The Notorious' was on course for super stardom.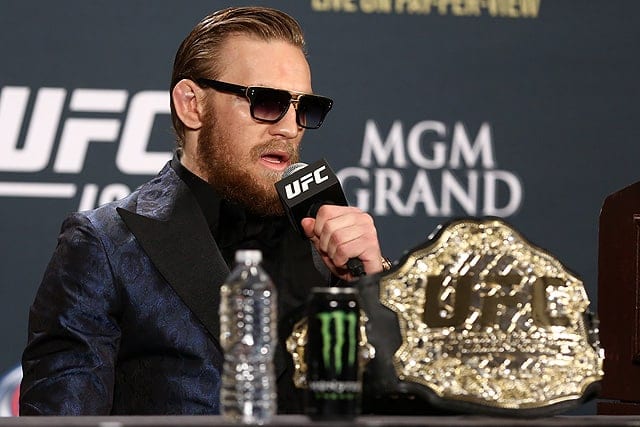 Two more victories later, after starching Dustin Poirier and Dennis Siver, McGregor found himself fighting for UFC gold. A spirited performance against Chad Mendes at UFC 189 saw the Irish boxer capture the interim featherweight belt, and he was once again lined up with Jose Aldo, this time in a rescheduled bout at UFC 194. After shattering records at UFC Fight Night 46 for international viewership, McGregor set out to do it all over again, this time it was at the cost of Aldo.
The first man to defeat or finish Jose Aldo in UFC history, Conor McGregor was on fire. He was instantly aligned with the lightweight champion Rafael dos Anjos for a UFC 196 lightweight title fight, but then things got a little complicated. 'RDA' was injured, Nate Diaz drafted in, and the welterweight fight that went down was exciting, but maybe not exactly how the UFC had hoped it would play out.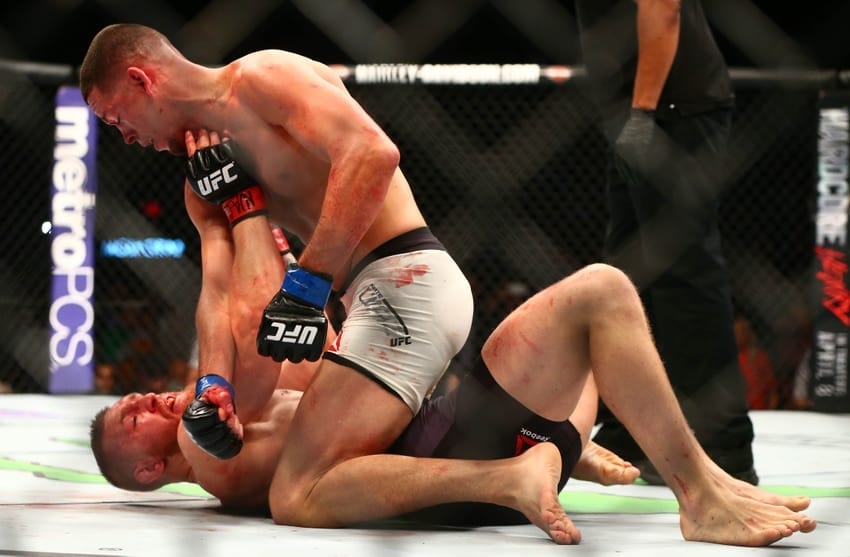 McGregor was choked in to tapping out in the second round, but even after that he was humble and realistic. His post fight interview was a look at the real Conor McGregor, a frank and interesting insight to the man behind the 'Notorious' mask. If we aren't grown up and smart enough to know that this game is built on feuds and trash talk, then perhaps Tennis or some other harmless and soft mannered pursuit would better suit us.
In summary, Conor McGregor may be the most outspoken, sometimes offensive, and brash character we've ever seen in combat sports, but overall he has a positive effect. He brings eyeballs to the sport that would not have been there otherwise, and outside of the octagon, he's a good man.
Whether we care to admit it or not, deep down, we are all fans of the real Conor McGregor, aren't we?