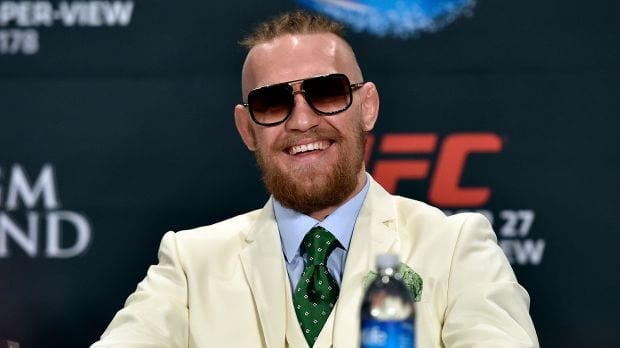 The Ultimate Fighter (TUF) 21 Finale went down last night (July 12, 2015) from the MGM Grand Garden Arena in Las Vegas, Nevada and it was a great night of fights. However, the biggest news of the evening may not have come from the fights as UFC President Dana White announced that newly crowned interim featherweight champion Conor McGregor will coach against "The California Kid" Urijah Faber on season 22 of TUF.
White reported that the show will feature 16 lightweights, with eight being European coached by McGregor, and eight being American coached by Faber. Although this makes sense based on star power in their respective regions, many fans and media members were a tad confused as to why McGregor and Faber would coach against each other, but not fight at the end of the show like usual.
At last night's TUF 21 Finale post-fight press conference, UFC Vice President of Public Relations Dave Sholler explained the reasoning behind the choice, and it seems as if Faber's coaching ability, coupled with McGregor's star power will make for great TV, and that's what the promotion had in mind:
"We've reviewed several different options, but at the end of the day, everybody knows what Urijah brings to the table," UFC PR head Dave Sholler said after the TUF 21 Finale. "From a coaching perspective — that's not a knock on anyone — he certainly thrives on the TUF format. I think when you look at him and you look at Conor together, it's combustible and should be for great TV."
Although they won't be fighting, there will likely be some tension between the two, as the two actually got into a little scuffle backstage at this past weekend's (July 11, 2015) UFC 189 before the "Notorious" one took on Faber's teammate Chad Mendes. It's clear that the UFC is just looking for ratings and to make money off of their biggest star in the Irishman, but could there have been a better option?
Now being the interim champion, McGregor is likely gearing up for a unification bout against reigning champion Jose Aldo, who pulled out of their scheduled meeting at UFC 189. Depending on how long Aldo will be out, it could've made sense to have the "Notorious" one coach against top featherweight contender Frankie Edgar, who is on the brink of a title shot, and have the two square off in an interim title bout afterwards.

At the end of the day, the UFC has decided to go with McGregor and Faber, which may mean that Aldo won't be out too long, but are you excited for TUF 22?