Daniel Cormier Reacts To Jon Jones' Pending Return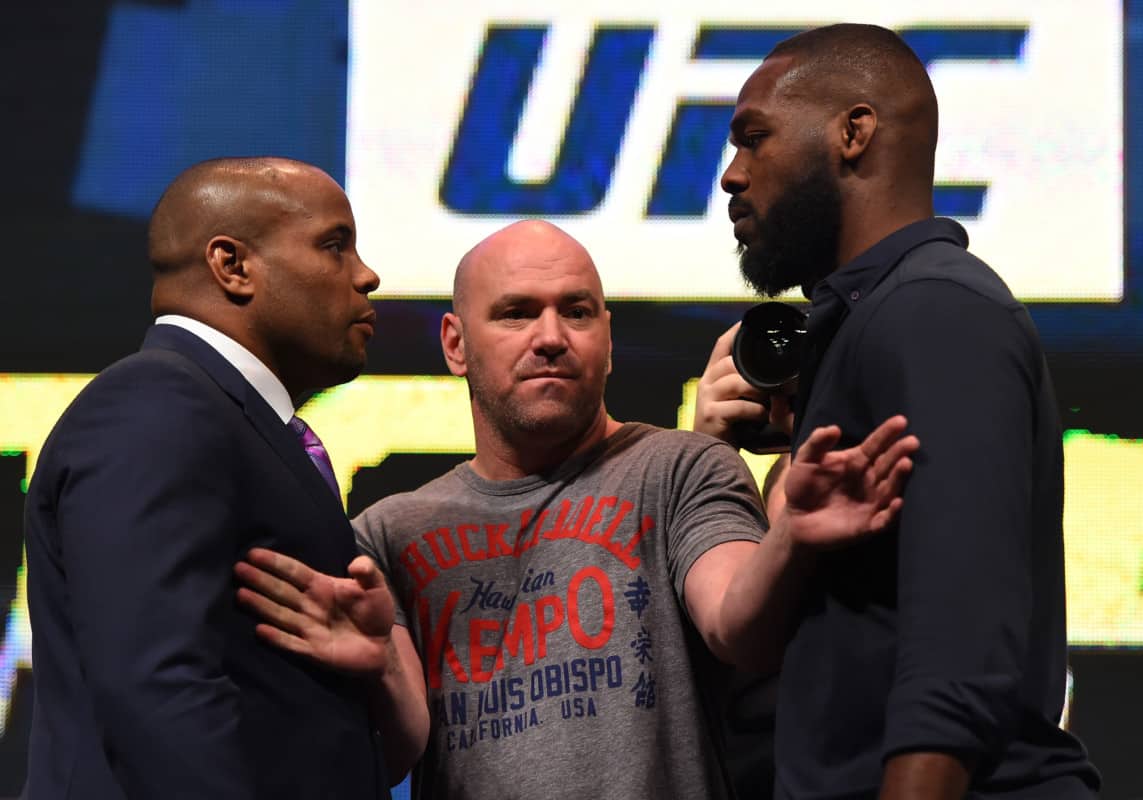 It didn't take long for Daniel Cormier to react to Jon Jones' pending return.
News broke tonight that Jones had been given a 15-month suspension for his positive drug test last year. He is now eligible to return on October 28, 2018. The date was curiously close to November 3's UFC 230 from New York City, New York.
Jones' punishment elicited a wide range of reactions from the mixed martial arts universe because of a polarizing nature. Lightweight ruler Khabib Nurmagomedov ripped USADA due to having "too much politics." Khabib's American Kickboxing Academy (AKA) teammate Cormier offered his own position as a co-host of tonight's 'UFC Tonight."
A fired-up Cormier claimed he only talked about Jones because he had to. Cormier reiterated he's the double-champ. He's moved past Jones – or so he says:
"I'm the UFC double champion," Cormier said. "I have bosses in the back and I'm talking about this guy because I have too. I've moved past that guy. I went about my business. I went and won another title. Now this guy's suspension is up, so we'll see what happens."
Cormier then posed the question of why he should fight Jones a third time. He's headed for a title defense versus Brock Lesnar early next year. Cormier believes he should stay focused on that, but many would argue he still has to defeat Jones to legitimize his 205-pound throne:
"I think people get excited, people get excited about the prospect of us fighting again, but I've got a fight with Brock Lesnar. Why would I look back? Why would I look back to Jones now when I've got a fight? Obviously as a competitor I want to fight the guy whose beat me twice, but I've got a fight. Why go back? I've got a bigger fight with Brock Lesnar, why should I go back?"
The UFC two-division champ then went off on USADA like Nurmagomedov. He cited his shining record with drug testing and then blasted USADA for him even having to discuss this circumstance:
"Here's the deal: When it comes to USADA, they can't come to my house anymore at 6 a.m," Cormier said. "What's the point? They've been to my house 15 times. USADA, don't come to my house anymore. You don't need too. You don't need to come. I'm not going to fail a test, I'm not going to make any mistakes,

"I'm not going to have to sit up there and go, 'I'm serious this time, guys. I promise I wasn't really trying to cheat.' It's never going to happen with me. 70 times. 70 times since I started wrestling internationally and I've never made a mistake. It's not that hard. So even to be sitting here and doing this again shows – guys are ridiculous."
Following USADA's official ruling on Jon Jones, @dc_mma speaks on the possibility of DC vs Jones 3. pic.twitter.com/MVQSOY83dg

— FOX Sports: UFC (@UFCONFOX) September 20, 2018