Twitter Reacts To Jon Jones' USADA Suspension & Return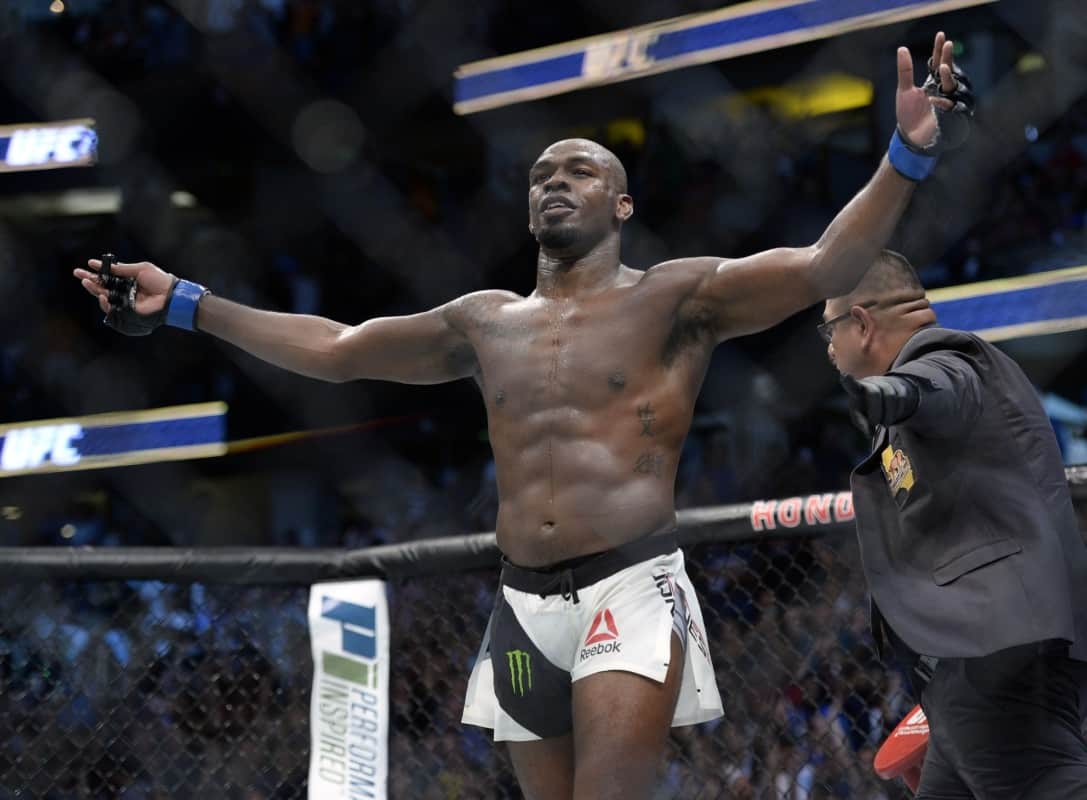 Jon Jones' USADA suspension make it seem like he got off easy.
Today Jones was given a 15-month suspension for his second USADA violation. Jones was suspended when he tested positive for anabolic steroid Turinabol. He knocked 'DC' out to regain his long-held light heavyweight belt in a thought-to-be historic scene. The knockout then became a no contest.
The troubled-but-historic great had been on the sidelines awaiting his punishment ever since. Jones has teased a return to action on social media. That seemed like a longshot considering he was facing a potential four-year suspension.
Today, we just found out the opposite is indeed true.
Jones will be eligible to return on October 28, putting his return at November 3's UFC 230 as a distinct possibility. The MMA world was understandably abuzz with the news. Find out how MMA Twitter reacted to this bombshell of an announcement here:
You ever hear people say "MMA is fake" or "UFC is fixed"? This Jon Jones shit is what they mean, it's not the outcomes but the idea of "sport" itself that is fixed. Money rules all. What a fucking joke

— "Filthy" Tom Lawlor トム・ローラー (@FilthyTomLawlor) September 19, 2018
https://twitter.com/USADA_UFC/status/1042560546615304192?ref_src=twsrc%5Etfw%7Ctwcamp%5Etweetembed%7Ctwterm%5E1042560546615304192&ref_url=https%3A%2F%2Fmmajunkie.com%2F2018%2F09%2Ftwitter-reacts-jon-jones-usada-suspension-ufc-230-return
Jon Jones provided 'substantial assistance' to USADA. The nature of the assistance was redacted. pic.twitter.com/YQVNsRk3kn

— Erik Magraken (@erikmagraken) September 20, 2018
Jon Jones vs. Alexander Gustafsson 2 please. Headlining UFC 230 in Madison Square Garden, New York would be great however I wouldn't be opposed to seeing them run it back in Toronto for UFC 231. The location of their first fight. Either way, this is the fight I want to see. pic.twitter.com/axxeI9dLs2

— Chamatkar Sandhu (@SandhuMMA) September 20, 2018
Jon Jones needs to tweet "are you still there pussy?" right now.

— Seán Sheehan (@SeanSheehanBA) September 19, 2018
No shade to JJ but no one is surprised by this arbitrary decision , USADA is steadily losing respect in the fight community to the point of questioning why they even exist 🤨 https://t.co/AhVmwBvBEr

— Curtis Blaydes (@RazorBlaydes265) September 20, 2018
OK, yeah, @JonnyBones vs @cainmma would also be dope. Cain vs ANYBODY soon please!!! 🙏 https://t.co/S7y1waNjj6

— Karyn Bryant (@KarynBryant) September 20, 2018
Welcome back @JonnyBones and hey mthafkas don't say I didn't tell you so…!! #ufc230 https://t.co/FIHfFHszVf

— Damien Brown (@beatdown155) September 20, 2018
Oh shit https://t.co/4cZCh2BFlB

— Joey CoCo Diaz (@madflavor) September 20, 2018
15 months. Such a random number that remarkably lines up with a certain main event-less show being held in Jon's home state. Fantastic stuff. https://t.co/9g7KStwaY5

— caposa (@Grabaka_Hitman) September 19, 2018
The ball keeps rolling. Spoke to a Gustafsson rep, and the current position is he could be ready to fight by UFC 230.

— Steven Marrocco (@MMAFightingSM) September 20, 2018
FUCK USAD This shit is fake

— Ali Abdelaziz (@AliAbdelaziz00) September 20, 2018