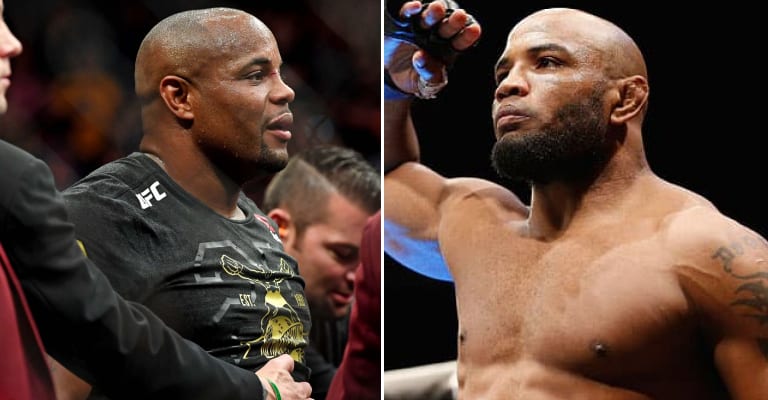 Maybe UFC two-division champion Daniel Cormier does hold all the cards as he says.
In the six days since he won the UFC heavyweight championship by knocking out Stipe Miocic in the main event of July 7's UFC 226, several high-profile fighters have predictably called out 'DC' for one last shot at the soon-to-be-retiring double champ.
There were the expected calls for a rematch by Miocic and former light heavyweight contender Alexander Gustafsson, yet Cormier seems to have his mind made up that he's going to fight former champion Shogun Rua if he gets past Anthony Smith next weekend and then move on to a heavyweight title bout against a second former champ in Brock Lesnar before retiring. However, there's a bit of a wild card personality who has been trying to throw his name into the mix, and that's recent two-time middleweight title contender Yoel Romero.
Missing weight before his last two fights, the Cuban Olympic medalist wrestler has hinted a move up to 205, and he figured he may as well shoot for the stars by calling out Cormier. That lead to the expected shutdown from the vocal 'DC,' who likened Romero's request to 'failing a class and moving up a grade' after the 'Soldier of God' lost two out of his last three fights:
"Here's the deal: I never wrestled Yoel Romero, but in wrestling, he probably would have served me up. He's one of the great wrestlers of all-time. But, you don't fail a class and then get moved up a grade to the next one."
Romero was quick to fire back with a vicious comparison of his own, even if it didn't necessarily make tons of sense based on the dynamics at play:
The last time somebody "failed a grade and moved up a #class " look like it work good @dc_mma #iseeyousoonboi #iluhju pic.twitter.com/9ALIdFLE3h

— Peoples Champ (@YoelRomeroMMA) July 12, 2018
Finally, Cormier apparently had enough of Romero's antics, breaking down the succinct reasons he would not be facing Romero soon and urging him to get his manager Malki Kawa off of his Twitter account:
Hey @yoelromeroMMA here's the difference between you and me: You've missed weight in your last two fights and I've won two belts in my last two fights. You're also 0-2 in your last two title fights, boi #keepdreaming. And hey, get Malki off your Twitter. It's embarrassing.

— Daniel Cormier (@dc_mma) July 13, 2018
Put in those terms, it's hard to argue with Cormier.
After all, Romero, despite being one of the most fearsome knockout artists in the UFC, has lost two of his last three fights to middleweight champion Robert Whittaker and missed weight before his last two as "DC" noted.
Insisting he'll retire right at his 40th birthday in March, Cormier probably doesn't have time to fight former middleweights on a down stretch, and even though it could be argued Romero deserves a shot more than Lesnar does, Cormier is also understandably looking to cash in before he rides off into the sunset.
For that reason, he's trying to squash the Romero beef as soon as possible. We'll see if the "Soldier of God" lets him.