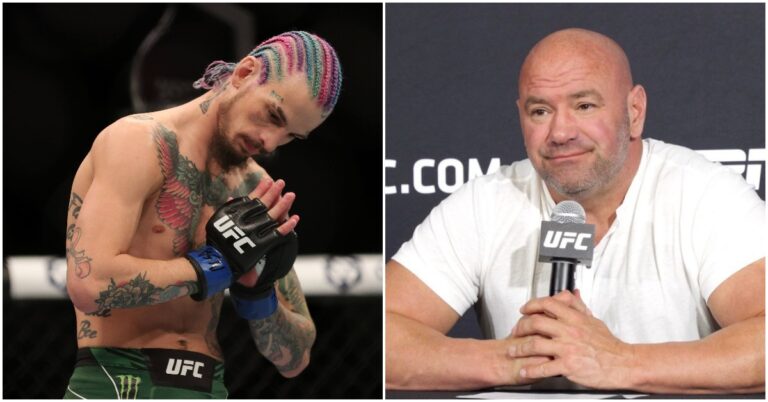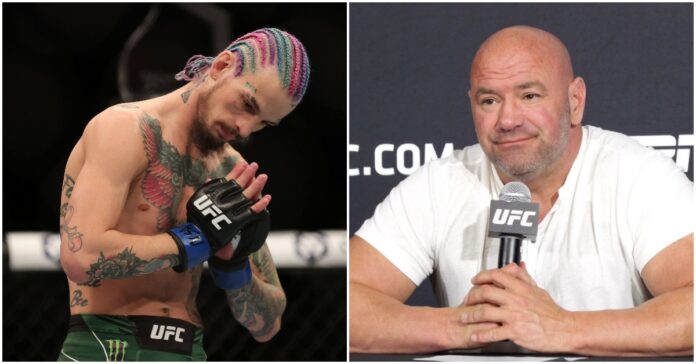 Dana White thinks it's time for Sean O'Malley to start facing tougher opposition after he eased past Rulian Paiva at UFC 269 this past weekend.
A few days prior to the last pay-per-view-event of the year, White claimed that 'Suga' is not ready to face ranked opponents. However, the UFC president changed his opinion of O'Malley after watching the 27-year-old dispatch of Paiva inside one round on Saturday evening.
"When you talk to him, two things: He wants to get paid and he wants to fight higher-level competition," White said at the UFC 269 post-fight press conference. "Looks like we're going to have to pay him, get him some fights." (Transcribed by MMA Junkie)
Sean O'Malley Won't Take Tough Fights Until Dana White Offers Him A Better Deal
The rising bantamweight prospect shocked fight fans earlier this year when he revealed he does not want to fight top opposition right now. O'Malley explained that although he doesn't fear tough fights, he would prefer to take easier opponents until the UFC offers him a better contract.
"I have a contract to fight a certain amount of fights, and I'm gonna get paid a certain amount of money whether I fight Louis Smolka, the dude I was supposed to fight, or I fight Petr Yan, the No. 1 bantamweight in the UFC. I get paid the same. I'm gonna fight this dude (who is lower). And I'm going to fight this dude on a Conor McGregor pay-per-view," O'Malley said in August.
"Chael Sonnen always says fight the worst dude on the highest part of the card," O'Malley added. "A lot of bantamweights, and just people in the UFC, they definitely hate, and it comes from jealousy. I'm getting way more eye balls than them. I perform in there. You can go and watch some of these guys perform, and you literally pick up your phone, start surfing Instagram, you just don't give a f*ck what they're doing."
Do you think it's time for Dana White to book Sean O'Malley in tougher fights?